LALIGA SANTANDER
Hazard suffers from injury number 16
He suffers from patellar tendinitis and could be absent for up to five weeks. It is his third injury this season.
The plane took off headed for Mallorca and a man was left on the ground. Eden Hazard will not be at Son Moix tomorrow, suffering from what is his third injury of the season. He suffers from patellar tendinitis, with an unresolved medical report. "Pending evolution", simply say the club; those often repeated words. Medical sources consulted by AS clarify the situation: in general, the recovery time is around four to five weeks. For now, it is time for rest and physiotherapy treatment. Another new obstacle in the way of his empty promise: "I hope I can show that I'm still at the top".
Hazard's medical history
This is his third injury so far this season. At the beginning of November and after only playing 15 minutes in five games, the news broke: a muscular overload. Fortunately for him he only had to rest for a week, missing Celta's visit to the Bernabéu (precisely, a night of rotations where he could have had the chance to play). And after the World Cup came the second fall: this time during a friendly in Valdebebas, a sprained ankle the diagnosis. The visit to San Mamés and the derby in the Copa del Rey were both lost.
Three more to the list that is now 16 injuries long as a Real Madrid player. The most serious of them, a fibula break that kept him out for almost 80 days and limping for a long time afterwards. Doctors had to intervene in the operating room to remove a plaque that, at that time, helped significantly in terms of his recovery. However, to recover the power and the football of the Hazard of yesteryear, there was a long way to go. And although the club pointed out that he seemed different in training, the Belgian never reappeared on the pitch.
Eden's stats this season
This season he has only played in seven games (three starts), has just one goal and one assist (both in Glasgow against Celtic). That night it that seemed that Hazard was about to return but things ended as soon as they began.
Since then, there has been nothing. He is fourth-bottom in terms of minutes played (297′, which is even behind Lunin). Only Mariano (25′), Odriozola (56′) and Vallejo (56′) have featured less. In Mallorca, with almost the minimum number of available players, a vacancy could have opened for him. But he is injured. This time, it's number 16.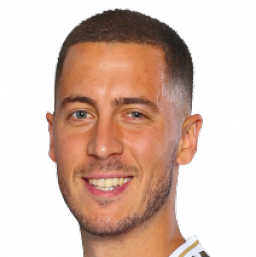 LaLiga Santander 2022/2023
*Data updated to date February 4th, 2023