Key day in the Dani Alves case
The Brazilian soccer player's lawyer will present an appeal before Court number 15 in Barcelona to try to obtain his provisional release.
Today could prove to be a pivotal day in the Dani Alves case as the player's lawyer is set to present an appeal before Barcelona Court No. 15 to try to get him released from Brians II jail with Alves having already served ten days in prison for the alleged rape he committed on 30 December in a Barcelona nightclub.
Lawyer Cristóbal Martell, one of the most reputable in the city of Barcelona, heads the footballer's representation and has already worked with the likes of Leo Messi, the Pujol family and even FC Barcelona itself in the 'Neymar Case' and is now working along with original attorney Miraida Puente Wilson.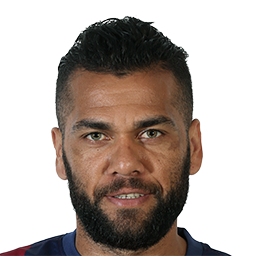 According to journalist Mayka Navarro, the appeal will be resolved "possibly during week." There will be three judges who will have to deliver a verdict after the victim's lawyer and the Prosecutor's Office make their allegations. The result, once the resolution is issued, could mean the release of Alves from prison or that the defender remains in prison.
"It is difficult for the footballer to be released but his lawyer will propose a series of guarantees to demonstrate that the defendant's intention is not to leave Spain and that he will show up in court on the day of the trial, Navarro explained in Fiesta.
Monitoring bracelet
After the original statements by both Dani Alves and the woman who accuses him of having raped her, the judge of Court number 15 decided to order provisional detention without bail for the footballer. A verdict that was the most restrictive among those that could have been determined and that was due to two factors: inconsistencies in Alves' recount of events and the risk of of the player leaving Spain.
Precisely to try to show that leaving the country is not an option that Alves is contemplating, his defense will propose in his appeal that the footballer wear an monitoring bracelet that allows the Justice to have him constantly located. This accessory works via GPS signals captured by satellites and that cannot be broken or inhibited without the authorities finding out.
However, Navarro has revealed that the option of the bracelet is not the only one that Martell will contemplate in his appeal. Other options being considered are an obligation of having to sign every day in court or having the Brazilian's passport withdrawn.