REAL MADRID
Luka Modric's performances show that he deserves a new contract at Real Madrid
The Croatian, now at 37-years-old, is still a key player for Madrid and sees himself as worthy of a new contract.
The football career of Luka Modric can be compared the The NeverEnding Story. Well on his way to being 38-years-old, when the immense majority of footballers start to plan their final years in the sport, he is plotting new heights, almost like never before. He wants to win the National League and renew his contract with Real Madrid. And he wants to because he feels like he can do it, with gas in the tank and the hunger to show that age is in fact just a number.
Ancelotti even said so himself: "If a player plays well, age doesn't matter. Being 17 doesn't give you the right to play every week if you don't deserve it, and the same goes at 35 or 37. The job of the coach is to evaluate day by day. Maldini won a Champions League at 39 and was training once a week. But he played; because if you're better than the others, you should play." All that was missing was a smack of the table and a drink of water; it was impossible to stop the debate so quickly and so firmly.
Age is but a number, as are goals
Ancelotti does not look at your passport, only your performance. And going on that theory, he considers that Modric is still the best in the business. A footballer that arrived at the World Cup incredibly tired and needed to cut down on his work rate before the tournament, but on the most important nights he was an undisputed starter.
More than just a pillar of the team, he was and is the vertebral column. Modric, even with his ifs and buts, as infrequent as they are, is still putting in the numbers of an incredible campaign: he has 6 goals and this equals his best return in a season. He also has 4 assists for the sixth consecutive season, and has participated in at least 10 goals.
The effects of the Qatar World Cup
He feels strong and wants a new deal. In the bowels of Anfield he made public what had become an open secret: "I feel good and want to carry on, but I have to talk to the club and know what they think. I want to continue because I deserve to do so, not because they gift it to me. Nobody has ever gifted me anything and it don't want it now." This season he has 2,185 minutes and is getting better as the year progresses.
He admitted himself that playing so soon after the World Cup was a mistake: "I should have done a specific programme to come back bit by bit. Qatar affected me a little, but I feel back up to speed now." He is starting consecutive games for Madrid and is ready to get back to his very best version.
His dream: make Croatia a champion
The enormous effort to merge playing with both club and country, from a Madrid point of view, is a huge talking topic that continues to happen. The player himself considers it not to be a problem and in fact, within the next few months, he has a chance to tick off one of the things that remains on his bucket list: win with Croatia. The Final Four is to be played in June and his nation go up against The Netherlands; in the hypothetical final, one of Spain and Italy would await.
Modric was close to winning a World Cup with his country in Qatar; after coming close to getting his hands on the trophy, he finished third. It was a historic achievement, but for a player like Modric, it wasn't enough, he needs more. Those around him feel as though lifting a trophy with Croatia has become an obsession. So, just as everything started to feel like the end, the NeverEnding Story flipped on it's head and revealed that there were plenty of pages left to fill.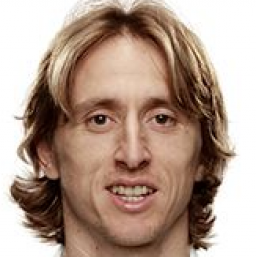 LaLiga Santander 2022/2023
*Data updated to date Mar 10th, 2023