Manchester City 2-3 Liverpool summary: score, goals, highlights, FA Cup 2021-22
FA Cup semi-final: Manchester City - Liverpool-live
Manchester City-Liverpool - headline
- Silva bags City's second in added time
- Grealish offers hope for City with a 47th min strike
- Konate (min 9) and Mane (17' & 45') open the scoring for the 'Reds'
- The winners of the first semi-final will face the winner of Chelsea-Palace
- Both sides advanced to the semi-final stage of the UCL with wins over Atleti and Benfica (LFC).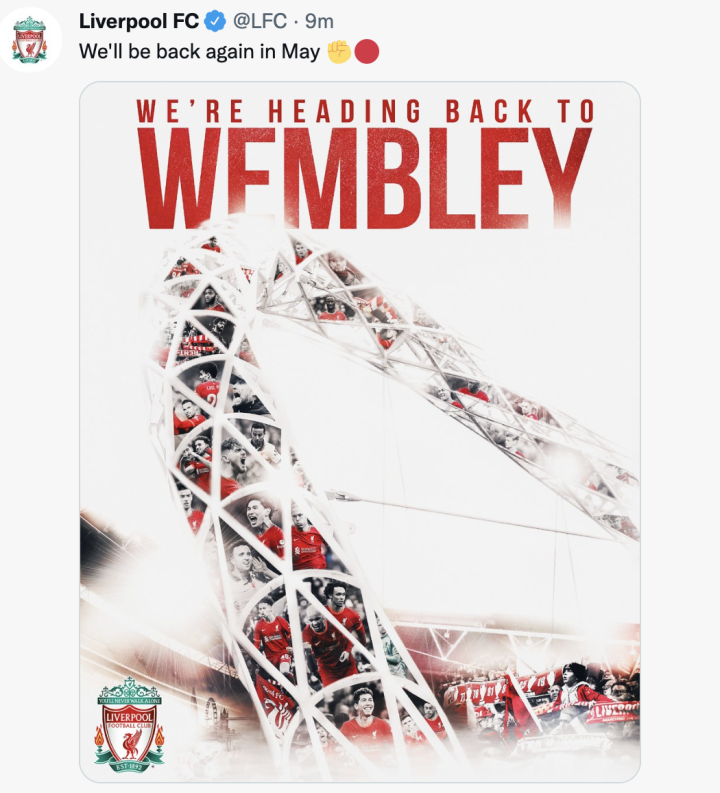 Liverpool march on
With a 2-3 win Liverpool will be back at Wembley stadium on 14 May where the 'Reds' will face the winners of tomorrow's second semi-final as Chelsea face Crystal Palace.
That's it.... Liverpool make their first FA Cup final in a decade. What a dramatic end to a great semi-final. A great first half blitz was enough from Jurgen Klopp's side.
Firmino almost makes it 2-4 but Steffen does well to save. Ref looks at his watch a number of times ...
Fernandinho volleys and it takes a deflection just as it seemed the ball was heading for the top corner. Mahrez shoots and it's yet another corner as Liverpool are on the ropes now. Sterling shoots and Alisson saves well.
What last minute drama here at Wembley.
Great work from Mahrez who sees his shot spill back into open play as the Portuguese player is alert to slot home the rebound.
Silva scores right at death for City. 4 minutes of time to be added....
Sadio Mane and Luis Diaz have impressed today as Liverpool have been just too strong for City with an amazing first half display from Klopp's men.
One or two City fans heading for the exit as the stadium PA confirms today's attendance of plus 73,000 at Wembley.
Jones on for Thiago.
Curtis Jones is poised to enter the action.
In the end it's Sterling who strikes but it's a poor effort as the ball goes high and wide.
Sadio Mane subbed by Klopp as Firmino takes his place.
Luis Diaz repleced by Jota.
Free for City and it looks like the Algerian player will strike....
City change as Mahrez replaces Jesus
Liverpool fans belt out the 'Si Señor, Bobby Firmino' chant and they have out-sung City fans in the stand as their heroes on the pitch have out-played Guardiola's men.
These sides could make the final of the 2021-22 Champions League too with City facing Real Madrid and surprise package Villarreal looking to upset the status quo as Unai Emery's men face Liverpool in the other semi-final.
Ten minutes left City to find two goals as dreams of a treble for Pep's men ever so slowly start to evaoporate...
De Bruyne back on the City bench and everything points to the Belgian not being involved in the action despite shedding the track suit top earlier.
City need to do what Benfica managed midweek and that is bag a further two goals that would see the contest go to extra time at Wembley.
Quarter of an hour remains on the Wembley stadium clock as City may rue that Gabriel Jesus chance that was superbly saved by Alisson. Best chance for the Sky Blues in the second half.
Salah dinks the ball into the side netting as the first switches of the night are made.
Henderson on for Kieta (LFC)
Less than 20 on the clock now as time (or lack of) becomes an issue for City.
Almost 2-3 as Jesus sees Alisson save well as the Brazilian striker tried to nick the ball in the corner. Big, big save from Becker !
Just a reminder that the second semi-final will take place back at Wembley as Chelsea face Crystal Palace in an all London derby.
Diaz finds Kieta on the edge of the box but a poor effort from the former RB Leipzig man as he blazes high and wide...
That early City goal has added a dose of tension to proceedings with Liverpool really in cruise control in the first half. The Sky Blues do need to secure that second goal though to really make a game of it.
Sterling robs and drills the ball into the Liverpool box but it's Konate who is alert to drive the ball away.
Liverpool fans now back in charge in the noise level department....
Who is going to make way for De Bruyne ? The carded Fernandinho or Sterling, who has been discreet this afternoon?
Just past the hour mark and Liverpool seem to have ridden out that initial burst from City at the start of the half.
Mane fouls Fernandinho and is the first Liverpool in the book.... a spot of revenge there from the Senegalese striker ?
Mane seems to be okay after that last challenge as he links well with Konate but City press and force the 'Reds' down field.
De Bruyne starts to peel off the layers of his track suit and we'll see the Belgian in a matter of minutes.
Woah.... Fernandinho clatters Mane and this could be a red.... Studs flying and a real ankle breaker.... The match official takes a more lenient view that I did and awards a yellow
Jesus breaks and Alisson does well to block his path to goal and averts the danger for a corner. A bright start to the half with City having to go for it now if they want to keep their FA Cup dream alive.
Van Dijk almost latches on to a clever A-Arnold free but Ake is there to avert the danger. Liverpool now enjoying a spell of possession.
Much better start from City now as the are playing with a different tempo. A few harsh words from Pep at the break one would imagine have also served to inspire the men in sky blue.
Mane strikes on the turn but no power or pace on the effort as Steffen grabs the ball with ease.
So, can City push on and secure a foothold back in the tie ? Foden now playing on the right flank as the noise levels are now being made from the sky blue clad fans.
Theres's the City goal. Jesus feeds Grealish and the former Villa man slots in the corner.... Just the tonic for Guardiola's men... Game on at Wembley !
No changes at the break it would appear...
City start the second half....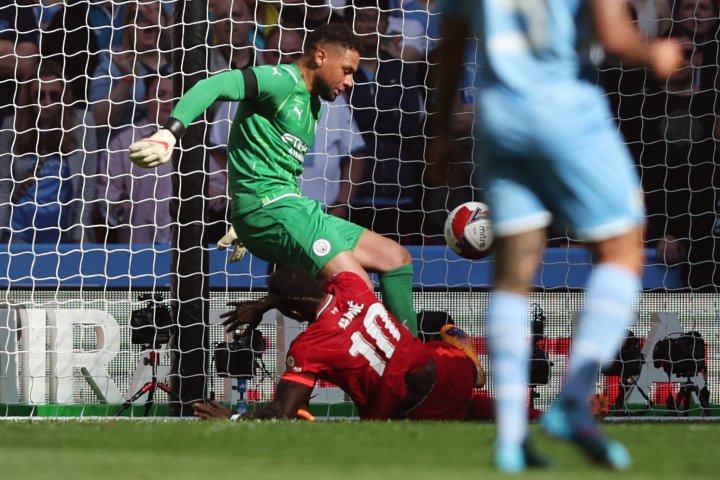 Sadio Mané has scored nine goals against Man City, only scoring more against Crystal Palace (13) since he arrived in England in 2014. In fact, since the start of the 2014-15 season, no player has scored more goals against the Citizens in all competitions.
Curtains for City? Difficult even to see the Premier League leaders coming back from this position with Guardiola's men three goals behind. Take nothing away from Liverpool who have been excellent with Luis Diaz a real handful for City this afternoon. City need an early strike to offer a glimmer of hope but everything points to Jurgen Klopp's men advancing to a May 14 final.
We'll have 2 minutes of added time ... Hard to recall such a poor performance from City as the whistle sounds...
Right on the stroke of the break, the Senegal striker volleys home after a quality move from the 'Reds'....Difficult to see City coming back from this ....
Liverpool have scored 19 goals from corners in all competitions this season, the most of any Premier League side, with Ibrahima Konaté scoring the last three of these in each of his last three appearances.
(via Opta Joe)
Cancelo clips Diaz as the Colombian is really a headache for City this afternoon with his mazy runs on the left flank. The former Porto man has been sensational in this first 45'/
Less than 5 to go and it's Guardiola with all the work to do at the interval as his City side trail 2-0 and are being outplayed by the side in red.
We've seen little from Grealish, Jesus and Sterling today. City really missing the presence and quality of De Bruyne this afternoon.
Kieta robs Ake and tries to find Mane but just overhits the pass as City really struggle to make any kind of in-road into the Liverpool half. The Manchester side certainly disjointed by the five changes.
Fabino joins Jesus in the book as he impeded his countryman from breaking away....
Liverpool fans now jeer every time the ball comes near Steffen after the American stopper's clanger earlier that permitted Mane to bag the second for Liverpool.
Gabriel Jesus the only player carded so far this afternoon and Bernardo Silva lucky not to join the Brazilian with two or three 'borderline' challenges now.
Cancelo takes a hand in the face from Mane with the ref right on top of the action... Nothing going for ref. Micheal Oliver as he just awards a free for City and not the card despite the appeals from the City fans.
Just past the half hour mark and all we can hear are the Liverpool fans. A muted start from the side from Manchester with the men in sky giving their fans little to get excited about as a timid version of 'Blue Moon' starts from the end behind Steffen.
First card of the day goes to Jesus as he clips Diaz who was streaking away from the Brazilian. The former FC Porto man has been an excellent signing for Liverpool and seems to really have found his feet in a short period of time with the Premier League side.
City really struggling to find any rhythm this afternoon and possibly suffering after the tense night at the Wanda Metropolitrano last Wednesday when they had to dig deep and battle a plucky and determined Atletico Madrid side.
A major uphill task for City now as they chase the game. Liverpool fans loving the opening 20 plus minutes of action at Wembley. Long way to go and Guardiola's men really do need a reply do gain a foothold back in this cup tie.
Mane makes it 2!!!!
Poor from the City keeper as the Senegal striker pounces after Steffen ponders with the ball at his feet.
City now looking for a way back as they are forced to retreat with Liverpool looking confident after the opening goal. The 'Reds' still aiming for a quadruple of the English Premier League, the UEFA Champions League, the FA Cup and the Carabao Cup (League Cup).
What a great start for the 'Reds' and what a fine leap from Konate .... on target twice in the Champions League against Benfica as the fans decked in red celebrate the goal as red smoke billows across the pitch from a smoke bomb.
Gooooool. Konate from a corner yet again. Great leap from the LFC No. 5 as he bags his third in three games and Liverpool strike first at Wembley.
First corner of the night goes Liverpool's way as Mane does well.
City invite Liverpool to look for the ball as they start to impose their short passing game. Neither side really in the ascendancy as we hit the 8 minute mark.
Grealish sees his shot defended by a sea of red shirts as Diaz breaks for Liverpool. Plenty of urgency in the opening minutes with today's game set to see Klopp and Guardiola face each other with their very own brand of tactical 'chess'.
Liverpool fans seem to be the louder at present as both teams ease their way into the action.
Off we go at Wembley, Liverpool start the action.... Both sides in their traditional colours.... Liverpool in red, City in all sky blue...
Chelsea vs Crystal Palace is the second semi-final which will take place on Sunday as the fans at a packed Wembley pay a tribute to the victims of the Hillsborough disaster.
The teams take to the pitch at a sun kissed Wembley stadium, a sea of red and sky blue in the stands....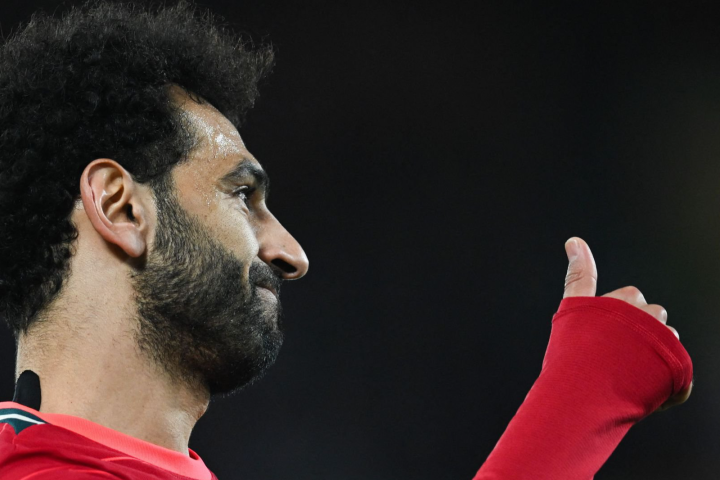 Klopp backs Salah
Liverpool manager Jurgen Klopp insisted star Mohamed Salah will finish the season strong after having his minutes managed in recent weeks.
Salah, who has 28 goals in 40 club appearances in all competitions this season, has only played a full 90 minutes once since Liverpool's home loss to Inter on March 8.
The Egyptian forward led his country to a runners-up finish in the African Cup of Nations in January, but has not scored for Liverpool from open play since February 23.
But Klopp is not worried about his star's production, highlighting the intensity of his recent schedule.
"I know that Mo will finish strong," he said. "It's just at the moment we have to reset because each game for us is a final. From the beginning of January, that is crazy.
"The problem we have is that in January he had the most intense period in his whole career. The tournament went to the wire. "They played in the (Africa Cup of Nations) final, they had all these 120 minutes, the role he has is super, super massive.
"There is a huge responsibility on his shoulders with dressing room meetings and stuff like this with no recovery at all."
Salah played all 90 minutes last time out against Manchester City, collecting an assist in the 2-2 draw.
LFC XI
Liverpool captain Jordan Henderson was left out of Jurgen Klopp's starting XI today, with the German coach opting for a midfield of Fabinho, Thiago Alcantara and Naby Keita.
Salah and Mane returned after being named on the bench in the Champions League against Benfica in midweek, while Ibrahima Konate was again preferred to Joel Matip in defence alongside Virgil van Dijk.
City XI
Kyle Walker and Kevin De Bruyne lost their race to be fit to start for Manchester City in Saturday's FA Cup semi-final against Liverpool.
The duo were doubts after suffering knocks in the Champions League clash with Atletico Madrid in midweek.
While De Bruyne was named among the City substitutes for the meeting between the Premier League titles at Wembley – the second encounter between the sides in the space of six days – Walker missed out altogether.
Ruben Dias was also included on the City bench after being out since late February due to injury, with a pairing of John Stones and Nathan Ake tasked with stopping Liverpool's forward line of Mohamed Salah, Sadio Mane and Luis Diaz.
Zack Steffen replaces Ederson in goal and there are also starts for Jack Grealish, Oleksandr Zinchenko, Gabriel Jesus and Raheem Sterling.
Fernandinho takes the captain's armband after replacing Rodri in midfield, just days after revealing he intends to leave City at the end of the season.
City train at Millwall ahead of Wembley clash
City are playing three days after the second leg in Madrid where a draw helped them qualify for the Champions League semi-finals and the squad trained at second-tier Millwall instead to avoid travelling from Manchester to London.
"It is exhausting to travel from Manchester to London. The people in the club tried to find somewhere near the ground, this is why we used Millwall," he said.
Guardiola said that the intense schedule did not help either, adding that complaining about it was a losing battle as they were at the mercy of broadcasters who decide the schedule.
"We can only dream about better conditions. We have to adapt to the broadcaster's demands," Guardiola said. "We travelled here directly from Madrid... I have said to the players that I do not want any excuses.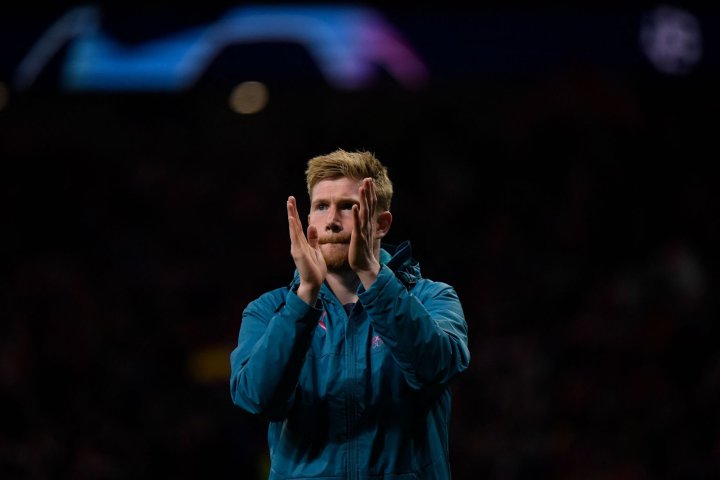 No De Bruyne start
Manchester City decided not to take a chance with Kevin De Bruyne's ahead of this afternoon's Saturday's FA Cup semi-final against Liverpool after the midfielder was unable to train due to stitches in his calf, manager Pep Guardiola said.
De Bruyne was substituted in the second half of their Champions League quarter-final tie at Atletico Madrid and Guardiola said both the Belgian and defender Kyle Walker -- who hobbled off with a leg injury -- did not train.
"He has stitches in his calf, it is not a muscular injury," Guardiola told reporters on yesterday with the Belgian on the bench ahead of today's clash at Wembley Stadium.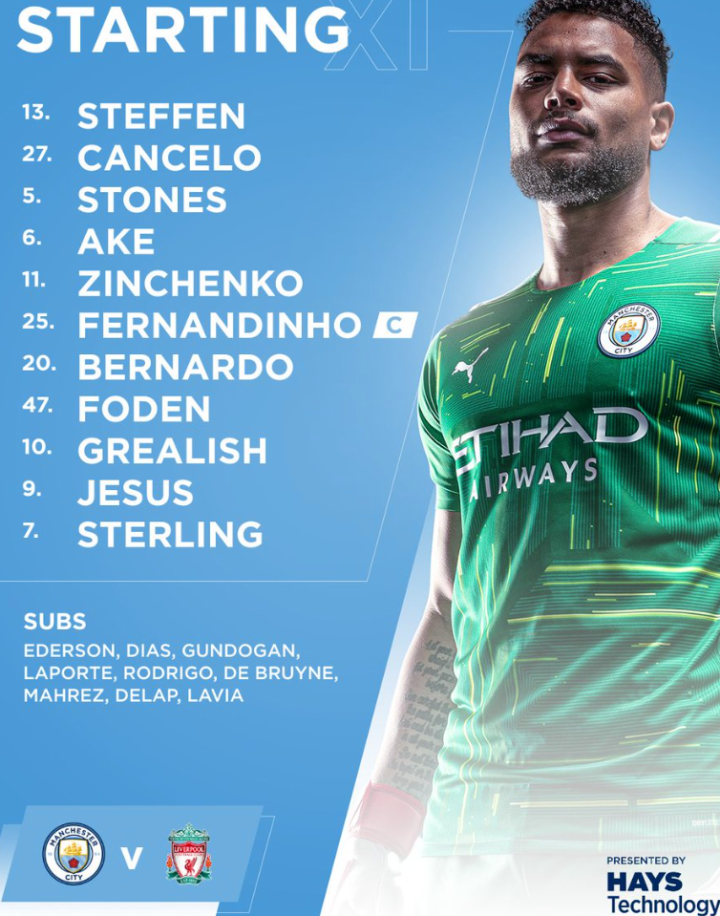 City XI
Pep Guardiola announces his starting line-up with Grealish, Sterling and Gabriel Jesus set to lead the line for the side from Manchester
Manchester City and Liverpool go head to head for the second time in less than a week at Wembley on Saturday.
The sides competed in an enthralling contest at the Etihad Stadium on Sunday, but couldn't be separated, despite City having larger spells of dominance.
Pep Guardiola's side has had a tough week physically. Two draws against Liverpool and Atlético Madrid see his side going into Saturday's clash the more fatigued of the two teams.
The slender 1-0 lead over Atlético meant Guardiola was forced into playing his strongest side at the Wanda Metropolitano on Wednesday. Jurgen Klopp, meanwhile, was able to make wholesale changes to his team as they took on Benfica at Anfield.
City and Liverpool are only separated by a point at the top of the Premier League and will be looking ahead to their respective Champions League semi-finals. Saturday's FA Cup semi-finals means both clubs are capable of winning a treble this season as we enter the business end of the season.
Despite City's impressive performance at the Etihad against Klopp's men, many will fancy the fresher Liverpool team to advance to the FA Cup final on 14 May.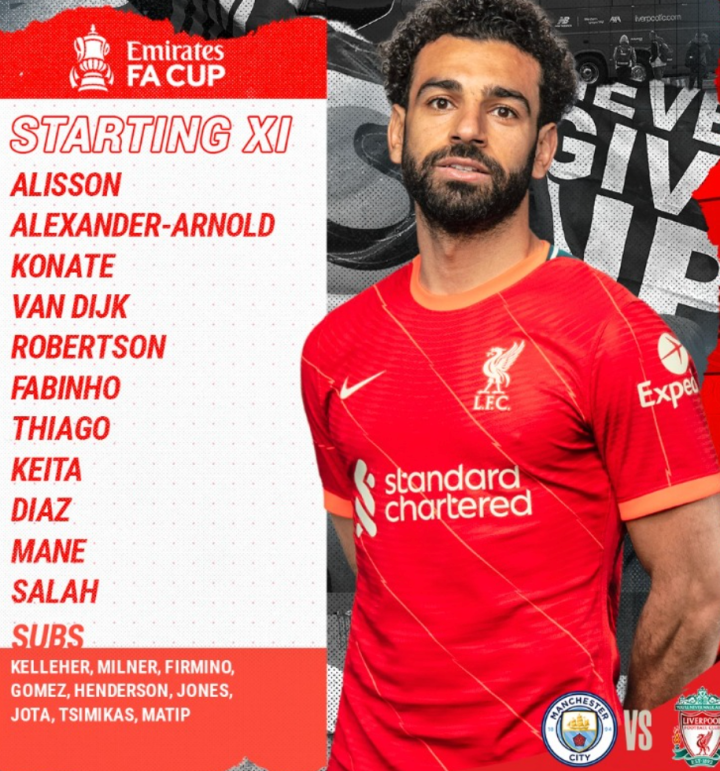 Liverpool XI named
Liverpool boss Jurgen Klopp has confirmed his starting XI ahead of the FA Cup semi-final clash with African duo of Sadio Mane and Mo Salah set to lead the line for the 'Reds'.
Liverpool boss Jurgen Klopp has confirmed his starting XI ahead of the FA Cup semi-final clash with African duo of Sadio Mane and Mo Salah set to lead the line for the 'Reds'.
The other semi-final gets underway at the same venue tomorrow with an all London affair as Chelsea look to put their disappointment of elimination in the Champions League behind them as they face Crystal Palace.
The action gets underway at: 10:30 (ET) / 16:30 (CEST) / 15:30 (GMT)
Hello and welcome to our live coverage of the first FA Cup semi-final as Man City face Liverpool at Wembley stadium