MANCHESTER UNITED
Marcus Rashford contract talks: Manchester United hope to keep PSG at bay while cutting costs
The England star has been in sensational form this year, but contract talks with the club have been put on hold and he will be a free agent next summer.
At the age of 24 Marcus Rashford is entering into the peak years of his career and is enjoying, by some distance, his most productive season to date.
The Manchester United forward has scored 27 goals in 44 appearances this campaign but his future at Old Trafford is still yet to be decided. In December the club enforced a one-year contract extension, taking his deal to 2024, to avoid losing him for a free this summer.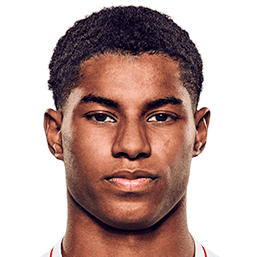 However after news emerged earlier this week that contract talks with the player's representatives were put on pause, can Manchester United retain their star performer beyond next season?
How much will Manchester United offer Rashford?
For the club, Marcus Rashford represents the most valuable of footballing assets: a young, charismatic, home-grown player whose performances have been amongst the best in the team this year.
His current wage is thought to be worth around £200,000 ($247,000) per week but both the club and the player know that he could be earning far more elsewhere.
This week The Athletic has reported that Paris Saint-Germain previously offered Rashford a £400,000 ($495,000) per week deal to make the switch to the French capital. PSG chairman Nasser Al-Khelaifi gave an interview during the World Cup, claiming that the club had held talks with Rashford's team about a possible move.
"We're not hiding it, we spoke before. But the moment was not a good moment for both sides," Khelaifi said.
Rashford's stock has only risen since the World Cup and he would certainly have suitors this summer if United were unable to tie him down to a long-term contract.
United look to reduce vast wage bill
But while the club are expected to offer Rashford a considerable raise in return for committing his future to United, the club hierarchy are weary of adding to the club's salary demands.
In recent years the Manchester United wage bill has soared with the addition of a number of elite-level players to the squad. Last season the club's wage bill increased by £62 million, taking to total annual outlay to £384 million ($474m).
A significant chunk of that extra expense was due to the signing of Cristiano Ronaldo, who was earning a wage of more than £400,000 ($495,000) per week until his departure. But even without the Portuguese's exorbitant salary, the arrivals of Raphael Varane and Casemiro from Real Madrid have left the club struggling to satisfy UEFA's new Financial Fair Play (FFP) constraints.
Goalkeeper David de Gea, who still has two years remaining on the £375,000 ($462,000) per week deal signed in 2019, is another financial burden for the club. Head coach Erik ten Haag is keen for the Spaniard to remain at Old Trafford but he would need to agree to a substantial pay cut if he wants to stay. The Spanish stopper rejected the club's first offer of a reduced contract, but there is confidence that a deal can be struck to satisfy both parties.
In the coming months the fates of Rashford and De Gea could become increasingly linked as talks continue with the two players. United will hope to balance out the salary discrepancy between two of the team's star players to ensure that Ten Haag's improving team stay together.