Monterrey 0-1 Pachuca: summary: score, goals and highlights, Liga MX Apertura playoff semi-final
Pachuca set to play Toluca in the final
Rayados - Tuzos: Match Report
Pachuca has shown the ability to get the result and advance to the final following a 5-2 win on aggregate against Monterrey in the semi-final of the Liga MX Apertura campaign. Rayados started the game pressuring high, but they were too desperate to score an early goal and ended up running out of ideas.
Los Tuzos were never threatened by Monterrey and they were able to control the game from a defensive stand. The defense from Pachuca was solid and they cleared the majority of the opportunities created by the home side to secure their spot to the final of the Apertura campaign.
It's all over! The game has ended with Pachuca winning 1-0 with a late goal from Aviles Hurtado.
GOL! GOAL! GOLAZO! Aviles Hurtado scores from the penalty spot to secure Pachuca's spot in the final of the Liga MX 2022 Apertura against Toluca.
Penalty for Aviles Hurtado after Vargas dropped him inside the box. The ref didn't hesitate and the Colombia international will take it from the spot.
Six minutes added of stoppage time.
The attempt from Funes Mori couldn't close the deal following a nice build-up play from Monterrey.
Pizarro looking to cross, but he was well marked.
Pachuca is holding it down as they have the ticket to the next round in their pocket.
Rodrigo Aguirre attempts a desperate shot from the distance, but it went over the cross bar.
Possession Rayados 67-33 Tuzos (%)
Shots on target: Rayados 10-1 Tuzos
One way traffic, but Monterrey still needs three goals to advance to the final
Quick counter attack from Pachuca and Paulino's volley went wide from close range following a cross from Aviles Hurtado.
After reviewing the foul the ref determined it was not a penalty and the game resumes.
The VAR is checking the play because Monterrey might be awarded a penalty kick following a foul against Rodrigo Aguirre.
Aguirre sends the ball inside the box and Berterame was able to strike the ball, but it hit the far post.
Double subs for Pachuca
In: Hernández, Hurtado
Out: Ibañez, Vargas
Cesar Montes has gone up and he is able to header the ball following a cross from Berterame, but the ball went wide.
A quick break as a player from Pachuca is receiving medical attention.
Another sub for Monterrey
In: Celso Ortíz
Out: Stefan Medina
Rodolfo Pizarro is doing his best to provide a spark of energy for Monterrey, but the home side is running out of ideas because they have to score three goals in 15 minutes.
Berterame had a clear chance to find the back of the net following a cross from Medina, but the shot from the striker from Rayados was blocked by Ustari from close range.
Arturo González receives a yellow card
Pachuca makes another sub
In: Eduardo López
Out: Romario Ibarra
One more sub for Monterrey
In: Rodolgo Pizarro
Out: Maxi Meza
Again effort on target from Rodrigo Aguirre, but easily controlled by goalkeeper Ustari.
Medina into the box, looking for Rodrigo Aguirre, but he can't find his head.
It is getting late for Rayados and they need three goals. They have only threatened Ustari once as we approache the hour mark.
Substitution for Pachuca
In: Paulino de la Fuente
Out: Luna
Sebastián Vega attempts a shot from a long range, but it was controlled by goalkeeper Ustari.
It is going to be difficult to find the back of the net for Monterrey from that range.
Monterrey makes a move
In: Arturo González
Out: Luis Romo
Maxi Meza provides a great cross for Rodrigo Aguirre, but his header went wide.
Pachuca came out more aggressive this half and they already had a couple of opportunities from set pieces, but they have been cleared by Monterrey players.
We are back and the same 22 players return for the second half.
The whistle sounds at Estadio BBVA and it's a scoreless draw after 45 minutes. Monterrey has been very aggressive from the start, but they are struggling finish the plays in the last third of the pitch. While Pachuca is comfortable defending and they have done a good job in clearing the danger every time Rayados is near the box.
Monterrey will have to modify their lineup and make some changes if they want to comeback and they must score an early goal to increase their chances of advancing to the final.
Four minutes added of stoppage time
Monterrey needs to get ball wider quickly and manager Victori Manuel Vucetich might make some changes before the start of the second half.
Luis Romo breaks away and tries to feed a ball to Berterame, but he gave a terrible pass that was cleared by a defender from Pachuca.
Rogelio Funes Mori is caught offside and a good call from the official.
Berterame plays a wonderful ball to Rogelio Funes Mori, who scrambled to get it down, and his shot lacked power so goalkeeper Ustari was able to save it without a problem.
Possession Rayados 70-30 Tuzos (%)
Shots on target: Rayados 5-0 Tuzos
One way traffic
Pachuca are gladly frustrating all efforts from Monterrey and they are starting to approach the box of the home side.
It took 28 minutes for Pachuca to attempt a strike on goal. This time it was Ibañez with a shot from the distance, but it went wide.
Stefan Medina runs down the right flank and finds Funes Mori just outside the box with a low cross, but the Rayados striker couldn't put his boot behind it.
Long cross from the right flank and Aguirre is able to header the ball inside the box, but it lacked power and Ustari didn't struggle to control the ball.
Aguirre's shot from the distance is blocked by goalkeeper Ustari and Monterrey gains a corner kick.
Monterrey keeps pushing forward and they are desperate to score, but they are forcing plays that are causing them to make too many mistakes.
Stefan Medina headers the ball following a corner kick, but it lacked power and goalkeeper Ustari punched the ball away from danger.
What a save from Ustari! Rogelio Funes Mori almost dropped it in following a cross from Aguirre.
Once again Luis Romo tries to feed the ball inside the box, but it is blocked by a player from Pachuca. The Rayado midfielder was yelling to the ref it was a handball just outside the box, but the ref told him to keep playing.
Limited consistent rhythm to proceedings in the opening ten minutes with a surprising number of wayward passes.
Gallardo is making runs down the left flank trying to look for Rogelio Funes Mori, who awaits inside the box, but the crosses are not accurate and well defended by Pachuca.
The most incisive passage of play from the home side.
Slow start of the game with Rayados pressuring high and trying to immediately find the back of the net, but the passes are not precise in the last third of the pitch. While Los Tuzos seem comfortable defending the 5-2 lead and waiting to respond on a counter attack.
Monterrey is receiving full support
Estadio BBVA is at full capacity to support Rayados in the second leg of the semifinal of the 2022 Apertura tournament.
Luis Romo supplies a cross inside the box from the right flank, but it was not on target and Pachuca regains possesision of the ball.
Toluca awaits between the winner of Monterrey against Pachuca, with Los Tuzos having the 5-2 advantage on aggregate.
Monterrey start the game and we're underway at Estadio BBVA.
Rayados-Tuzos: past three meetings
01 October 2022: Monterrey 0-0 Pachuca
04 April 2022: Monterrey 0-3 Pachuca
08 August 2021: Monterrey 3-1 Pachuca
Monterrey remains unbeaten in nine consecutive games at home and they need a perfect performance in order to defeat Pachuca and play against Toluca in the 2022 Apertura tournnament final.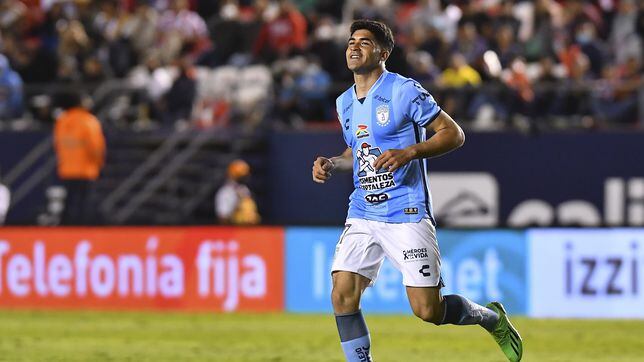 How many times have Pachuca beaten Monterrey in Liga MX playoffs?
Guillermo Almada's men put one foot in the Apertura 2022 final on Thursday, as Nicolás Ibáñez's hat-trick at the Estadio Hidalgo helped the hosts to a 5-2 victory in the first leg of the sides' semi-final tie. Romario Ibarra and Paulino de la Fuente were also on target for the six-time Mexican champions.
Starting XI for Monterrey
Andrada, Medina, Montes, Vegas, Gallardo, Meza, Kranevitter, Romo, Aguirre, Berterame, Funes Mori.
Starting XI for Pachuca
Ustari, Isais, Murillo, Cabral, Álvarez, Sánchez, Chávez, Ibarra, Guzmán, Luna, Ibañez
Mexican football league celebrates 100 years since its birth
Are you enjoying the top flight of Mexican football? Are you a fan of one of the final four teams battling for this season's Apertura 2022 title: América, Toluca, Rayados or Pachuca? Well, while the popularity of the competition is strong, and reaching out across the globe, everything needed a beginning, and this particular flavour of the Beautiful Game is celebrating 100 hundred years.
Hello and welcome to our live coverage of Rayados - Pachuca, in the Liga MX apertura play-off second leg.
Monterrey have it ALL to do, having been tonked 5-2 in the first leg by Pachuca.