Morocco making notes on Brahim in Madrid
AS learns that Morocco coach Walid Regragui was in the VIP lounge at the Santiago Bernabéu for Real Madrid's game against Real Sociedad.
Among the 70,092 fans who witnessed Sunday's league game between Real Madrid and Real Sociedad was a special guest - Walid Regragui. AS learned that the Morocco national team coach made a visit to the white coliseum with a clear mission, to take a close look at Brahim Díaz with a view to persuade the Málaga playmaker to commit to the Atlas Lions. Morocco's interest comes from years back while the Real Madrid player has been patiently waiting for the call from Spain, from Luis de la Fuente - a call that has not come. Within that context, the Moroccan federation has not lost all hope of convincing the player.
Regragui was fortunate enough to be able to catch a few minutes of Brahim in action. The No.21 took the field as a late sub on 87 minutes and, as always, made the most of his opportunity.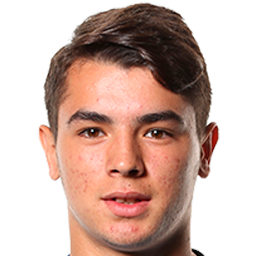 Active and attack-minded from the moment he came on, the forward very nearly enabled Jude Bellingham to score for the fifth match running - his cross was met at the back post by the English, who effort was brilliantly saved by Remiro.
Ancelotti has been full of praise for Brahim whenever he has been asked about the player by the media. "He has improved a lot, he still has quality, but he is much more powerful and has grown physically," the Madrid coach said recently. However, breaking into the side is far from simple. The 24-year-old has played a total of just 16 minutes spread over three games this season. In spite of hi situation, the player remains positive and optimistic. "The coach tells me to take advantage of every minute I get and try to revolutionize the game. And so that's what I tried to do," he explained after another good appearance against Getafe in Week 4.
Brahim was an important player for De la Fuente in Spain's youth categories. The current senior team coach handed him his debut with the Under-19s when he was just over 17 years old and he was a regulars with the Under-21s, making a total of eight appearances. In June 2021, Sergio Busquets tested positive for Covid-19 which obliged De la Fuente to hand Brahim his debut with the first team in a friendly against Lithuania. Brahim played the full 90 minutes and got on the scoresheet in the 4-0 win. Nevertheless, after impressing on his debut, he has yet to make an appearance at full international level in official competition. And that's where the problem lies...
Brahim has been on De la Fuente's pre-list since he took over the post from Luis Enrique. He enjoyed a leading role playing as a No.10 at AC Milan - the team lifted Serie A last year and reached the Champions League semi-finals (his winner against Tottenham put the Italians into the quarter finals). But in spite of all that, he is still waiting for a call from Spain. It's a situation that Morocco, who finished fourth place in the last World Cup, are keen to capitalize on. And Regragui, apart from making a personal appearance in Madrid, has never publicly hid his position. "Obviously we are interested in Brahim. However, there are many aspects to these cases, and they are not easy to resolve. One of them is the African Cup in January, which does not help us," he said on August 31, after not including him in his list for the international break.
Real Madrid increases the intensity of the focus on Brahim, but a lack of regular playing time reduces the chances of the player getting called by Spain. Meanwhile Morocco hope he will agree to play for them and be able to count on him in the next Africa Cup of Nations, a tournament that takes place between the 13 January and, in the best of cases, 11 February 2024.
Regragui believes the CAF is an obstacle in the negotiation, as Madrid would be left without a squad for almost a month. Until now, Brahim has not heard the siren song, and has given priority to La Roja, but the call is getting louder. The Atlas Lions are aware that they have lost Lamine Yamal, but have not lost all hope with Brahim.