Premier League final day summary | Man City win title ahead of Liverpool | Scores, standings, results...
Premier League Final Day - City win the 2021/22 title
Premier League Final Day - Man City Champions
Manchester City comeback to the win the title
Manchester City 3-2 Aston Villa
Liverpool 3-1 Wolves
Manchester City were trailing 2-0 in the 76th minute and nervously waiting to hear the news from Anfield that Liverpool had got the goal to put themselves ahead of Wolves which would put Klopp's side top of the table.
But Guardiola had just brought Gundogan and Sterling on and the pair suddenly burst into life and in the space of five minutes City scored three and ensured that the title would be theirs, going to claim a famous 3-2 victory that meant they finished a point ahead of their Merseyside rivals.
Other games:
Crystal Palace 1-0 Manchester United
Chelsea 2-1 Watford
Brentford 1-1 Leeds United
Brighton 3-1 West Ham
Arsenal 5-1 Everton
Leicester City 4-1 Southampton
Burnley 1-2 Newcastle
Norwich City 0-5 Tottenham
Burnley relegated. Along with Watford and Norwich City who were already down.
Tottenham finish fourth and get the Champions League place.
Arsenal and Manchester United get the Europa League places.
West Ham go into the Europa Conference League.
Guardiola now has more Premier League titles than Jose Mourinho and Arsene Wenger, who both got three. And he's the first non-British manager to get four top-flight league titles. (Alex Ferguson was Scottish, and won 13)
Netted another title
One of the goals fell to pieces in the celebrations...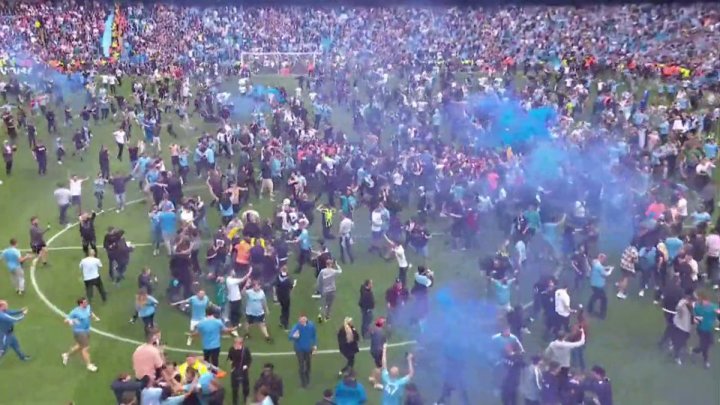 City fans celebrate on the pitch
City fans burst onto the pitch at the final whistle, desperate to celebrate their title.
Four Premier League titles in five years for Manchester City. Only broken by Liverpool who nabbed it in 19/20. Chelsea in 16/17 under Conte the side before.
In the past 11 seasons City have won the title six times. The Abu Dhabi Group's investment - they took over in 2008 - has paid off handsomely.
City won the title in 11/12 under Mancini, then 13/14 under Pellegrini, and the four most recent titles have all come under Pep.
Thousands of fans made it onto the pitch at the Etihad in the celebrations at the final whistle, and one of the crossbars got broken (a young girl was sat triumphantly on it for a while, getting photos that will be long treasured in a family album) but it all seemed good natured, as you'd expect. The security folk have cleared the pitch now and the fans are waiting expectantly for the Premier League trophy to be raised aloft triumphantly.
It matters little now, but if Liverpool had scored earlier, would the huge ramp up in pressure on City at that point have affected their nerves? Likely an argument of cold comfort to Liverpool now...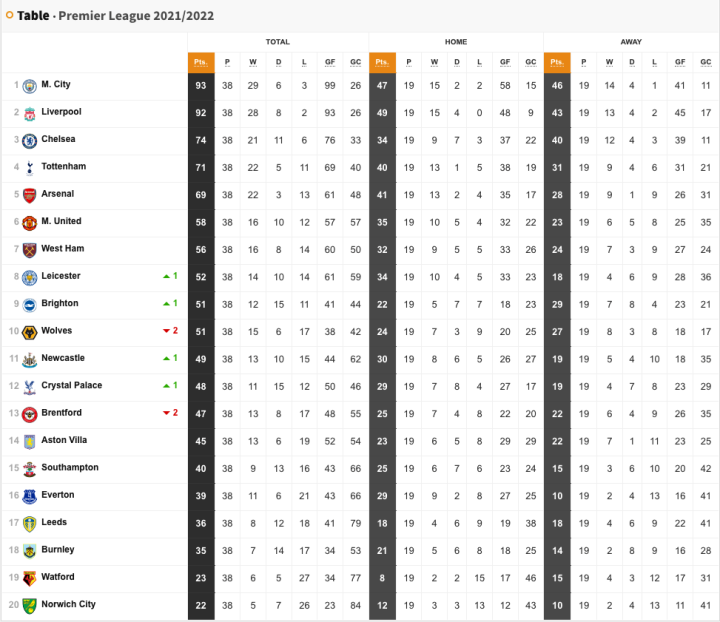 Final 2021/22 Premier League table
So here's how it finishes... City champions, Liverpool just a point behind. And the title was up for grabs right up till De Bruyne passed to Gundogan in the 81st minute of City's game against Aston Villa and he fired home to ensure that no matter what Liverpool did City had their destiny in their own hands, and they made sure.
City looked like they might throw that away, trailing by a goal and with Liverpool expected to get the goal they needed (and which they did), but WHAT a comeback. Three goals in five minutes turned everything around and Manchester City claimed a priceless 3-2 win over Aston Villa to win the title. Congratulations to Pep and his team!
FULL TIME AT THE ETIHAD! Manchester City are Champions!
Gabriel Jesus in his own corner running the clock down... the party is about to start at the Etihad!
Just a couple of minutes left at the Etihad and the fans are in FULL voice. Pep still screaming instructions, knowing one slip could throw it all away, but the chances seem utterly slender now.
Ederson down clutching his hamstring. He needs some a quick once over from the medical staff, but is fine to carry on.
Firmino makes sure for Liverpool! 3-1. Klopp is applauding the fans. They've done their job and for a while it looked like Aston Villa were going to help them out, but City turned things around in spectacular fashion.
Aston Villa get into the City box and you can hear the nerves shredding around the Etihad, but it all breaks down and City are seconds closer to being Champions of All England.
Salah! A header from a corner nearly goes in, but Salah is sharpest to react and puts Liverpool 2-1 up! It's no use to them as things stand, with City winning 3-2 at the Etihad, but if Aston Villa can nick one in the last five...
Gundogan again! And City have produced the comeback to lead 3-2 and ensure that provided they don't lose a goal they will retain their title.
10 minutes to go. Liverpool are utterly desperate for the goal that would put them top, but City are now just one goal away from the win which would guarantee them the title.
City are level! Rodri sends the Etihad wild! That means City would only need one if Liverpool score.
City pull one back! Gundogan! Makes things a little easier for City if Liverpool manage to get a goal. 1-2!
Sterling, who Pep just brought on, did well to set that one up, with a lovely lofted cross.
Tottenham are cuffing Norwich City, who can only think of the beach after being relegated. 5-0 now.
Less than twenty minutes left. City are losing but still top, though if Liverpool get one they will go top and Pep's side will need THREE to get back to the summit. What a 20 minutes to come...
Well goodness. Coutinho! Slides home Aston Villa's second. A massive long ball from the keeper, nodded on and Coutinho with a SUBLIME turn beats Laporte and scores! Guardiola looks utterly distraught.
De Bruyne free-kick... he sends it to the back post, and it's close but always down the wrong line and Olsen watches it fly past to safety...
Big save from Ruddy to deny TAA! Decent hit that the keeper had to dive to his left to get to.
Half an hour left at Etihad and Anfield. City champions as it stands but on a knife-edge because if Liverpool score then City would need two to stay top.
Salah comes on for Diogo Jota!
Salah looks like he's coming on. Klopp knows there's no point City losing if Liverpool don't win...
Leeds open the scoring against Brentford! That means they jump above Burnley in the hunt for safety.
Pep makes a move. Sterling comes on for Mahrez.
City are chucking everything at Aston Villa, and coming close, but they are dangerous to being hit on the break.
Watkins for Aston Villa! Long ball over the top, and he's very, very close to making it 2-0 for City.
Arsenal restore their two goal advantage. 3-1 now over Everton.
Another great chance for Liverpool as the Wolves defense mess it up coming out, Mané well tackled and the ball falls to Diogo but his shot spirals away harmlessly.
LIVERPOOL! What a ball in and what a dink from Mané! That's 2-1... ah no... it's offside. As you were.
City creating a string of chances here, but somehow Aston Villa survive!
Matip booked for Liverpool.
Wolves would like a penalty for what might have been a shove in the box, but it was all a bit of a stramash and the ref waves play on.
Off we go! A very nervy second half coming up!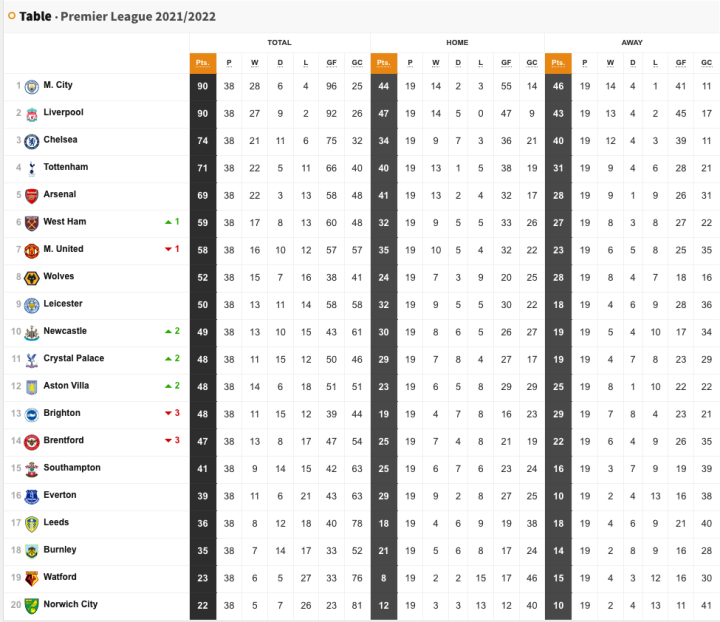 Half-time table
How things stand in the Premier League at half-time on the final day of the season. Burnley going down, City on top. West Ham currently in sixth with United slipping to seventh.
Half-time around the grounds and the shock news is at the Etihad where City are losing to Aston Villa. They are still top of the table on goal difference, but a Liverpool goal would turn everything around.
Four minutes of time added on at the Etihad and Anfield and it looks like the title decider matches will be the last to get to half-time with only Burnley and Newcastle still in action. Newcastle winning 1-0 there.
Foden in down the left and his cut back is just cleared. He's been a danger all 45 but keeps running into an Aston Villa shirt or boot at the final moment.
Wolves man Jose Sa down at Anfield with a knock. Will be some added time for this.
That was a scary moment for City as Watkins got inside the backline, but decent covering from the City defense denies him the chance to get a shot off.
The absolute scenes at Anfield when news of Matty Cash's goal for Aston Villa at the Etihad came through. Liverpool fans hugging, screaming, dancing, crying... and still 50 minutes to go. Final day of the season, nothing like it.
Man Utd's woes continue with Crystal Palace opening the scoring. And West Ham have scored against Brighton.
ASTON VILLA! They've only gone and opened the scoring and currently Liverpool are level on points! Crazy.
Cash nips in and heads past Ederson who got a hand, but couldn't stop it. Pep marches out of his dugout looking very serious to bark instructions to his men...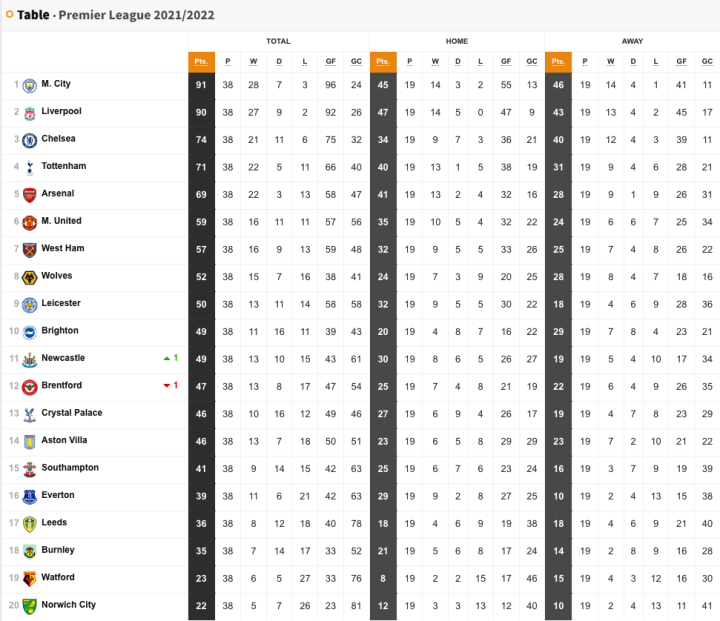 Premier League as it stands
How it looks with 36 minutes gone. City champions as it stands, drawing 0-0, while Liverpool are also tied, 1-1.
Arsenal and Tottenham are now both two up, on Everton (safe) and Norwich (relegated) respectively.
City meanwhile keep probing away, but each move just breaks down, or is broken down in extremis by the Aston Villa backline.
Liverpool are starting to play some heavy metal football and the Wolves back line is rocked. Another goal for Klopp's side before half-time looks more than a possibility.
Massive Liverpool pressure and Robertson nearly scores coming in from the left, but his shot is just over.
Arsenal convert their penalty and go 1-0 up on Everton.
Liverpool goal!
Mané! Gets a backheel assist from Thiago (stunning) and strides into the Wolves box and fires home! Liverpool are level!
Ah wait, VAR intervenes and chalks off Leeds United's goal. Though Newcastle HAVE scored against Burnley, meaning things are still looking bright for Leeds.
Leeds! Into the lead against Brentford, just as Newcastle score against Burnley. Relegation moment! That puts Leeds in the driving seat on 38 with Burnley on 35...
What a chance for Wolves! Burst down the left, with Matip out of position and Dendoncker at the near post really should have made that 2-0 to the visitors. City, who are currently bossing their game (70-30 possession) will be happy with the way the afternoon is going.
Dejan Kulusevsk opens the scoring for Spurs against relegated Norwich City.
What a chance for Liverpool, ball right across the face of the goal from Luis Diaz but there's no lurking toe to prod it home. Still Liverpool 0-1 Wolves.
Chelsea have opened the scoring against Watford. Kai Havertz with the goal.
City are well on top at the Etihad, though yet to create any clear cut chances. Foden is looking rather sharp down the left. Oh! Olsen nearly gifts City their opener clearing straight into Gabriel Jesus, but Villa get lucky and the ball ricochets to safety.
Wolves open the scoring! Third minute and some route 1 football gets the ball up the right to Raúl Jiménez who plays in Pedro Neto and Wolves are in the lead! Nice finish.
No to racism around the grounds and we're underway! Who takes the title?
Klopp awaits
Klopp looking pensive ahead of the match...
You'll never walk alone rings out round Anfield. Never, ever gets old - goosebumps every time.
City believes
One final push says the City social media manager. Must just be hoping City don't lose their heads as appears to have happened with the way Twitter cropped these four photos.
Under 10 minutes to go till kick-off around the grounds. The atmosphere at both the Etihad and Anfield is, as expected, pretty amazing, although it's clear Man City feel this is their title - some nerves, but it's a celebratory feeling already in Manchester. The Liverpool supporters are tuned in to what's going on up the road, and just hoping they can get the job done in case Pep's side slips up, and also that they don't pick up any injuries ahead of next Saturday's Champions League final against Real Madrid.
Premier League final day relegation battle: table and fixtures
In addition to the battle for the title, the other end of the table sees all sorts of excitement with Leeds United and Burnley fighting for survival. Burnley are currently 'safe' in 17th and Leeds in the relegation spot in 18th, but the sides are level on 35 points, with Burnley's superior goal difference possibly vital come the end of the day.
Watford and Norwich City are already down.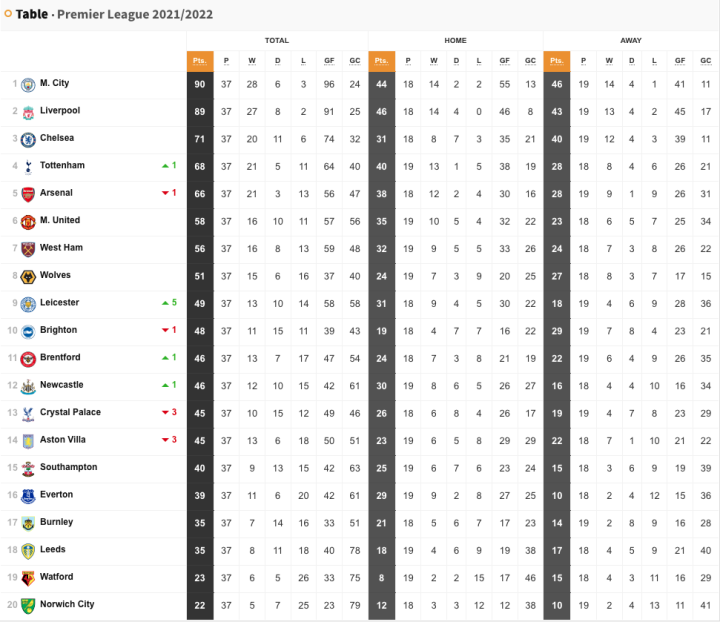 Premier League table
37 games into the season and just a point separates Liverpool and Manchester City, on 90 and 89 respectively. In the end there was a bigger gap on goal difference (72 to 66) and goals scored (96 to 91) than might have been expected earlier in the season, but City have that advantage that if they lose today and Liverpool draw they will still be crowned Champions thanks to the goal difference, which is looked at first, and goals scored which is looked at if they are tied on goal difference.
Premier League Final Day fixtures
All the games this afternoon in the Premier League
The full fixture list, and you can see the scores in realtime on our results services.
All the games kick-off at 4pm local time, which is 11am ET, 8am PT.
Crystal Palace vs Manchester United
Chelsea vs Watford
Brentford vs Leeds United
Manchester City vs Aston Villa
Brighton vs West Ham
Arsenal vs Everton
Leicester City vs Southampton
Burnley vs Newcastle
Norwich City vs Tottenham
Liverpool vs Wolves
Manchester City or Liverpool?
Good afternoon and welcome to our Premier League Final Day live feed, bringing you live updates as Manchester City look for the win against Aston Villa that will guarantee them the 2021/22 title.
Liverpool, one point behind in the table, know that in reality they have to win against Wolves to have a chance of catching City, and hope that their Manchester rivals drop points. There is a scenario where City lose and Liverpool draw where Liverpool take the title, but it involves City losing by a huge margin of goals, and Liverpool drawing by 6-6 or more. Our advice, don't put your money on that scenario. Just so you know, there would be a play-off if City lose 6-0 and Liverpool draw 5-5.
Overall, you'd expect this to be City's title, the chance of them dropping points at home to 14th-placed Aston Villa, who are playing for pride, seems unlikely given the gulf in class between the sides. But then few expected Guardiola's side to drop points to West Ham last weekend, the game there ending in a 2-2 draw. Still, all the smart money is on City to win comfortably and retain their title.
Liverpool meanwhile would be expected to get past Wolves, despite some nervy performances recently (with some second string players as Klopp prepares for the Champions League final next weekend in Paris vs Real Madrid). As a Liverpool fan commented to me this morning - the most painful scenario imaginable is City slip up... and so do we.