Real Madrid surprised by Toni Kroos
The Santiago Bernabeu club are surprised by the German's decision not to extend his contract but are optimistic that he will put pen to paper soon.
Cadena SER have reported that the German midfielder has not responded to the club's first approach to sit down and discuss a contract extension. At present the player is keen not to sign anything at present and will wait for his contract (which ends in June 2023) to run down and will then assess his situation.
Real Madrid wanted a short extension with Kroos currently 32, and were looking for to bring the deal through to the end of the 2024 campaign. Kroos is anxious that his remaining time in the Spanish capital is based on him feeling that his level of playing has something to contribute to the club and if Madrid continue to consider that contribution necessary.
The player previously stated: "I will be 33 years old when (this contract) ends; my idea, practically, is to finish here. My feelings are that at 37 or 38 I don't think I'll continue playing. I will decide at the moment".
Kroos clearly doesn't see his career evolving in the way that teammate Modric has, with the Croatian player out of contract when he hits 38 years of age and now happy to assess his situation on a season by season basis. In his eight seasons at the Bernabeu, the German has won 17 titles: four Champions Leagues, three Leagues, three European Super Cups, four Club World Cups and three Spanish Super Cups. This August could see the central player add to his tally with the European Super Cup when Madrid face Eintracht Frankfurt in Helsinki on the 10th.
Kroos will also be aware that younger players such as Camavinga and Valverde and now Tchouameni will be knocking on the door and will add more competition in the centre of the park and the way the 2022-23 season pans out could be instrumental in any decision making process the German will have... If Kroos stays in the starting eleven and performs well next year, the chances that he will want continue to increase; If he starts to visit the bench more regularly, the options of not signing seriously increase.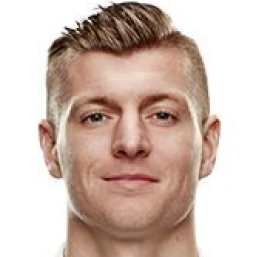 The three paths open to Kroos
Real Madrid are aware that there are three possible paths for Kroos relating to his immediate future: a short renewal at the end of the campaign, for one or two years; that the German decides to retire at 33, as was the case with his former Zinedine Zidane, who announced that he would hang up his boots while still 33 years old and made that decision effective after the 2006 World Cup in Germany, when he had just turned 34. This third and final option is the German player leaving top-level European football to try his luck overseas with the MLS viewed as an attractive proposition although Bernabeu insiders feel this is a long shot given Kroos' competitive spirit and desire to perform at an optimum level.