Real Madrid vs Shakhtar Donetsk summary: score, goals, highlights, Champions League 22/23
FT Real Madrid (Rodrygo, Vinicius) 2-1 Shakhtar Donetsk (Zubkov)
A mad game of football. If Real Madrid had scored seven or eight goals (maybe more), Shakhtar could hardly have complained. Chance after chance after chance after chance (and so on) for Carlo Ancelotti's side, with Vini Jr the main culprit in front of goal. The Brazilian did at least find the net once, along with compatriot Rodrygo.
Credit has to go to Shakhtar goalkpeer Anatoliy Trubin too, he made 13 saves in total. Madrid had 35 shots on goal; I'm struggling to remember a game in which I've seen as many from one team!
By virtue of being only a goal down, Shakhtar always had a glimmer of hope of snatching a draw but anything other than a Madrid win would've been daylight robbery. The visitors had one or two moments going forward but Trubin was their star man, without question.
Real Madrid extend their lead at the top of the group to five points and are all but through to the knockout stages, while Shakhtar remain in second spot despite the defeat.
Rodrygo MOTM
A more central role for the Brazilian tonight. Some of his link-up play with Benzema and Vini was delicious. A goal too.
Ancelotti: "We pressed well, we made it uncomfortable for them"
Ancelotti up next on Movistar:
"I asked the players to be more compact, I didn't want them to think it was easy. We pressed well, we made it uncomfortable for them."
"Sometimes your concentration goes a bit when you go 2-0 up. That's what happened a little bit at the end of the first half."
"Rodrygo played more centrally, he linked up really well with Karim. He's got enough quality to play absolutely anywhere."
"Some of the players will get a rest on Saturday."
Ancelotti equals a Champions League record
Carlo Ancelotti has tonight equalled Sir Alex Ferguson's record of 102 victories in the Champions League. I suspect he'll at least another won this season.
Kross: "It could've been 7-1"
Real Madrid midfielder Toni Kroos, speaking to Movistar:
"There are days when the ball does not want to go in. It was a game we should've won 7-1 or something like that, but in the end it's three points. It's a deserved victory and that's it."
"It's hard to believe that we only won 2-1, but we did it. We will score more in the next games."
The boys from Brazil at the double
Shakhtar goalie Trubin did 'stop' them plenty...but the boys from Brazil ultimately decided the game!
Off the post!
Real Madrid find a new way to fail to score. Benzema races away down the left, his cross ends up at the feet of Asensio, whose strike is deflected onto the post.
2 minutes of stoppage time to be played. Can anyone remember the last time there was so little?
Trubin's back!
This is incredible. Shakhtar stupidly give the ball away in their own half and Benzema gets space in the box to shoot. Guess what happens? Trubin's back. He saves down low. Again.
ANOTHER effort on goal from Madrid. Benzema this time. He can't hit the target from the edge of the area though.
Madrid need to be a little bit careful here. They've been so wasteful and Shakhtar just need one chance to level. Not this time though as Sudakov shoots over from 25 yatds.
Another blast from Valverde from distance, another battering for the back row of the bottom tier.
Another decent chance for Vini, I've lost count how many. That's far too tame an effort though. An easy save for Trubin this time.
Still alive
10 minutes to go and it's pretty crazy that this game is still alive.
Real Madrid sub
Asensio takes over from Rodrygo in attack.
...but Mudryk blazes it well over.
A dangerous free-kick this time for the visitors!
Shakhtar are not out of this! Mykhailichenko's cross causes a problem for Lunin and falls to Petryak but he hits his effort into the ground and is cleared.
Real Madrid sub
Camavinga comes on to replace compatriot Tchouaméni in midfield.
Valverde absolutely smashes it...high into the stand.
I may have spoken too soon...Free-kick to Madrid in a VERY dangerous position.
Shakhtar will be a bit happier with the way the game's going at the moment. It's a bit less chaotic and they've had some semi-threatening breaks into the Madrid half.
Valverde's teasing cross almost reaches Benzema just a few yards out! Cleared just in the nick of time.
26 shots to 7 so far. It feels like there'll be quite a few more.
Double change for Shakhtar
Petryak and Sikan, who scored a hat-trick at the weekend, come on for Shved and goalscorer Zubkov.
A sight of goal for Mykhailichenko from distance...comfortably wide on his swinger.
The respite may be over for Shakhtar...the ball falls to Vini on the penalty spot and he lashes it wide. Wasteful.
30 seconds later...he's called into action again. Rodrygo is slid through in the box and Trubin again gets down brilliantly to keeo it out.
Trubin hasn't made a save for 10 minutes, by my reckoning.
Vini very nearly picks out Benzema at the back post with a chipped cross, but Matviienko makes a vital interception.
Shved finds space in the Madrid box for a header on goal, but can't keep it down. Better from Shakhtar though. The game has settled down a little.
Vini skins Konoplia but not Bondar, who cynically chops him down. Yellow card.
What a chance for Shakhtar!
A straight ball in behind Carvajal sets Mudyk away. He races into the box and bears down on goal but takes one touch too many, which allows Mendy to get in the way. He had to shoot there!
Trubin's first save of the half!
Superb link-up play against from Valverde and Benzema. The Uruguayan's powerful effort is tipped over!
Yet another Madrid effort...
If Shakhtar are to get anything from this game, they're going to have to stem the flow of Madrid attacks. It was wave after wave in the first half and it's continued that way in the second. This time Vini can't get his header on target.
An early chance for Militão, who heads tamely over from Kroos' ball into the box.
We're off again!
The teams are back out. No changes for either side at the break.
Other scores
The scores elsewhere tonight:
Manchester City are 3-0 up on FC Copenhagen (guess who scored twice).
Dortmund are leading by the same scoreline at Sevilla.
Chelsea lead Milan by a goal to nil.
Benfica 1-1 PSG
Juventus are 1-0 up on Maccabi Haifa.
In additional to RB Leipzig beating Celtic earlier, Salzburg defeated Dinamo Zagreb by a single goal.
HT Real Madrid 2-1 Shakhtar Donetsk
Well, that was a breathless first half. I need a lie down.
Madrid have had 17 attempts on goal, Shakhtar goalkeeper Trubin has made eight saves. The hosts could be out of sight, some of their attacking play has been a joy to watch. Rodrygo drifting infield has caused the Ukrainians a lot of issues and he's linked up brilliantly with Benzema and Vini Jr.
Shakhtar's goal came out of nowhere but it looks to have given them some confidence in an attacking sense. Can they take that into the second half?
One thing is certain - there'll be more goals in this one.
And almost a third for Madrid!
Nearly a carbon copy of the first goal. Hesitation from Shakhtar on the edge of their own box gives Benzema a chance to shoot. Trubin makes another low save.
Almost an equaliser!
The goal has breathed new life into the visitors! Mudryk floats a nice ball into the box for Bondarenko, who can't quite get a touch on it. He was all alone too...
First corner for Shakhtar. Piling on the pressure...It's a poor one though.
That goal came completely out of the blue. Madrid were tearing their opponents apart time and again with the speed of their passing and movement.
Real Madrid 2-1 Shakhtar Donetsk (Zubkov)
Well, who saw that coming?! I did not.
Mykhailichenko is given FAR too much space down the left, whips a cross in to the only target in the box, Zubkov. He doesn't connect fantastically well but it's far enough in the corner to beat Lunin. Game on...!
Lightning counter!
What a counter attack from the hosts. Benzema sets Valverde away. Rodrygo then tees up Vini, who slides the ball wide when he should do better.
A glimpse of a threat from the visitors. Mudryk gets in behind Carvajal but chokes his shot into the ground. Easy for Lunin.
Vinicius...saved! Benzema...saved!
Trubin is going to sleep well tonight. Benzmea puts Vinicius through again, the Brazilians shot from an acute again is well saved by the Ukrainian goalie, who picks himself up to block from Benzema.
Incredible how this game has run away from Shakhtar. They looked assured on the ball and really well organised up until the first goal.
Off the line! And then wide!
Madrid are creating chances for fun now. Vinicius has one cleared off the line after some suspect goalkeeping from Trubin. Then Benzema's volley flashes inches wide. This isn't looking great for Shakhtar.
Trubin tested again! Valverde with another low effort from range, beaten away.
Real Madrid 2-0 Shakhtar (Vinicius Jr)
Golazo! That movement is exceptional. Quick passes from Tchouaméni, Valverde, Benzema and Rodrygo but Vini through on goal...calm as you like. This game already looks like it might be out of reach for Shakhtar.
Mudryk has been earmarked as the main danger man for the Ukrainians and almost got in behind there for the first time! Militão was on hand to mop up but that's the first time Shakhtar have threatened.
Trubin down low!
Benzema and Valverde play several one-twos before the Frenchman guides one towards the bottom corner from just inside the box. Trubin gets down well to keep it out.
Shakhtar have really faded after a bright-ish start. They're struggling to keep the ball now but keep trying to play out. Might be a bit risky...
More silky skills, this time from Benzema. Another effort on goal, this time from Valverde. Blocked again.
Vini Jr snake hips
A brilliant piece of wriggling from Vini Jr to get between two defenders! But hie shot his blocked. An anti-climax.
Going back to the goal, Stepankeno really should've got rid of that ball. He didn't anticipate Rodrygo's loose touch at all.
No threat from Shakhtar
The visitors have knocked the ball about quite well in their own half but they've not threatened in Madrid's half at all.
Rodrygo's first Champions League goal of the season and fourth in all competitions.
Real Madrid 1-0 Shakhtar! (Rodrygo)
Madrid had started to turn the screw a little bit but Shakhtar will be disappointed with that one.
Rodrygo looked to have lost possession on the edge of the box but the ball rebounded back to him and he stuck it in the bottom corner from 20 yards.
First shot on target!
Trubin is called into action for the first time! The ball falls to Valverde on the edge of the box but his effort is straight at the Shakhtar keeper. A comfortable save.
Alabla lines one up from about 100 yards...well over! That was...ambitious.
A free-kick to Madrid in a dangerous area out on the left. Kroos to take...but it comes to nothing.
Madrid are pressing high up the pitch, hoping to rob the ball in opposition territory. A promising start from both sides.
We've only played two minutes but it already doesn't look as it Shakthar have come here to defend. Playing the ball out from the back, nice and calmly.
Almost...
Almost an early one! Valverde's chipped ball looks for Benzema, a crucial touch from Matviienko to intercept.
And we're off!
We're expecting goals here...
Silence
Before we go, a minute's silence for victims of the Kanjuruhan Stadium disaster in Indonesia. Awful.
Lunin the spotlight
A big night for Madrid goalkeeper Andiry Lunin! His first ever Champions League start against his compatriots.
Almost ready...!
The players are out. The refs are out. The Champions League anthem is on.
Almost time to go.
'Hala Madrid' rings around the Bernabéu. It's hairs-on-the-back-of-the-neck stuff.
RB Leipzig early winners
Two results to update you on:
In tonight's other game in the group, RB Leipzig have beaten Celtic 3-1. The Germans and the Scots are both behind Madrid and Shakhtar having played a game more.
And in the UEFA Youth League, Real Madrid U19s thumped their Shakhtar counterparts 6-1. Let's hope the big boys have a closer contest...
Jovicevic: Football brings up a lot of emotion
"A football match is so important to so many people. It brings up a lot of emotion and all those who are supporting us in Ukraine and abroad, because sadly many people have had to leave, transmit their energy".
"That gives us the strength to fight and believe anything is possible in football. We know how strong Real Madrid are, but we also know the best team doesn't always win in football."
In case you missed it...
Amazingly enough, Shakhtar coach Igor Jovicevic used to play for...Real Madrid.
Kind of.
The Croat played for Madrid's youth team, where he was coached by Rafa Benítez (not sure if he told him how to take free-kicks) and played alongside Raúl and Guti.
A bad injury disrupted his career, however, and he never made the first team.
Ancelotti in respectful mood
Carlo Ancelotti was in respectful mood when speaking to the press ahead of the game:
"It's really important to get to nine points. We're ready for it. We didn't play well on Sunday (in a home draw against Osasuna) and we have to show a better attitude. We want to improve and show our true identity. We have total respect for our opponents."
"They are a team that has lots of problems training and travelling. They've started the Champions League campaign really well. Their style of play is similar this year, they want to play football and be direct.They've got really fast attackers and are good on the counterattack. We have total respect for them."
Real Madrid v Shakhtar…again. Goals galore again?
Unbelievably, this is the third season in a row the teams have been drawn together in the same Champions League group. These guys must be sick of the sight of each other.
Expecting a one-sided game? Here's a stat to make you think again. Shakhtar won both games against Madrid in the 2020-21 Champions League. Not that it helped them get out of the group…
But we should be in for a cracker if past meetings are anything to go by – the previous six times Madrid and Shakhtar have played, there have been 26 goals! Mad!
Shakhtar in the Champions League
Having won the UPL 13 times since the turn of the century, Shakhtar have become Champions League regulars. This is the 17th season in which they have featured in the group stages but they've only made into the knockout stages on four occasions. Not great.
The furthest they have progressed in the competition was in 2010-11, when they lost 6-1 on aggregate to Barcelona in the quarter-finals. You will, of course, remember Shakhtar winning the UEFA Cup in 2008-09 though.
Real Madrid in the Champions League
To we need to talk about this? 14 European Cups/Champions Leagues, double the amount of nearest challengers Milan. Five Champions League in the last nine years. Enough said.
Shakhtar - team news!
And here are the Shakthar boys!
Trubin; Konoplia, Bondar, Matviienko, Mykhailichenko; Stepanenko; Zubkov, Bondarenko, Sudakov, Mudryk; Shved.
Defender Viktor Kornienko is the only absentee due to an injury picked up at the end of August. Danylo Sikan drops out in attack despite netting a hat-trick at the weekend, but highly-rated winger Mykhaylo Mudryk has a chance to impress on the big stage.
Real Madrid - team news!
Real Madrid went early with their team news, as they do.
And here it is: Lunin; Carvajal, Militão, Alaba, Mendy; Valverde, Tchouaméni, Kroos; Rodrygo, Benzema, Vinicius Jr.
Thibaut Courtois is still out with a back injury, which means Ukrainian Andriy Lunin will make a second consecutive start in goal. Dani Ceballos has also been ruled out this week; Fede Valverde steps into his spot in midfield despite the return to fitness of the majestic Luka Modric. The Croatian is on the bench.
Shakhtar – current form
It's safe to say that football hasn't been the most important thing going on in Ukraine in the last eight months or so. For some, it'll be a welcome distraction, for others, an inappropriate inconvenience.
Shakhtar, of course, have been used to playing away from home even longer than everyone else; they haven't played in Donetsk since 2014 because of Russia's invasion of the Donbas region in eastern Ukraine. Their league matches since then have taken place in Lviv, Kharkiv and now Kiev, but Champions League fixtures, like the one against Celtic, are being played in Warsaw in Poland.
For what it's worth, they've been in pretty good form since football started back up against in Ukraine in August. They opened the season with goalless draw against Metalist 1925 Khrakiv but have since recorded four consecutive victories, the most impressive of which came on Saturday, a 6-1 win away to…Metalist Kharkiv (not the same club as the other one. That's confusing). Top of the UPL (Ukrainian Premier League, obviously), with 13 points from five games.
Real Madrid – current form
Carlo Ancelotti's side started the season in pretty imperious form, winning nine games in a row and their unbeaten run this campaign currently stands at 10 games. So it feels weird to say that they go into tonight's fixture on a little bit of a downer.
A poor performance against Osasuna on Sunday saw them drop points and get knocked off the top of LaLiga by arch nemeses Barcelona. That hurts.
Shakhtar Donetsk – 2022-23 Champions League so far
But Shakhtar are probably even happier with their start to the group. Second spot could be pretty much anyone's and they are in possession at the moment. A 1-1 'home' draw against Celtic in Poland might have felt like a missed opportunity but few would have predicted a 4-1 victory for the Ukrainians in Leipzig. What a result!
Real Madrid – 2022-23 Champions League so far
It's been plain sailing for the holders so far. A 3-0 win against Celtic in Glasgow followed by a 2-0 home victory over Red Bull…sorry, RasenBallsport Leipzig.
Boom, Madrid are top of the group and already looking formidable. The Champions League is just their thing, isn't it?
On to tonight's game, which is the third match in the group. How have Madrid and Shakhtar got on so far? Let's have a look.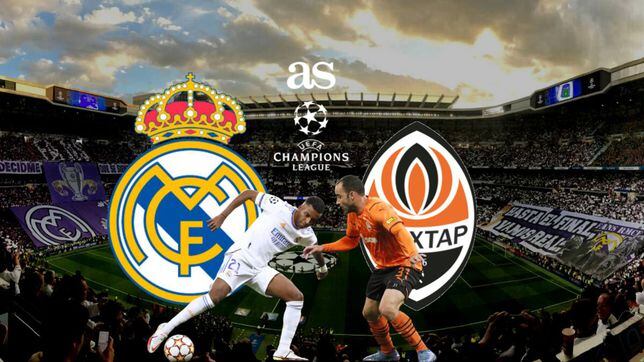 Kick-off is at 9pm local in Madrid, so that's 12pm PT/3pm ET. Only an hour and 15 to go.
By the way, the other game in the group has already kicked off. RB Leipzig are currently leading Celtic by a goal to nil in Germany.
Good morning, good afternoon, good evening! It's time for Real Madrid v Shakhtar Donetsk! It's time for the Champioooooons!
Hello and welcome to tonight's live coverage of the Champions League Group F clash between Real Madrid and Shakhtar Donetsk and the Santiago Bernabéu! Thanks for joining the fun. If I don't learn tonight that the second 'H' in Shakhtar goes after the 'K' then I never will.