REAL MADRID
Real Madrid's Toni Kroos says he has a "feeling about what will happen with Nacho and Ceballos"
The German, who also opened up about Asensio's Madrid future, wants both Ceballos and Nacho to stay at the club.
Real Madrid have one game left this season, against Athletic Club this Sunday, and have just one more objective for the season: finish second in the league. The objective is money-based, as the club will receive more prize money for finishing behind Barça rather than behind their city rivals as well, but it seems as. though football has moved onto another stage, leaving the main space open for more pressing matters.
The talk has moved, as often happens at this time of year, away from the pitch and towards the boardroom, where the planning for next season is already underway. Contracts are a huge stumbling block for the club, as some players have signed whereas others have their futures still up in the air.
Kroos on Asensio's future
One player whose contract is up but will continue is Toni Kroos, who was speaking to Real Total about the future of his teammates: "It's difficult to say what will happen with Nacho, Ceballos and Asensio, to be honest. We don't talk a lot about [contracts]. I have a feeling that Marco might not continue [at Madrid], but also more from outside reports than inside. In terms of Nacho and Dani [Ceballos], I have no idea.
"But I have a feeling", he continued, "I'd be happy if they both stayed. We don't need to talk about Nacho and as for Dani, you can see how well he's played over the last 6 months. I think he's played as many games in that time as he did in the two years previous. He's doing really well, he gives us a lot. Of course, I don't know what will happen."
Kroos to renew for another year at Madrid
The player also spoke about his own contract renewal: "I need to go back and ask when they're going to announce it, because I want to go on holiday at some point", he said. The German will play for Real Madrid for another year and his renewal is a matter of the official announcement. It is expected that the announcement will be made when the club no longer have anything to play for, i.e., when the season ends at the weekend.
Kroos mentioned the goings-on at his previous club: Bayern Munich. "I heard from Kahn that they didn't allow him to go to the title celebrations, Bayern are giving off a bit of a questionable image of themselves. It's a shame for the players and especially for the new manager, they wanted to celebrate the title and they ended up with the substitute. Sacking someone on a day like that... I haven't heard anything else, but I believe Kahn", he said.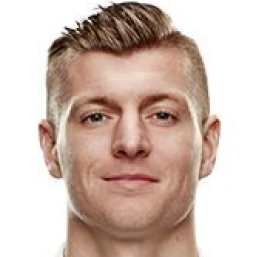 LaLiga Santander 2022/2023
*Data updated to date May 29th, 2023