REAL MADRID
Rodrygo's rise at Real Madrid
His double against Sevilla saw him take his tally to 19 goals for the season.
This season has been the best in Rodrygo's short career. At the Sánchez Pizjuán against Sevilla on Saturday, he scored a fine brace, as Carlo Ancelotti's side recorded a 2-1 win. "Difficult to choose. They were two beautiful goals," he admitted post-match. Without Karim Benzema, and without Vinícius, Rodrygo showed how he can step up to the plate.
He has scored 19 goals this season, with his previous best being nine, and with 11 assists, he has 30 goal involvements for the campaign. On Sunday, against Athletic Club, he will be hoping to notch his 20th of the campaign. He would have liked to have stayed on the pitch on Saturday, but Carlo Ancelotti had other plans. "He wanted to score, I wanted to win the game," reasoned the Italian coach. "He was a bit angry, he wanted the hat-trick."
Rodrygo found himself as the lone forward in Sevilla, with five midfielders behind him. He played as a nine - a real one - not a false one. He also came deep to receive it, was very mobile and showed his personality. He now has three goals in two games, eight in the last eleven, and 12 of the 19 strikes have come in 2023.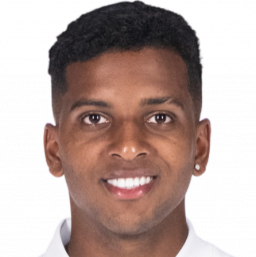 In the Copa del Rey final against Osasuna - he scored a double - showing his ability to do it in the big games. The Copa del Rey would be in another cabinet if it weren't for the Brazilian. In LaLiga, he has also put in some superb performances. His favourite competition is undoubtedly the Champions League and Chelsea were the victims of his class at Stamford Bridge - with another brace doing the damage.
The silent leader
Benzema has 30 goals, Vinícius 23 and Rodrygo 19. The trio have 72 goals between them in 2022-23 and Rodrygo has taken on the role of the silent leader in attack. Of the 16 games in which he has scored, 15 have ended in victory for Los Blancos; all but the 3-2 win in Leipzig in the Champions League.
He is a regular in the starting eleven, starting 40 of the 56 games he has played. With 3,761 minutes, he is the fifth most-used player by Ancelotti, playing on the right, on the left, or in the centre. And he's looking ahead to Athletic full of confidence. "I'm very good, very happy. I knew it was natural for me to score more goals this season because I was going to play more. There is still one game left and I want to score more," he added.