Ter Stegen: "On a personal level, it has been a spectacular year for me"
Despite not winning any titles with Barça and the poor World Cup with Germany, the goalkeeper is proud of his performance and foresees good things for the team this season.
Marc André Ter Stegen is the best goalkeeper in LaLiga this season according to the statistics in the game showcasing an 84.4% success rate in the 28 stops he has made in the 22-23 campaign. The German stopper who is the eternal substitute for Manuel Neuer in the Mannschaft, has been very satisfied with the year despite the fact that Barça failed to secure anu silverware and suffered in Europe (Eintracht, Bayern, Inter), in addition to the fiasco by Germany at the World Cup.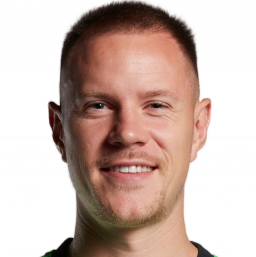 The player spoke to Catalan network TV3 stating: "It has been a spectacular year for me on a personal level and it began with the stop in Mallorca (the save from a Jaume Costa effort in Son Moix) and I'm more than happy at Barcelona. I feel super well and very balanced on a personal level. I feel good and I am happy. When the team is in difficult situations, I like to help".
The German goalkeeper is eager to start competing again: "We want to win every game we play and we are going to do everything to win as many titles as possible. We have a super good team, the character is good, they are super in great shape physically and I have no doubts that this will work out".