Ter Stegen wrests the No. 1 jersey from Neuer
The Barcelona keeper will wear the number usually worn by the Bayern star who is out injured. Ter Stegen is hoping to be a starter for Germany at Euro 2024.
Marc-André ter Stegen will wear the No.1 jersey when Germany take on Peru in a friendly in Mainz on Saturday - the number he has wanted to make his own since he gained his first cap with his country back in May 2012. The Barcelona goalkeeper, who traditionally wears the No.22 jersey with the national team, will get his change to take over the No.1 shirt as Manuel Neuer is out until the end of the season. The Bayern keeper is recovering from a tibial fracture which he suffered during a skiing accident in December. Ter Stegen meanwhile has made it clear that his goal is to remain Germany's first-choice keeper when Neuer returns.
"They asked me [if I wanted the No.1], I said OK and now I have that shirt. There is nothing more to say. In the end, it's always your performance that really counts. I have always formulated my goal (to be Germany's number one) clearly and I will do everything possible to keep it," the goalkeeper told reporters during Thursday's press conference from the national team camp. The former Borussia Mönchengladbach player realizes that his moment has arrived and hopes to take advantage of the opportunity to be Germany's starting goalkeeper at Euro 2024.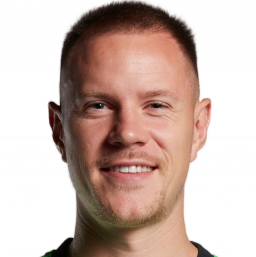 As for Neuer, Ter Stegen added: "We were in touch after his injury. I really hope that his rehabilitation goes well and that he returns soon, but also that he takes his time to be one hundred percent. I hope to have him as a colleague, friend and team mate for a long time". However, he reiterated that he will be the regular starter from now on with Die Mannschaft: "I will try to take advantage of this opportunity, absolutely," he stressed.
Ter Stegen has been enjoying an astonishing season - with just nine goals conceded, he is on course to smash the all-time record in LaLiga and possibly the European record. "Over the past few months and years, my performance has been good. I'm going to make sure I continue to giving my best. I want to be successful with the national team," explained Ter Stegen who for now, would rather avoid dealing with any hypothetical scenario when Neuer eventually returns. "With Manu's injury, and the fact that at the moment he's not able to play, the situation is what it is," he concluded.
Ter Stegen, Bernd Leno and Kevin Trapp are the three goalkeepers in Hansi Flick's squad for the upcoming friendlies against Peru and Belgium.