UEFA Europa League round of 16 draw summary: teams, pairings, ties and schedule
Europa League round of 16 draw: as it happened
Europa League round of 16: the draw in full
Union Berlin vs Union SG
Sevilla vs Fenerbahce
Juventus vs Freiburg
Bayer Leverkusen vs Ferencvaros
Sporting CP vs Arsenal
Manchester United vs Real Betis
Roma vs Real Sociedad
Shakhtar Donetsk vs Feyenoord
Ties to be played on 9 and 16 March.
Thanks for reading!
OK, we're going to wrap up this live blog.
Be sure to join us in just under a month for live coverage of the next Europa League draw - on 17 March, Pedro Pinto and Giorgio Marchetti will be back on stage in Nyon as we find out who'll be facing who in the quarter-finals of the continent's second-tier club competition.
Thanks for joining, bye!
Also, a reminder - if you still need it - that there will be no away-goals rule in the Europe League round of 16. As I'm sure you probably know by now, away goals are no longer used in all UEFA's club competitions.
Unions meet again
As I mentioned during the draw, Union Berlin and Union SG have met twice already in this season's Europa League.
Paired together in Group D, they traded 1-0 away triumphs: the Belgians won in Germany on matchday one, before Berlin were victorious in Leuven on matchday five.
Union vs Union: first ever QF a certainty
Whatever happens in the clash of the Unions, by the way, we're guaranteed to have a first-time Europa League quarter-finalist.
Union Berlin's only other appearance in the tournament, when it was still the UEFA Cup, yielded a second-round finish in 2001/02.
Union SG, meanwhile, are in the Europa League for the first time in their history. The Belgians did get to a Fairs Cup semi-final back in 1959 - but, although that's a competition that's considered a forerunner to the UEFA Cup/Europa League, it doesn't count towards teams' stats in the current tournament.
Mourinho unbeaten against Real Sociedad
Stats man Robbie Dunne, once of this parish, notes that Roma boss José Mourinho has a really rather decent record against Real Sociedad.
In his six games as a coach against the Basques, he has won five and drawn one, all during his time at Real Madrid.
United, Betis renew acquaintances after December friendly
Real Betis and Manchester United actually met quite recently, in a December friendly in Seville during the World Cup. Nabil Fekir's goal secured a 1-0 win for the Spaniards, in a game which, unsurprisingly, featured a lot of second-string players.
That appears to be the teams' only previous meeting.
United will, of course, come up against a former Manchester City boss in Betis head coach Manuel Pellegrini, who has piloted the Andalusians to fifth place in LaLiga this season.

Arsenal and Sporting paired together for second time
Arsenal and Sporting CP have been drawn together for the second time in Europa League history.
The teams also faced off in the 2018/19 group stage, drawing 0-0 in London before Danny Welbeck's winner gave Arsenal a 1-0 victory in Lisbon.
Both sides qualified from the group, with the Gunners making it all the way to the final in Baku. Unfortunately for them, they lost to Chelsea in the Azerbaijani capital.
Sporting were knocked out by Villarreal in the round of 32.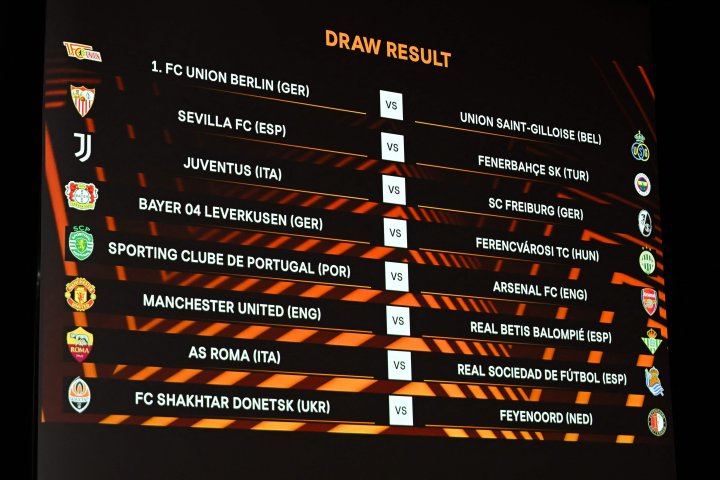 A view of the Europa League draw result, as displayed at UEFA HQ in Nyon.
(Photo by Fabrice COFFRINI / AFP)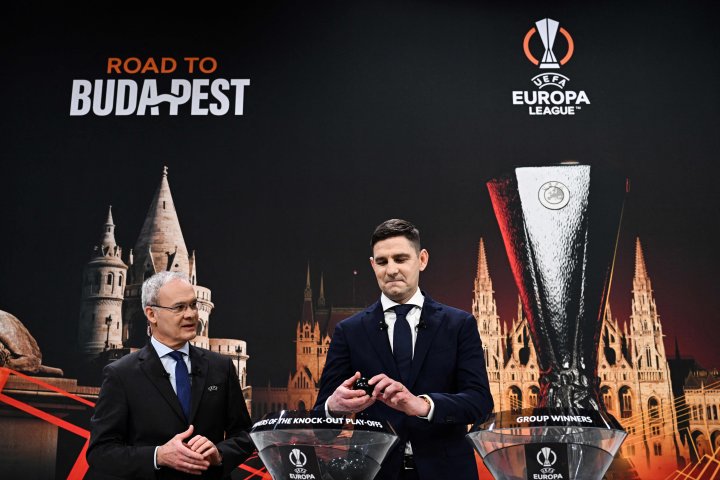 Draw assistant Zoltan Gera (right) fiddles with his ball, as UEFA deputy general secretary Giorgio Marchetti looks on.
(Photo by Fabrice COFFRINI / AFP)
Round of 16 tie dates
A reminder that those round of 16 ties will be played on Thursday 9 and Thursday 16 March.
In each case, the second team out of the hat - the group winner - will be at home in the second leg.
Round of 16 draw
Draw complete! These are the round of 16 ties in full:
Union Berlin vs Union SG
Sevilla vs Fenerbahce
Juventus vs Freiburg
Bayer Leverkusen vs Ferencvaros
Sporting CP vs Arsenal
Manchester United vs Real Betis
Roma vs Real Sociedad
Shakhtar Donetsk vs Feyenoord
Shakhtar vs Feyenoord
And finally, 2009 winners Shakhtar Donetsk are paired with Feyenoord, who have lifted the trophy twice, most recently in 2002.
Roma vs Real Sociedad
Roma, the Europa Conference League holders, are drawn with... Real Sociedad.
Manchester United vs Real Betis
Out come Manchester United, who get... Real Betis! Another LaLiga club for the Red Devils.
Sporting CP vs Arsenal
2005 finalists Sporting CP are next to be plucked from the hat, and are given a tie with... 2000 runners-up Arsenal!
Leverkusen vs Ferencvaros
Bayer Leverkusen, who lifted the UEFA Cup in 1988, are drawn with Ferencvaros. The Hungarians are out to reach the final in their home city.
Juventus vs Freiburg
Juventus are the following team to come out of the hat. The three-time tournament winners will play... Freiburg.
Sevilla vs Fenerbahce
Six-time winners Sevilla are next out, and the Spaniards get Fenerbahce.
Union Berlin vs Union SG
Union Berlin are drawn with... Union SG!
They also met in the group stage.
Draw time!
It's time to go! A final reminder of the two pots:
Group winners:
Arsenal (ENG)
Real Betis (ESP)
Fenerbahçe (TUR)
Ferencváros (HUN)
Feyenoord (NED)
Freiburg (GER)
Real Sociedad (ESP)
Union Saint-Gilloise (BEL)
Knockout round playoff winners:
Union Berlin (GER)
Manchester United (ENG
Juventus (ITA)
Leverkusen (GER)
Roma (ITA)
Sevilla (ESP)
Shakhtar (UKR)
Sporting (POR)
After a bit of stilted bants with Gera, we now head into the obligatory explanation of how the draw works - which, to be fair to UEFA, is actually kept quite short and sweet.
Underway in Nyon
The draw event, if not the draw itself, is underway. UEFA deputy secretary-general Giorgio Marchetti is on stage, and sends a message of support to Turkey and Syria in the wake of the earthquakes that have hit the two countries.
Marchetti then introduces former Hungary captain Zoltan Gera, who will be assisting with the draw. Gera played for Fulham in the Premier League club's 2010 final defeat to Atlético Madrid.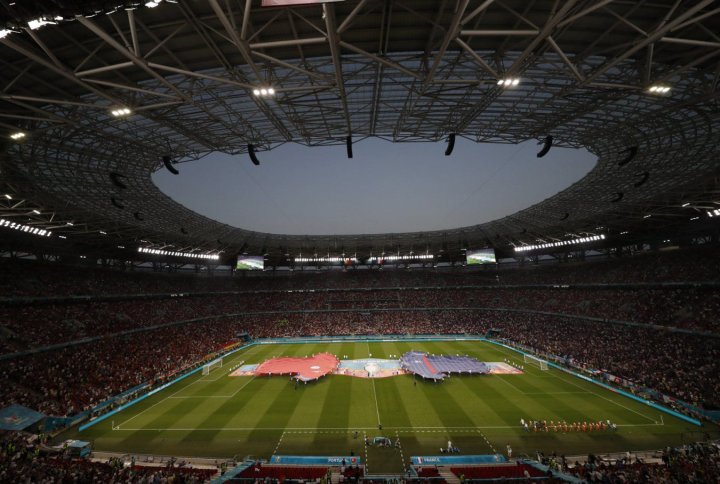 Last 16 eyeing May date at Puskás Arena
This season's Europa League final, incidentally, is to be held at the Puskás Arena in Budapest on 31 May. Opened in 2019, the stadium holds just over 67,000, and held four matches at Euro 2020. It was also the venue for Bayern Munich's win over Sevilla in the 2020 UEFA Super Cup final.
(Photo: LASZLO BALOGH/Pool via REUTERS)
When will the round of 16 ties be played?
The round of 16 first legs are scheduled to be played on Thursday 9 March, with the second legs on Thursday 16 March.
The draw for the quarter-finals and semi-finals will then be held on Friday 17 March.
How will the Europa League draw work?
We're just under 10 minutes away in Nyon. As far as the mechanics of the draw are concerned, there are three things to remember.
Number one: in each tie, a group winner will be drawn with a qualifier from the knockout round playoffs.
Number two: the group winner will be at home in the second leg.
Number three: clubs from the same national association cannot be paired together.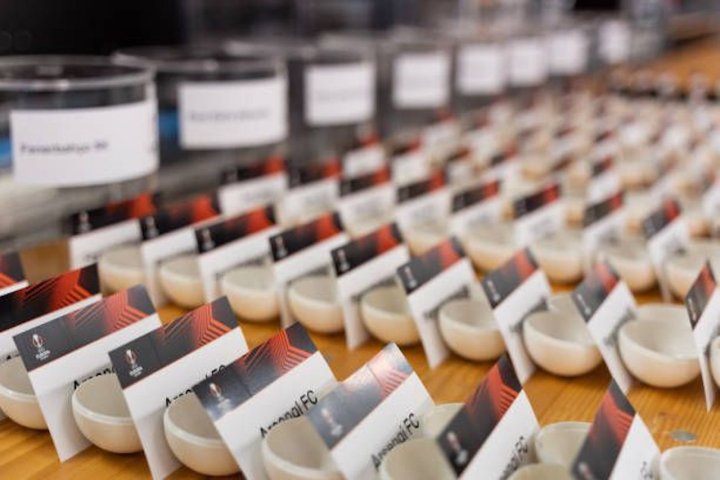 Almost time to go in Nyon...
A view of the draw cards and balls ahead of the Europa League round of 16 draw at the UEFA HQ today.
(Photo: Kristian Skeie - UEFA/UEFA via Getty Images)
Thursday's knockout round playoff results: in full
Manchester United 2-1 Barcelona (4-3 agg)
Midtjylland 0-4 Sporting CP (1-5 agg)
Monaco 2-3 Bayer Leverkusen (5-5 agg, Leverkusen win on pens)
Nantes 0-3 Juventus (1-4 agg)
PSV 2-0 Sevilla (2-3 agg)
Rennes 2-1 Shakhtar Donetsk (3-3 agg, Shakhtar win on pens)
Roma 2-0 RB Salzburg (2-1 agg)
Union Berlin 3-1 Ajax (3-1 agg)
Sevilla squeeze past PSV
A further noteworthy qualifier from the knockout round playoffs (what a God-awful name that is, by the way) is Sevilla, the UEFA Cup/Europa League's most decorated club.
The six-time tournament winners lost 2-0 on the night to PSV - with their former striker, Luuk de Jong, among the scorers for the Dutchmen - but the Spaniards' 3-0 first-leg victory ensured that they squeaked through.
Juranovic stars for Union Berlin
It was a particularly good night for Union Berlin's recent signing Josip Juranovic, who scored one and set up another.
The Croatian right-back, who joined in January from Celtic, has now managed a goal and three assists in his five appearances for the Germans so far - exceedingly decent stats.
Union Berlin dump Ajax out
Also notable among Thursday's playoff round results is this one: Union Berlin sent 1992 winners Ajax out of the tournament, beating the Dutch giants 3-1 on the night and 3-1 on aggregate.
This is only Berlin's second ever season in the Europa League: the Germans, who of course are also enjoying a fabulous campaign in the Bundesliga, reached the second round of the UEFA Cup in 2001/02.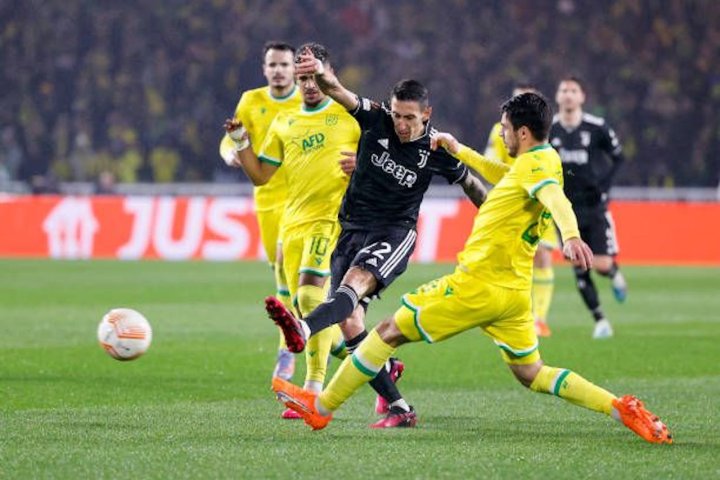 Di María hits three to send Juve into last 16
Elsewhere in yesterday's knockout round playoff second legs, Ángel di María grabbed a hat-trick for Juventus as the Bianconeri beat Nantes.
The sides had drawn 1-1 in the first leg in Turin last week, but Di María's treble earned Juve an emphatic, 3-0 triumph in France.
The Italians are three-time winners of this tournament, having lifted the trophy in 1977, 1990 and 1993 - all back in the days when the Europa League was still the UEFA Cup.
(Photo: Catherine Steenkeste/Getty Images)
Barça's fourth European exit in just over a year
Speaking of stats, here's one that caught my eye last night, courtesy of the ever magnificent Mister Chip: Barça have now been knocked out of European competitions four times in a little over 12 months.
Las season, the Blaugrana exited the Champions League group stage in December 2021, before dropping into the Europa League and being beaten by eventual winners Eintracht Frankfurt in April 2022.
This term, Xavi's men were eliminated from their Champions League group in October last year, then lost to Manchester United yesterday. All that took place within the space of a year and 77 days!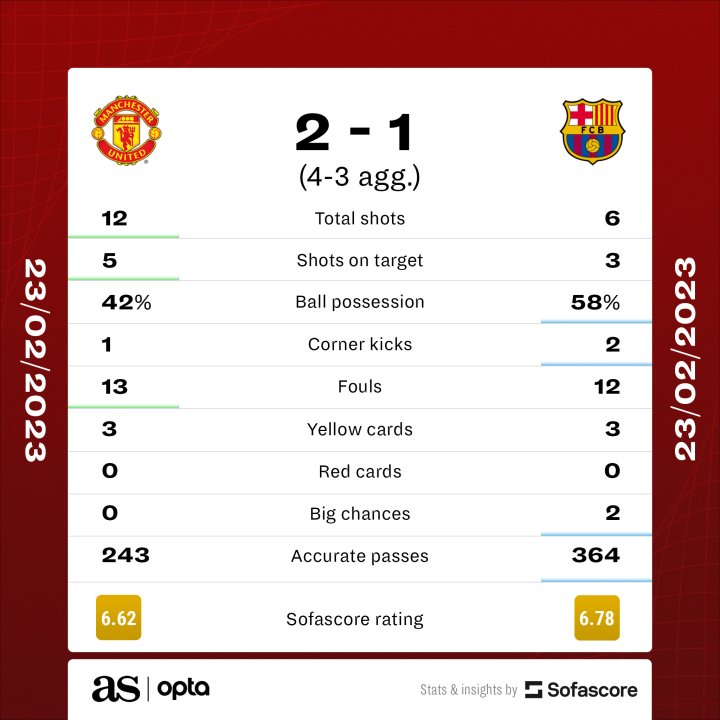 Man United 2-1 Barcelona: the stats
And in case you're interested, our colleagues at SofaScore have put together this graphic with the key stats from United's win at Old Trafford.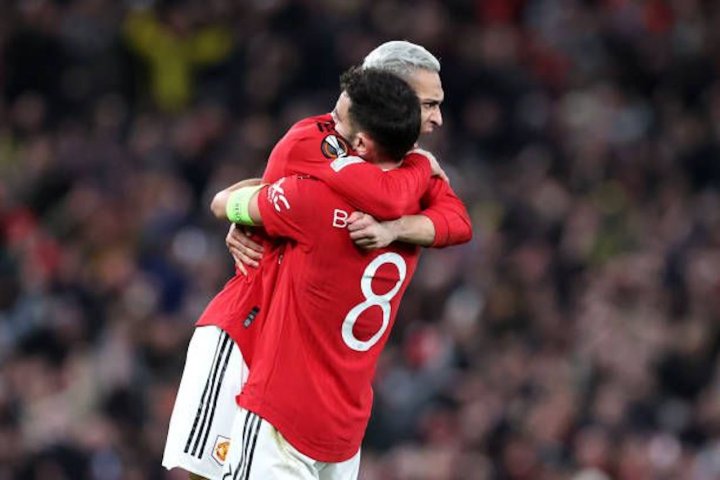 Man United 2-1 Barcelona: as it happened
My colleague Joe Brennan was on the minute-by-minute coverage of United vs Barça last night, and this is what he made of the game.
(Photo: Alex Livesey - UEFA/UEFA via Getty Images)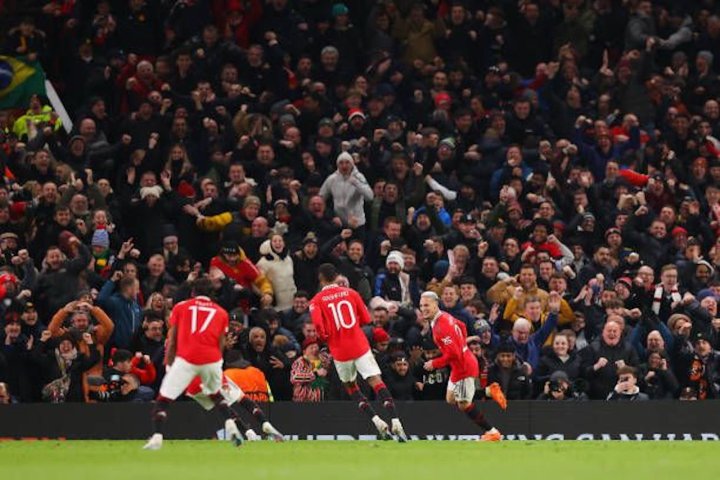 United beat Barça in clash of heavyweights
Manchester United are in today's draw after getting the better of Barcelona in what was without doubt the pick of the eight knockout round playoff ties.
The 2017 Europa League winners beat the Catalans 2-1 at Old Trafford last night to earn a 4-3 aggregate victory.
Antony's second-half strike won the tie for the hosts, who had to come from behind. After Bruno Fernandes' foul on Alejandro Balde, Robert Lewandowski netted a first-half penalty for Barça. Fred then levelled for United, before his compatriot fired in the goal sent Erik ten Hag's men through.
The win for United is their in first in their last six meetings with Barça - a barren run that stretched back to 2008.
(Photo: James Gill - Danehouse/Getty Images)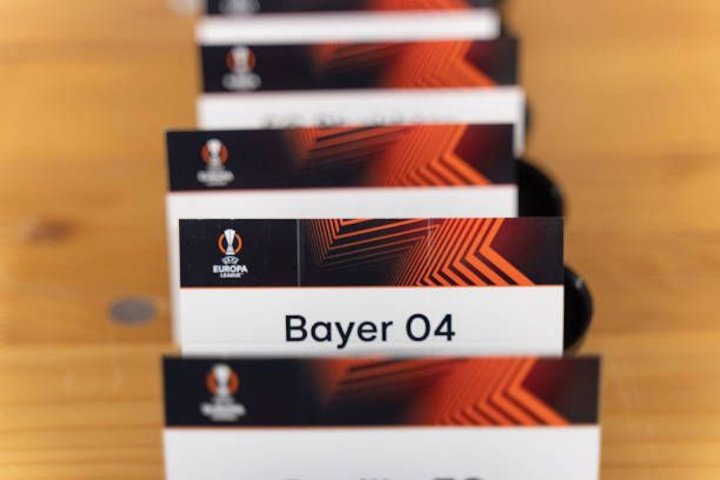 How to watch the Europa League draw
While I obviously hope you'll follow the draw right here, too, it would be remiss of me not to let you know that you can watch a live stream of the draw on UEFA's website.
(Photo: Kristian Skeie - UEFA/UEFA via Getty Images)
Who's in the draw? Part two
The other pot of eight teams, meanwhile, will contain the teams that made it through this month's knockout round playoffs.
They are:
Union Berlin (GER)
Manchester United (ENG
Juventus (ITA)
Leverkusen (GER)
Roma (ITA)
Sevilla (ESP)
Shakhtar (UKR)
Sporting (POR)
Who's in the draw? Part one
The 16 teams in the hat today will be split into two pots of eight.
One will contain the group winners from the first round played late last year.
The eight group winners are:
Arsenal (ENG)
Real Betis (ESP)
Fenerbahçe (TUR)
Ferencváros (HUN)
Feyenoord (NED)
Freiburg (GER)
Real Sociedad (ESP)
Union Saint-Gilloise (BEL)
Europa League draw: welcome!
Hello! Good morning and welcome to our live coverage of today's draw for the Europa League round of 16.
Held at UEFA HQ in Nyon, Switzerland, the event is due to get underway at 11am local time. In the US, that's 6am ET/3am PT, so if you're in the States and have stayed up for it/got up early for it, I can only doff my cap to you.