MEXICAN SOCCER
Will Giménez join Benfica? Feyenoord ace's father discusses future
Feyenoord striker Santiago Giménez is being linked with Benfica - who are just one of several major European sides tipped to sign the Mexican.
Santiago Giménez's impressive scoring rate at Feyenoord has led to rumours that clubs elsewhere in Europe are ready to swoop for the Mexican international.
A few days ago, there were reports that Portuguese side Benfica are interested in the 21-year-old striker's services, although AS has been unable to confirm these claims.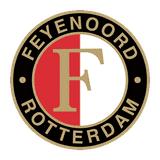 Giménez father: "Right now, we're happy at Feyenoord"
Speaking to ESPN, Giménez's father spoke about the player's future.
"We've talked to [Feyenoord sporting director] Dennis te Kloese - I have an excellent relationship with him and he's a fundamental part of the project," Christian Giménez said.
"Right now, we're happy at Feyenoord. We signed a four-year contract with the club and we want Santiago to continue in his process of growing as a footballer."
"We'll see what happens in the summer"
However, Giménez Sr did not completely rule out the possibility of an end-of-season move.
"Sometimes the decision gets made for you, because there are [interested] clubs, particularly when a player's career is going as well as Santiago's, and they can be difficult to hold off," he said.
"But that certainly doesn't mean it [a summer move] is definitely going to happen.
"We're happy at Feyenoord and we want him to stay. But then, in the summer transfer window, there are so many things that can happen. There's nothing concrete, though. We're happy at Feyenoord and we'll see what happens in the summer."