AUSTRALIAN OPEN
Djokovic: "I prepare myself for Murray, Federer and Nadal"
The world number one and Australian Open champion said after his sixth title: "I believe that I can win every match I play. I'm playing the tennis of my life."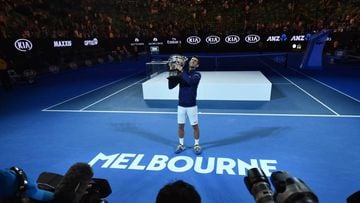 Novak Djokovic was humbled to join Roy Emerson as the only men to win six Australian Open titles after he beat Andy Murray 6-1 7-5 7-6(3) on Sunday in a repeat of last year's final.
The 28-year-old Serb, whose first grand slam title was at Melbourne Park in 2008, has now won titles on the blue hard courts in 2011, 2012 2013, 2015 and this year to seal the most in the professional era.
"I am extremely honoured to be mentioned alongside some of the legends of our sport," Djokovic said. "It's an incredible feeling in that I managed to make history and equal Roy Emerson's record. When you have the opportunity to make history it adds to your motivation and incentive before you come out on court. I tried to channel that and use it as a positive."
Djokovic, who had got off to a storming start against Roger Federer in the semi-finals, was back in imperious form from the start against Murray, who took until the second set to get into the match at all.
While the first set was done and dusted in just 30 minutes, the second lasted 80 with Djokovic aware that he was being put under pressure by the Briton.
"Tough match, tough luck tonight Andy," Djokovic added of the match that lasted two hours, 53 minutes. You're a great champion, great friend and someone who is very committed and will have plenty of opportunities to fight for this trophy."
Djokovic, who has appeared in the last five Grand Slam finals, winning four, acknowledged he was playing at a different level. Yet he still wants to get better and add to his 11 major titles. He is now tied with Rod Laver and Bjorn Borg on the all-time list and within sight of rivals Rafa Nadal (14 titles) and Roger Federer (17).
"I believe that I can win every match I play [and] I'm playing the tennis of my life in the last 15 months. The results are showing that," he said. "I don't want to think how far my boundaries are."
Djokovic added that he felt the rivalry between the 'Big Four' of himself, Federer, Murray and Nadal would continue, because they push each other the most.
In fact, the Serb said the other three members of the quartet were the ones he analysed to ensure he stayed at the top of his game.
"I prepare myself for Murray, Federer and Nadal," he added. "These three guys have been the most dominant ones next to me. No disrespect to other guys like (David) Ferrer or [Stan] Wawrinka. I do prepare myself to perform my best in grand slams and analyse my games to play them."