INTERVIEW | FABIO CAPELLO
"Defensive? At Real I played with one midfielder: Redondo!"
The Italian tactician talks Real Madrid, Milan, Ronaldo, the "sand cure", Italian waiters and knocking a British royal wedding off the front pages.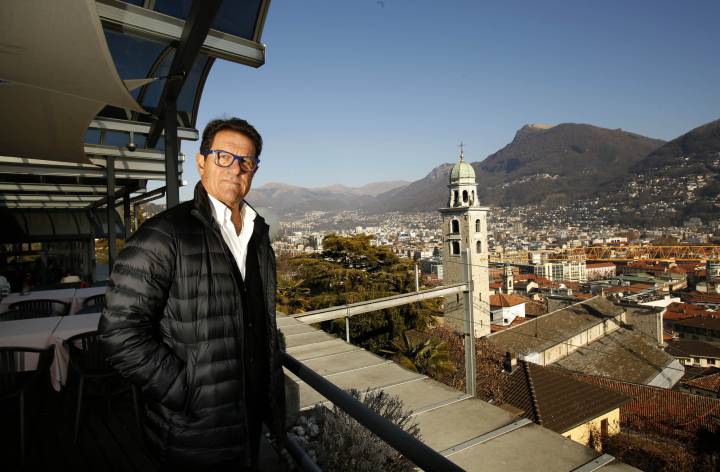 Why did Rafa Benítez fail at Madrid?
I don't know. You'd have to be in the dressing room…
It seems that the players are playing with more freedom now.
If there is no rapport with the coach it's difficult to succeed. Benítez has experience…
Was he too defensive?
It is possible the changeover from Ancelotti to Benítez was too traumatic.
Why is it so hard to manage Real Madrid?
It depends on the presidents [laughs]. That affects things a lot.
Is the problem at Madrid down to the coach or the fact there have been 11 different ones in 12 seasons?
That's a lot! A lot! I don't know… Madrid is a very tricky club. If the president goes over the coach's head to talk directly to the players about problems in the dressing room, the coach is finished. And the players know it! They say to each other: 'The president asked me why this happened…' And then they think that the coach isn't relevant.
What's your opinion of Madrid's lack of a sporting director?
I always had one there.
But now there isn't one. Who makes the decisions on transfers?
The coach does, doesn't he?
I don't know…
Normally that's the case. But if the president is picking the team…
Did Florentino Pérez give you a call before settling on Zidane?
No [laughs]. I'm retired now. And Florentino doesn't like going back to things that were in place under a different president. He wants to be the person who makes signings, he wants to make the decisions and he has introduced new concepts. He doesn't like anything that has to do with the past. He likes to be the one who has made things happen.
Can Madrid succeed with the BBC?
I think so, yes. Look at what Bayern have done in hiring Ancelotti. It depends who the rest of the team are. Look at Barcelona. Messi and Neymar. And when Luis Suárez arrived, who helps the other two a lot defensively, it works. Even so, they still have problems at the back. In every game teams create chances against them.
Do you think Zidane has enough experience?
He has charisma, which is important.
Is that enough?
He has to be given time. The players will believe in you until you get things wrong. They evaluate you every day.
Did Silvio Berlusconi ever tell you who to pick?
Never, not once.
Do you think when a coach comes in he knows there are six or seven Madrid players he has to select?
But they are the good ones, eh? Look, only once was I ever asked about it. When Madrid signed Marcelo, Gago and Higuaín, all of them very young. The president [Ramón Calderón] said to me: 'Why don't you play them?' I replied: 'Don't worry, these players could be the future of the club.'
Does it annoy you that people see you as a defensive coach?
That's the biggest lie in the world! People started to say that when I first won the title with Milan. All of our results were 1-0, 1-0, 1-0… But look at my first season at Madrid. I played with only one midfielder and that was Redondo! And alongside him Seedorf, who was an attacking midfielder. Víctor on the wing, Raúl on the other and Mijatovic and Suker up front. Is that being defensive?
And in your second spell in Madrid [2006-07], Emerson and Diarra!
We didn't find it easy to move the ball around, no. We didn't have that quality, but that was what was available. And we had problems with a few players, like Ronaldo… when we sold him, the team was different.
Was it a dressing room problem?
I don't know… but I talked to the players and tried to win the last 11 or 12 games and we did. And we won the title because the players started to move more and pressure more higher up the pitch.
Did you always get along with [former president] Lorenzo Sanz?
The only problem I had with him is that he wanted his son to play. And Fernando is a great kid. He trained to perfection. But his father demanded that he play and that is not acceptable.
Was your first Madrid team or your second the better side?
The first had a lot of skill and it was a very reliable side. That was a side of men.
Who were the leaders?
Hierro, Raúl, Illgner… there were lots. Mijatovic, Redondo, Suker. They were all leaders with personality and they were committed to winning. They wanted to sweat blood, to train hard…
And your second Madrid team?
That was a Madrid of words, but not of hard work. We had good players but they had no connection. They were difficult. There were factions…
Was it difficult to bench Ronaldo?
Look, he weighed 96 kilos. I asked him: 'What did you weigh when you won the World Cup in 2002?' He replied: '84 kilos.' I said: 'Can you get down to 90 at least?' And he couldn't…
But you had to be brave to leave him out.
I tried to be respectful to everyone. The players see you every day and they are constantly evaluating you. And they are thinking: 'What are you worth?' When I'm asked who the best player I have coached is I always say Ronaldo. Ronaldo was incredible, the best by a distance. Him and Van Basten.
Do you consider yourself a tough coach?
A coach faces 40 people every day who are sizing him up. Every day! And he has to conduct himself properly. My father always said: 'I have just one word.' He was an honest man. Respect, respect and respect.
You also froze out Cassano at Madrid in 2006-07. You almost came to blows didn't you?
We did, but at Roma, where I had another team of exceptional men with who we won the league. I respect my players and I want them to respect me as well. That is being earnest, not tough.
Where do you see football heading after recent revolutions in playing style?
I see a fashion among some teams who make fools of themselves by trying to play like Barcelona did a Little while ago without having the quality to do so. The most beautiful thing in football right now is rapid recovery of the ball and then playing direct football from that point, like Bayern or Barça. Napoli and Klopp's Liverpool also do the same thing. That is the way football is going and the style that Luis Enrique has introduced at Barcelona. To play like that you have to have a lot of quality. Everybody who has played revolutionary football has had a teacher on the pitch: Kovacs had Cruyff, Neeskens etc; Milan had Van Basten, Gullit, Rijkaard, Baresi, Maldini… Barça - Xavi, Messi, Iniesta, Busquets.
A lot of young people are unaware of your glittering career as a player. Where did you start out?
In Pieris, where I was born. It was a town of 1,000 inhabitants and the smallest place in Italy ever to have a team in Serie C. We always played football. I think that despite only having 1,000 people Pieris has supplied three players for the national team and nine in Serie A, which is incredible. Tortul, who was my uncle, Zorzin and I all played for Italy.
Your father didn't play?
He was a school teacher. The town was based on agriculture and boat building at the Falcon factory, which made the biggest boats in the world. There was a shipyard six kilometres away from Pieris.
How did your career start?
When I was 13 I had a trial at SPAL Ferrara, who were in Serie A then. They signed me for the academy. And that same year the sporting director of Milan spotted me. But my father said: 'My son will play for SPAL.' I made my debut in Serie A at 17.
What kind of player were you?
A reggista, as we say in Italy. A director of play.
In attack or defence?
More to give the side a kind of idea, I was a bit like De Rossi. I had skill, I could score and I was hard-working. My problem was the knee injuries.
What happened?
I had three serious injuries. The first was when I was 17, a meniscus tear. Shortly before that Helenio Herrera had asked for me at Inter but the president at the time said no. Later, when I was 20, I was sold to Roma.
What was Roma like when you signed?
There was a politician in charge, Evangelisti, who was from Andreotti's party. Then Marchini bought the club, and he was a communist [laughs]. It was a different time.
What players were there?
Helenio Herrera took over as coach and signed Joaquín Pero, Jair… it was a great team. We won the Coppa and almost won the Cup Winners' Cup. There's a story: we played the semi-finals against Katowice in Rome and it ended 1-1. In Poland we were winning 1-0 and in the 91st minute Ortiz de Mendíbil, a Spanish referee, awarded a penalty against us. The foul was outside the area: 1-1. Extra time ended 2-2, and the rules said that away goals didn't count in extra time!
What happened?
It went to a replay in Strasbourg, which also ended 1-1. In extra time nobody scored. It was decided on a coin toss! We lost after playing three games. After that they changed the rules about away goals in extra time not counting…
What was Helenio Herrera like?
He was 10 years ahead of all the other coaches. Not so much in tactics, but how he got the team to work without the ball. That wasn't done before. And he was a great motivator. He always said: 'Train the way you play.'
How did he motivate the players?
In the morning before a game he would grab you by the shirt and shout: 'You're the strongest! You're going to eat them for breakfast!' And in training, if he saw someone stopping or moving slowly he'd send them off. During games he didn't know what to do so much. Peiró and I would talk to him to tell him what to do [laughs]: 'Should we change this boss, or change that?'
Which other coach had a lasting effect on you?
Liedholm. Whenever there were problems, he would talk very calmly. I won my last title as a Milan player under him. His training sessions were technique, technique, technique… The same as Ancelotti does now! He played under him for a long time at Roma. I learned from him, as Carletto did, that through lots of technical sessions you always improve.
What was Peiró like?
Top class. He had a big personality. He didn't have a great shot, he wasn't great in the air… but he scored goals of every kind because he was clever. He knew how to move in the area. He was spectacular.
Did you play against Luis Suárez [Spain international Miramontes]?
A lot! The first time he was 30 and I was 18 or 19. I'll let you in on a secret: I used to watch what Suárez did to copy him, to imitate him. I wanted to play like him and I even went to watch him play. He was a master class.
And Luis del Sol?
He was part of the deal when I went to Juventus. I went along with Landini, a centre forward, and Spinozzi… and Del Sol and Piloni arrived from Roma. Del Sol was a hard worker. He didn't have the skill of Suárez, who with Bobby Charlton was the best midfielder in the world. Del Sol was a ball winner, he played short passes…
What was your worst moment as a player?
When I tore the same meniscus for the second time, at Roma, and everybody said my career was over. I was lucky that Jair had had the same injury and he gave me an iron shoe. I wore it every afternoon watching television and I ended up wearing it all the time to build up muscle. It worked a treat. That and my trips to Sardinia for the 'sand cure'.
The sand cure?
They did it in a spa near Trieste. It was a famous cure. They cover you in hot sand and it sucks up all the bad things in your body. Then you shower in sea water. And it really worked. I had a third meniscus injury in 1975 when I was playing for Italy against Russia, but it was in the other knee.
And what was the best moment of your career for Italy?
The goal I scored against England at Wembley in November 1973, the first time Italy beat England at home [1-0]. It was a historic day for Italians. The day after the match an English princess got married and all the tabloids had on the front page: '20,000 Italian waiters came to see the game.' They were looking down their noses at us. I dedicated that goal to all those waiters. We'd beaten them for the first time in history in Turin that June [2-0], and I also scored. Those are great memories…