LALIGA | GRANADA-REAL MADRID
Peñaranda comes up against Zidane's supersonic Madrid
Zidane is expected to name an unchanged eleven. Benzema and Cristiano have 11 goals between them under the French coach.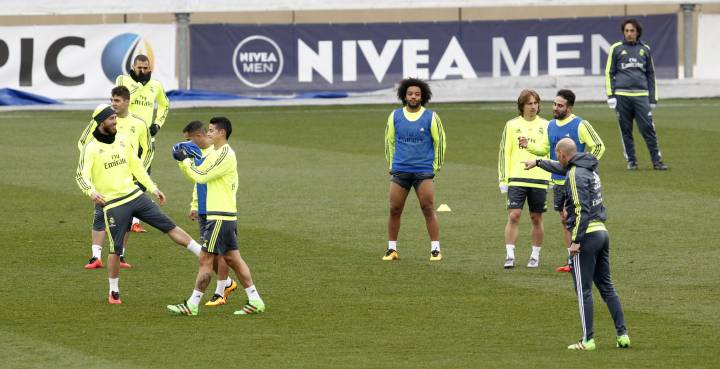 On one side there is the Real Madrid that go into the game having netted 33 goals in their last six games at the Bernabéu, an average of 5.5 goals per game. In short, a juggernaut that at this rate will speed past Mourinho's record of 121 goals in a season. And on the other there is a spluttering Madrid that have not picked up an away win in the league since 29 November (a 2-0 win at Eibar).
The Frenchman and his players are under no illusions about their chances of closing the gap at the top in the race for the title: "The players know they can win the league, though they know it'll be tough. We'll do everything we can," Zidane said in Saturday's press conference.
One plus side for Los Blancos is the goalscoring form of Benzema and Cristiano, who have scored 11 between them in Zidane's tenure. Asked about the Portuguese, Zidane said: "I admire Cristiano for all the goals he scores, for everything he's doing. I love his ambition. He's never satisfied, he always wants more. He's such an important player for me, for the team and for the fans. I retired at 34 but he'll play much longer. He looks after himself so well and physically he's a beast".
In Granada Zidane is expected to repeat the starting eleven that took Espanyol apart, with Isco and James, so often given the cold shoulder in recent months, to continue behind the strikers. Madrid's starting eleven includes nine players that thumped Granada 4-0 in Los Cármenes and 9-1 in the Bernabéu last season – and also nine players that struggled in the first fixture between the two in September. On that occasion Madrid scraped a 1-0 win through Benzema's effort, while El Arabi had a perfectly legitimate goal ruled out.
That afternoon also saw Peñaranda from the B team come to the fore. Today the youngster makes an earlier-than-expected return from injury after two weeks on the sidelines. Granada currently find themselves in a precarious position at the bottom of the table after losing seven of their last nine games. "Madrid are playing for glory and we're playing for our lives," was the conclusion drawn by Granada coach Sandoval in Saturday's press conference.