BARCELONA
L. Enrique: "If we suffer, imagine what it's like for the rest?"
The coach was satisfied with his team's performance and the result against Levante but says the new unbeaten record is "merely anecdotal".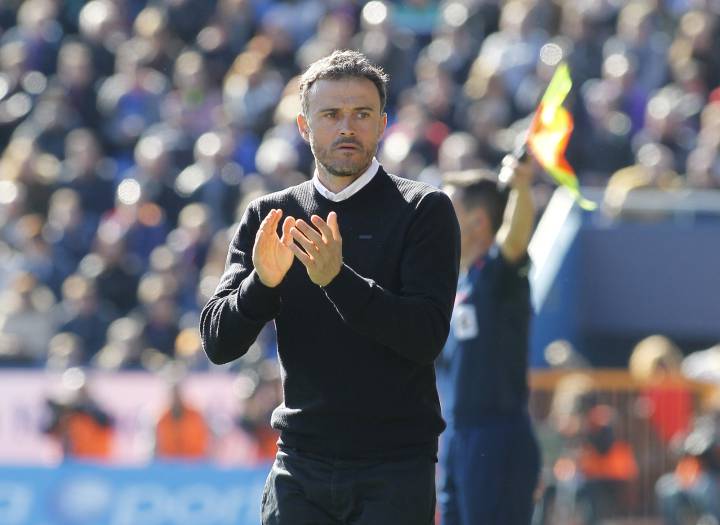 Luis Enrique looked back over Barça's victory over Levante in the company of the press. The coach was satisfied with his team's performance and the result.
Overview: "Our centre-backs are more used to play shoulder to shoulder like they did today. [José Luis] Morales was spectacular and caused us a few problems".
Did this game remind you of the Málaga match? "I don't think so. We weren't going to start meddling with the team and handing minutes to those who hardly play as that would give our rivals the chance to enter into a good dynamic. It's to be expected that after going a goal down, they would start to take more risks – they have nothing to lose. These kind of games can suddenly turn complicated. Today we were able to continue creating goal opportunities, and Levante did too. It went against them that they had to play against the wind in the second half but I thought we put in a very complete display - if we hadn't, Levante would have put us in difficulties".
Levante going close: "I thought we did what was necessary to take the game forward but it's a fair point that Levante could have gone in level at half-time – even in front but I think the result's a fair one".
Equalling the club unbeaten record: "I think it's great but it's only numbers... at the end of the season I'll tell you if it served us to win any trophies".
Are you worried that the side who occupy last place in the table gave you such a rough ride? "No, they have quality and good players. They're a well-organized team and are on an upward path. If they remain in this dynamic, they'll be in with a chance of avoiding relegation".
100 games in charge at Barça: "It's good, it's better to get to 100 than 50 but figures say nothing to me – I'm more interested in collective objectives and winning league titles".
Barça were made to struggle this afternoon... "If you think the team who is top of the table struggled, what do you think it must be like for the rest? I feel marvellous right now".