JAMES | VALDERRAMA
Valderrama: "Benítez didn't play James because he didn't want to"
The Colombian legend is a self-confessed admirer of the Real Madrid attacking midfielder and spoke out in his defence, saying he hasn't been overweight and isn't a party animal.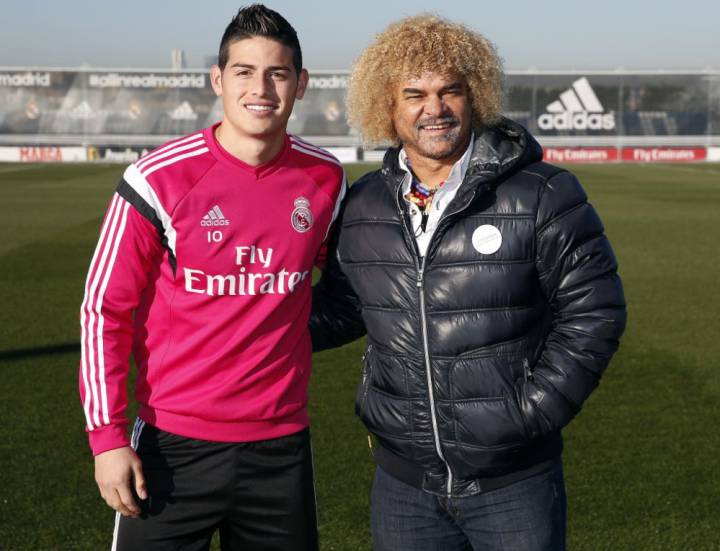 Carlos Valderrama, legendary former Colombia player gave an interview to Blu Radio, where he spoke out in defence of fellow countryman James and slammed Real Madrid coach Rafa Benitez: "James' problem wasn't that he was fat or was out partying… That's why he had to take his shirt off and show his abdominals muscles. Luckily a new coach came in. Benitez didn't play him because he didn't want to".
Valderrama doubled down on Benitez being the problem for James, reminding everyone that the attacking midfielder had scored 18 goals in his first season, as well as setting up 20. "That wasn't enough for Benitez", rapped the big-haired Colombian.
Valderrama has long been a self-confessed fan of James. When he signed for Madrid for 80 million euros, the Colombian legend said: "James proved his quality at the World Cup in Brazil. He just needs to adapt to being in a group of proven quality players, he's good enough".
The love affair is two-way, with James admitting Valderrama is one of his idols. The Real Madrid player said so when Valderrama visited the Madrid training ground on 28 January 2015: "To meet someone like him, who was an idol to me when I was a boy, is something amazing and unique. I'll always admire him and I will do for the rest of my life. It's a big honour to be by his side. He admires me, I admire him. It's mutual admiration".