SEVILLA
Fazio records the second-fastest sending off of his career
The Argentine didn't have the greatest start to his second spell at Sevilla; he was dismissed 24 minutes into Sunday's game – his seventh red card.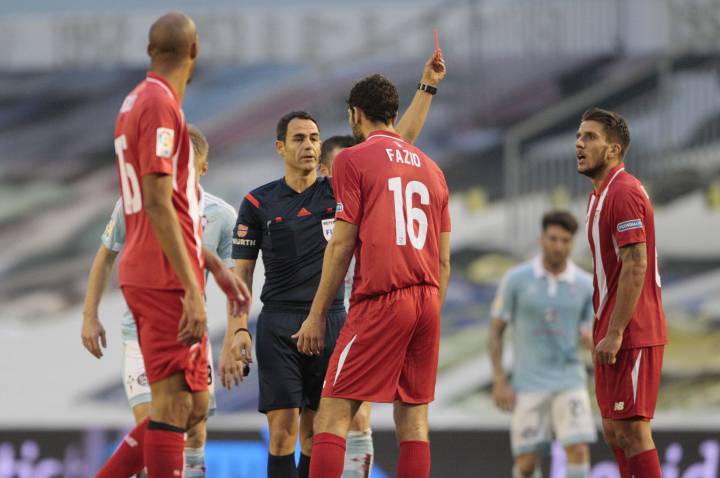 It's been just over eight years since Federico Fazio first experienced the lonely trudge back to the changing rooms. During the intervening years, it's become a more habitual occurrence for the 28-year-old, who was excited to learn that he figured in Unai Emery's starting XI for yesterday's meeting with Celta at Balaídos. Less than a week ago, he was undergoing a medical to conclude a transfer deadline day loan move back to his old club from Tottenham Hotspur.
His first game back lasted 24 minutes. Match official Carlos Velasco Carballo fished into his top pocket to show the Argentine a yellow card just three minutes into yesterday's game in Vigo but to be fair, it was Rami who should have been booked. On 24 minutes the ref was back scribbling in his note book after Fazio went in hard and late – very late on Celta's Pablo Hernández. Fazio found himself traipsing back to the dressing room, contemplating another early bath.
The enthusiastic centre-back has been sent off seven times in his career – five times with Sevilla and twice with Tottenham Hotspur, in 235 appearances between both clubs. His debut with Spurs was also marred by a red card, against Manchester City; although on that occasion he managed to last a little longer on the pitch - 67 minutes.
Yesterday's dismissal wasn't even the fastest of his career. In 2012, he was issued a direct red card on 19 minutes at the Vicente Calderón. He completed a one-match ban then returned for the home meeting with Málaga only to be sent off again!
Fazio's run-ins with the refs have tested Sevilla fans' patience, just like it did with Spurs fans. He has six months to convince them that he plans to clean up his game. After yesterday's latest episode, Emery noted that the player has to learn from the error of his ways: "Obviously when these things happen, it leaves the team weakened and it angers you when you see a booking that is not a fair call. I'm not going to blame Fazio. This is a learning process and we have to continue fine-tuning those details. I'm just frustrated at having lost all of the good things we've been doing".