Ronaldo hasn't scored in 50% of matches for the first time
Cristiano has scored in 48.2% of matches he's played this season, his worst return since arriving from Manchester United. The team would be on the same points without his goals.Real Madrid-Sevilla live: LaLiga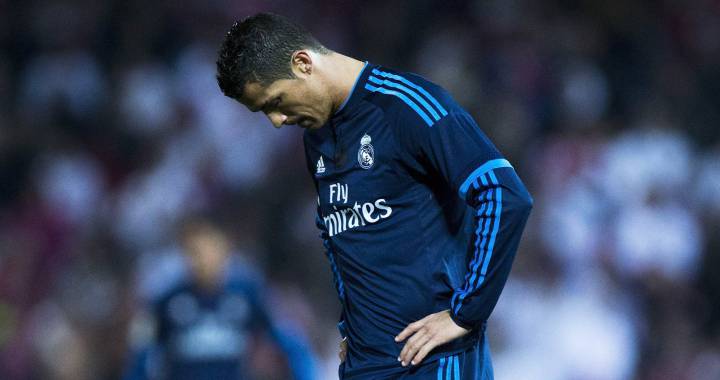 For the first time since his arrival at Real Madrid, Cristiano Ronaldo hasn't scored in 50% of the games he's played, despite maintaining his goals-per-game ratio at above one-a-match. The problem for Real Madrid is that his goals are coming in games where the team doesn't really need them, making his contribution less decisive than previous seasons as he fails to score in the matches that really count.
So far this campaign, Ronaldo has played 29 matches but has only scored in 14 of them. A record, in a negative sense for the Portuguese, as that has never happened before. Cristiano has scored in 48.2% of matches, his worst scoring ratio since joining Real Madrid from Manchester United in 2009.
In his 2010-2011 season he managed to score in 51.8% of matches, but in all the rest of his time in the camisa blanca he registered in more than 60% of games. 2012-14 saw a rise to 72%.
Interestingly, you have to go back to 2008-09 with Manchester United to find a worse return rate for Ronaldo than this year: in his final season for United he scored in only 35% of the matches he played in.
This season, his 30 goals were scored in just 15 matches. 5 against Espanyol at Cornellá, 4 against Malmo, 3 against Shakhtar and Espanyol in the Bernabéu. He's also scored five braces, but he hasn't got off the mark when his team needs him most, drawing a blank against PSG, Barcelona, Atlético, Athletic, Sevilla, Villarreal and Valencia.
Real Madrid would have the same number of points without Cristiano's goals.
The hard cold numbers suggest that Cristiano's goals are no longer crucial to Real Madrid. He has opened the scoring on three occasions: against Espanyol, Celta and Real Sociedad. He's only scored in victories for los blancos, and removing his goals from the scoreboard wouldn't change the result in a single one, the three points still going to the madridistas.
Looking solely at the numbers, and taking into account his general play and assists, at this exact point last season, the team would have been 10 points worse-off without Cristiano's contribution. Two years ago it would have been 14 points. During Mourinho's tenure the absence of Real Madrid's talisman would have translated to direct losses of -15, -17 and -16 points during the 2010-11, 2011-12 and 2012-13 seasons respectively.
The numbers don't lie, and appear to show that Real Madrid's top scorer of all time is in decline.