DEPORTIVO
Pedro Mosquera signs up at Deportivo until 2021
The midfielder rejected a big offer from Valencia in the January window and has been handed improved terms with a release clause of 12 million euros.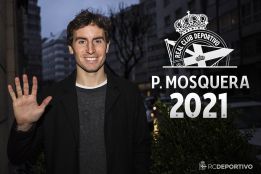 Pedro Mosquera demonstrated his commitment to Deportivo during the January window when he rejected an offer to join Valencia and on Friday the club returned the favour. Depor have handed Mosquera a two-year extension to his current deal to tie the player to the club until 2021: Mosquera returned to Deportivo from Elche last summer and penned a deal until 2019.
Mosquera's deal also includes an improved salary and a rise in his minimum release clause from four million euros, the sum Valencia were willing to meet, to 12 million.
Mosquera was snapped up by Real Madrid from Depor's academy in 2000 and made almost 100 appearances for Castilla before moving to Getafe. Despite only being back at his local side for seven months he has become a key player under Víctor Sánchez and Depor were keen to sign him up on a long-term deal as part of the club's project. Mosquera's connection with the Depor fans was instant and after the last home match at Riazor, after he announced his decision to remain with the side, the stands sang his name in return.