Modric: "If I had to choose, my favourite would be Ancelotti"
The BBC published a clip of an interview with the Croatian midfielder in which he spoke about life under Mourinho, Benitez and Zidane.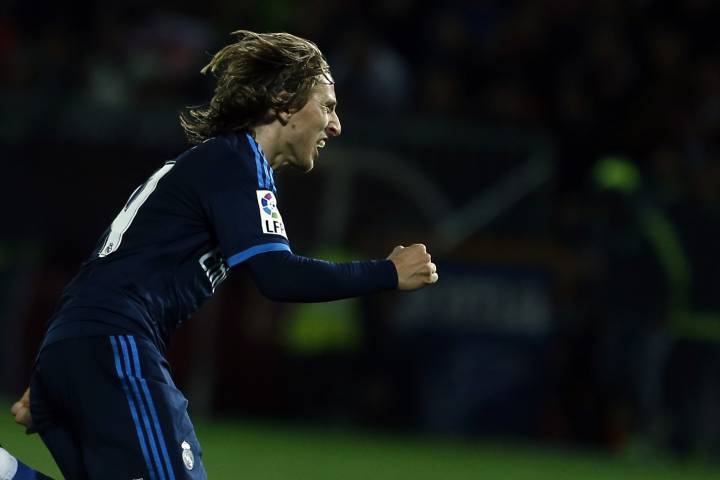 "Right from Day One, honestly, I'm in love with this city, the club, with everyone around. I've enjoyed every moment since I arrived here; I'm living my dream", Luka Modric explained in an interview which will be broadcast in full tomorrow.
'La Décima' "Amazing! My dream came true with that trophy"
If you had to pick one out of the four coaches you've had at Real Madrid, which one would you choose? Mourinho, Ancelotti, Benítez or Zidane? "I had a great relationship with them. All of them helped me to improve. But if I have to pick one, I would pick Mister Ancelotti. We had a great relationship, and we still do and that's why I would pick him".
Zidane: "I think everyone knows that he is one of the best ever and to have himk as a manager is great. You can learn a lot from him. So far, he's doing really well. I'm sure he will have a good career as a manager".
Zizou, different to the rest: "He knows exactly what he wants. He doesn't speak a lot; he tells us exactly what he expects from us and so far, teveryone is very happy with his approach to us. His training sessions are very interesting and very intensive - which is what we need; hopefully the results will follow and he will bring trophies to Madrid".
Provider role for Cristiano Ronaldo: "What he has achieved is amazing. He's a great team mate. Because of everything he has done, people expect him to perform at the top level in every game but that's not easy. He is still one of the best players in the world and we are happy to have him here.
Friendship with Gareth Bale, on and off the pitch: "It helps that we are good friends - we know each other well from the Tottenham days. Even now, after he has changed his position because during our time [with Spurs] he played more as a winger. Now he is more of a forward and he's much stronger and much quicker than before. Now, for sure he is one of the best players in the world.
How long do you see yourself at Real Madrid? "It's difficult to say. I still have two and half years on my contract and I will try to be here as long as possible".
Return to the Premier League, unfinished business in England? "No, I don't look at it that way. I had four great years at Tottenham; I enjoyed my time there - I had support from everyone, from the fans especially and I will always be grateful for the affection they showed me during those years".
Tottenham riding high in second place under Pochettino: "I follow them a lot. Whenever I can I watch them. Now they are playing really well - amazingly well. They have a good coach and they are very close to winning the league. I wish them all the best and I have my fingers crossed for them to win it, because I think they are capable of it as they are playing very good football".
Harry Kane: "I didn't really know much about him when I was there. You could see that he is a hard worker. Sometimes he would come to training sessions in short sleeves when outside it was minus 5 degress C! Even now he is still working so hard and it's paying off".