TENNIS | DELRAY BEACH
Del Potro: "I'm fighting to be competitive again"
The 2009 US Open champion, now ranked 1,042 after a serious wrist injury, made a winning return to the ATP Tour in Delray Beach.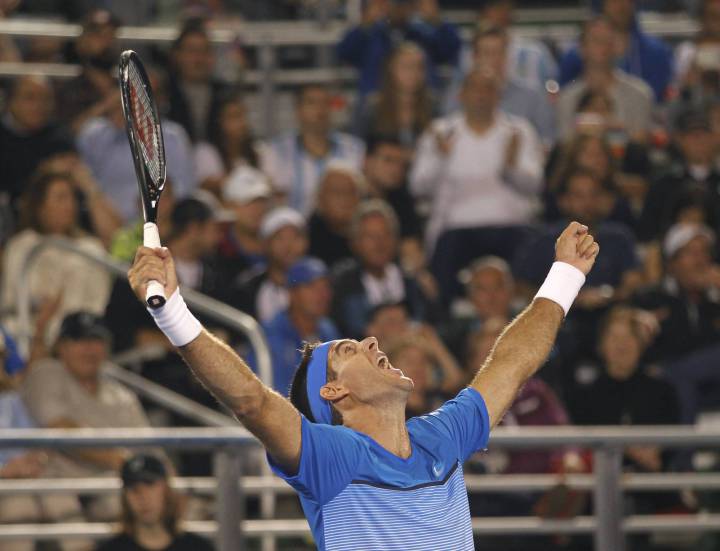 Juan Martín del Potro made a winning return to tennis on Tuesday after a 11-month injury layoff, romping past America's Denis Kudla in straight sets in the first round of the Delray Beach Open. The injury-plagued 27-year-old Argentine faced an uncertain future after missing most of the last year with a wrist problem which required two separate bouts of surgery. But del Potro, aiming to resurrect a career that included a 2009 US Open championship victory, showed no signs of ring rust as he overwhelmed world number 54 Kudla in just over an hour.
Tuesday's win carried an echo of a previous comeback for del Potro, who won the Delray Beach crown in 2011 also after returning from a wrist injury. Del Potro, who climbed to number four in the world rankings in 2010, is currently at 1,042 in the world.
"The main thing is to be healthy again, the result doesn't matter," Del Potro said in an interview published in La Nación to coincide with his return to the courts. "I'm fighting to be competitive again. The result isn't important if I can win this battle with injury. I've never let my head drop and I'm doing everything I can to win this battle, sooner or later. My objective right now is to be able to play the opening game, go back to the hotel and be able to say I'm fit to train the following day. Basically, just to be healthy and not have any pain in my wrist."
Asked what he knew about his opponent on the day, Del Potro quipped: "Nothing at all. I've been watching The Simpsons for the last two years."
In other matches on Tuesday, top seed Kevin Anderson of South Africa tumbled out to Austin Krajicek of the United States.
Anderson abandoned after losing the first set on a tie-break 7/3.
Second seed Bernard Tomic of Australia also bit the dust, beaten in straight sets 7-6 (7/3), 6-1 by unheralded American Rajeev Ram to the delight of the home fans.