Peter Lim planning to offer Gary Neville contract extension
Only a downturn in results between now and end of the season will shake the faith of the Mestalla board in their coach, who they see as integral to the project.Celta-Valencia live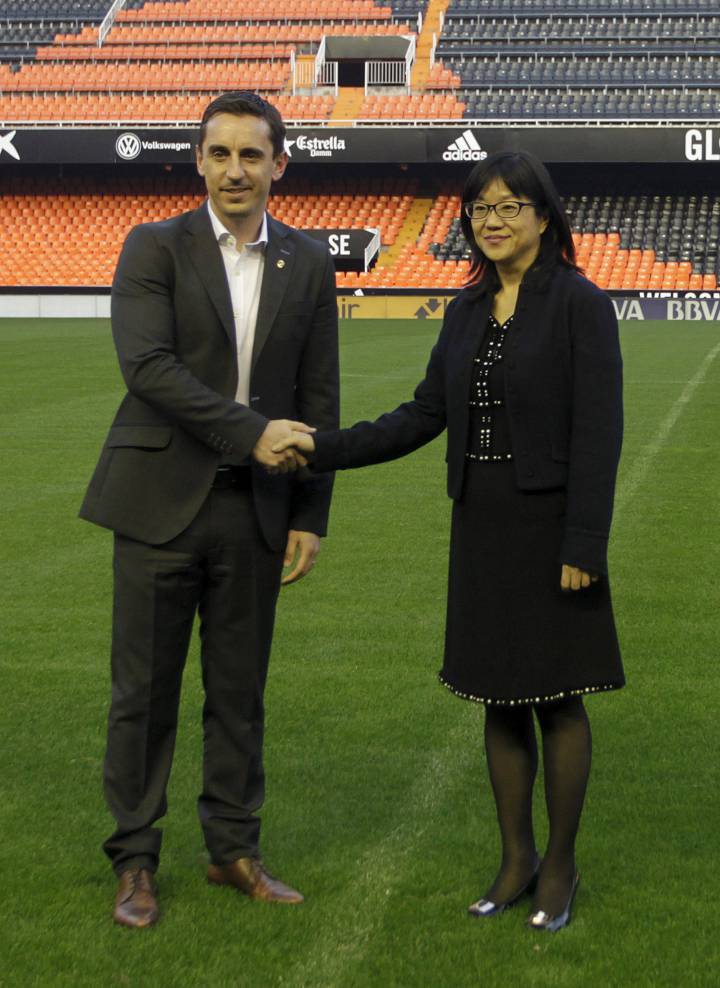 Gary Neville has 13 Liga matches remaining, and the Europa League, to earn a contract renewal at Valencia. Results have taken an upturn in recent games, with Neville overseeing three consecutive victories domestically and in Europe, and the intention of Peter Lim, Chan Lay Hoon and Jesús García Pitarch is to offer their coach and his backroom staff, including Pako Ayestarán, an extension at the end of the season.
Neville's first 12 league games in charge at Mestalla did not reap a single victory and a 7-0 drubbing at the hands of Barcelona in the Copa del Rey had the former Manchester United defender on the ropes, at least in the eyes of the Valencia supporting public. But the board never entertained the idea of sacking Neville, not only because of the faith placed in him by Lim but also, as Chan explained to AS, "the dressing room believes in him."
Lim has set a date in March to sit down with Neville. The Valencia owner is confident that the current run of results is not a flash in the pan and, furthermore, he considers Neville to be a club man. That is also how Neville has won over club director Jesús García Pitarch. The two had never met until January and did so before García Pitarch had accepted Lim's offer for the club, striking up an immediate mutual understanding. Neville praised the structure of the club, a little alien to English players and managers, whereby the sporting directorship leaves the coach to concentrate solely on the pitch.
Chan also feels that Neville has become a Valencia man through and through and he has won the confidence of the board. The Neville brothers form part of the inner circle of the Lim family and there is daily contact between owners and coaches. It also went down well with Lim that Neville accepted the offer to take over from Nuno Espirito Santo without making any demands over his contract, his staff or signings in the January transfer market. Neville forms part of the nucleus of Lim's project and the board feels that "we are moving in a direction that we believe to be the correct one."
That being the case, if results continue to come on the pitch, Neville is in the frame for a contract extension. When he took over at Mestalla, Neville said that he would make long-term decisions and not ones based on the initial six-month terms of his contract. The Valencia boss is already planning for pre-season and it was he who suggested the squad travel to Singapore at the end of the season and not in summer and he is also working on dates and destinations for the close season.