Gianni Infantino voted in as new FIFA president
The UEFA General-Secretary, backed by Mou and Figo says he's determined to put football back at the heart of FIFA. He won the vote on the second round.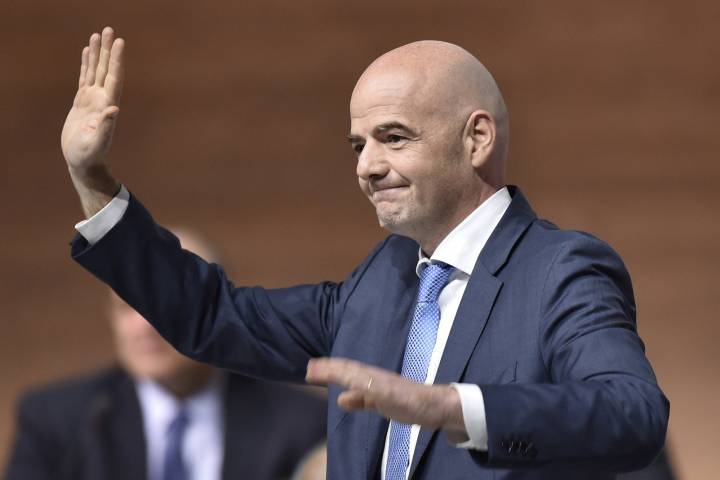 Europe's Gianni Infantino on Friday won the presidency of FIFA with a convincing win over Asian rival Sheikh Salman bin Ebrahim Al Khalifa and vowed to lead the scandal tainted body into a new era.
The 45-year-old Swiss-Italian general secretary of UEFA got 115 votes in the second round of the election held at the FIFA Congress while the Asian Football Confederation president got 88.
Infantino takes over the 209-member, multi-billion dollar body from Sepp Blatter with world football's image at an all-time low.
Blatter has been banned from football for six years and US and Swiss authorities have launched major corruption investigations into FIFA and other football federations.
Infantino said that despite the scandals of the past year football deserves to be 'highly respected.'
'And we will restore the image of FIFA and the respect of FIFA and everyone in the world will applaud us,' a visibly surprised Infantino told the Congress.
Sheikh Salman, a member of the Bahrain royal family, was one of the first to congratulate his rival.
Having got 27 votes in the first round of the election, Prince Ali bin al Hussein of Jordan got just four in the second.
Former FIFA official Jerome Champagne had seven votes in the first round but zero in the deciding ballot.
South African tycoon Tokyo Sexwale withdrew from the contest before the first round.
The Congress was given tough warnings before the vote that the result and a series of agreed reforms had to convince a world shocked by several years of corruption scandals and doubts about World Cup bidding.
International Olympic Committee president Thomas Bach said football and all sports had to improve governance.
'Today you have this great chance to turn the page,' he told the congress. 'We need to give new answers to the new questions with regards to credibility and good governance.'
Earlier a reform package was adopted by 179 members, while 22 voted against and six abstained.
The measures are designed to limit the authority of the new president and his deputies and end the patronage and waste that prevailed during Blatter's 18-year term.
The president's job has been altered to function like a corporate chairman of the board, providing strategic guidance but with less management authority.
FIFA's executive committee, which had become an epicentre of graft allegations, has been re-branded as a FIFA council. It will operate like a corporate board of directions.
Measures such as declaring the salary of the new president to improve financial transparency were also included.
After several years of suspicions, scandal erupted at FIFA when seven top officials were arrested at a FIFA congress in May last year.
Infantino will face immediate financial problems.
Acting Secretary general Markus Kattner said 'general uncertainty' following the crisis had created tough economic times and FIFA was roughly $550 million (500 million euros) behind in its $5 billion budget plan for 2015-2018.
Infantino has proposed increasing the World Cup from 32 to 40 teams and to more than double the amount given back to the 209 national associations to more than $1 billion in total every four years.
Sheikh Salman, who is seen as closer to the FIFA old guard, had said the proposal could bankrupt FIFA. But Infantino countered that his proposals were far from reckless and that his record at UEFA proved his credibility as a financial manager.
'When I speak about figures...I know what I am speaking about,' he said.
Truly humbled by today's decision. Let's bring FIFA forward together.

— Gianni Infantino (@Gianni_2016) 26 February 2016
We spoke to him in the run-up to the election and this is what he said:
You've worked for many years with Platini. Aren't you worried you'll be identified with him?
UEFA has made significant progress over recent years in terms of the profile and success of our flagships events, growing the amount of revenues that we distribute to Associations and Clubs and in making important changes and reforms in several key areas. I think all the associations in Europe are happy with what UEFA has done in recent years and I hope I can say the same thing in the future when I look back to my first years as President of FIFA.
I always had a very good relationship with Mr Platini and we have worked well together. I have said several times that I hope he has a fair and quick legal process in which he has a chance to clear his name. For me now, the focus is on my campaign to become the next FIFA President.
Was it Platini who asked you to stand?
Once it was clear that Mr Platini wouldn't be in the race I made of course my own decision to run. And it was important for me to receive the unanimous support of the UEFA ExCo. We need to bring football back to FIFA and FIFA back to football. This is why I chose to stand – to make a difference.
As UEFA general secretary, are you still paying Mr Platini?
UEFA confirmed in January that Mr Platini is receiving a salary and will continue to do so until further notice.
If you become Fifa president will you lift the ban on Platini and let him be UEFA president?
As I said earlier for obvious legal reasons I cannot get drawn into this question. Michel is pursuing an appeal and legal process and it is important that this is allowed to conclude. In any case however and in accordance with the FIFA Statutes, the FIFA President, current or future, has no powers to lift bans on anyone.
When do you want to have 40 teams in the World Cup?
I believe the World Cup should have 40 teams from 2026. It is a unique event, which captivates the entire world for a month every four years and it's also the single-most powerful tool for promoting football all over the world. By giving 8 additional countries the opportunity to participate, we would be giving 8 more countries the possibility to enjoy the World Cup fever in a more passionate way, also achieving greater worldwide representation in the process.
Naturally, this must be properly debated with all the stakeholders involved. But I am more than ready to have this discussion in a constructive way with everyone who cares about football. At UEFA, I have been intimately involved in the expansion of the EURO from 16 to 24 teams. This has already been a huge success, from a sporting, promotional and commercial point of view and I know we can do something similar for the FIFA World Cup.
What anti-corruption measures are you proposing for FIFA?
Serious good governance and compliance reforms are needed to address the problems of the past and to ensure that they cannot reoccur. These reforms have to be both STRUCTURAL and CULTURAL in nature. As a member of the 2016 FIFA Reform Committee, I have been closely involved with the team that has prepared the necessary statutory amendments to bring these changes into effect. And, as FIFA President, I shall focus all my energy and efforts on ensuring that these reforms are actually implemented and put into place as soon as possible.
I know what is at stake having the necessary experience from managing UEFA's day-to-day activities in accordance with the highest standards of good governance and compliance over the years.
I have outlined a raft of reform measures including the creation of a new FIFA Council; term limits for FIFA serving officials, including the President; the appointment of independent voices to key FIFA Committees; remuneration transparency for senior FIFA members; the appointment of a Chief Compliance Officer; and a fully open tendering process for commercial and operational contracts.
Taken together, these changes will, I believe, put FIFA on the path towards restored credibility and integrity. I feel I am the right person to lead FIFA into a new era of credibility and development.
If you are elected president will you limit your mandate to 8 or 12 years?
As I set out in my Manifesto, I believe a term limit of a maximum of 12 years (3 x 4 years) should be introduced for the FIFA President and Council members. This will ensure a regular influx of new ideas into the institution, and also create more opportunities for Member Associations to be represented. It will also help to address some widely voiced public criticism of the organisation.
How do you propose FIFA be regenerated?
FIFA is going through a very difficult period, we have to openly admit this. Although the latest events harmed its reputation, I think that if we bring football to the centre stage, with the reforms already underway as well as those contained in my manifesto on governance, FIFA can rebuild its reputation and the trust of the football community, including the fans.
I also want FIFA and its Member Associations to look at significantly strengthening football development programmes, growing the FIFA World Cup, having a full debate on the use of technology in the game and creating a fair and transparent transfer system. I would also create new initiatives to utilise current and former players to promote football as a force for social good.Taken together, I really do believe these reforms and changes will make a huge difference to how FIFA operates and to its reputation.
Will you increase compensation to the clubs for players in international duty?
If I remember well, an agreement has just been concluded by FIFA with the clubs until 2022 to mutual satisfaction. So this matter will come back on the table for 2026. We will have plenty of time to discuss this and other related matters.
Will you reduce the amount of dates for international matches in the calendar?
The international match calendar has only recently been agreed until 2022, so there will be plenty of time to discuss this topic for the future.
At UEFA the priority is club football, while at FIFA it's the national sides. How do you make the change?
UEFA's priority is football. And in particular National Teams and we have shown it with the recent projects of an increased EURO with 24 teams, the centralization of TV rights for the qualifiers and the new Nations League. All projects for the development of National Team Football. But the club competitions also deserve special attention. Therefore, at UEFA, the development of National Team Football has not been done to the detriment of club football, but both national teams and clubs have been hugely boosted by UEFA's actions in the last few years.
At UEFA we have placed a lot of emphasis on supporting Member Associations and national teams including the HatTrick programme which, for more than a decade now, has had a positive impact on the development of European football focussing on investment funding, knowledge-sharing and sports education. Launched at the end of 2003 it was established to provide financial support to the UEFA Member Associations in order to develop and foster football at all levels.
We've also just overseen another expansion of the UEFA EURO taking the number of participating teams to 24. This has already been a huge success, from a sporting, promotional and commercial point of view for UEFA and its Member Associations and it also gives more nations the opportunity to qualify and live the major tournament fever!
I will employ a similar vision if elected FIFA President ensuring the specific needs of all Member Associations are met. FIFA's prime mission is to develop football around the world and as a benchmark, and after all necessary adjustments, I believe that FIFA should easily be able to ear-mark at least 50% of its income for direct distribution to its Member Associations for football development projects. This translates into a very significant increase in the Financial Assistance Programme (FAP) and other development and solidarity programmes available for Member Associations and Confederations.
This would mean a minimum of $5million over 4 years per Member Association and $40million over 4 years per Confederation for investment in football development projects.
The footballers who accompany you on your campaign (all the ones posing with you for the photo at Wembley) have they got a commercial relationship or are paid money, directly or indirectly, by your campaign or by UEFA? Do they earn money from UEFA? Are they paid?
Of course not! The players and coaches and everyone else were there supporting me of their own volition to back my candidacy and I am extremely grateful for this. This is something I'm really proud. To have so many players, coaches and other relevant figures coming out supporting me only because they think my project is the best and that I can do a good job.
FIFA needs to reconnect with the key actors of the game: the players. It must ensure that their voices are heard on all football-related matters and must also give players the opportunity to fully participate in the development, promotion and social responsibility aspects of the game. Players who wish to give something back to the world of football should be positively encouraged to do so and FIFA should provide a platform for them. I will open FIFA's doors to the players by creating a Legends Team, designed and built to create build a network which will fulfil this purpose.