BARCELONA 2 - 1 SEVILLA
No safe haven for LaLiga's long-standing records
Messi scored an absolute beauty to kickstart Barça's fightback, Piqué sealed victory at the start of the second half against a courageous Sevilla side.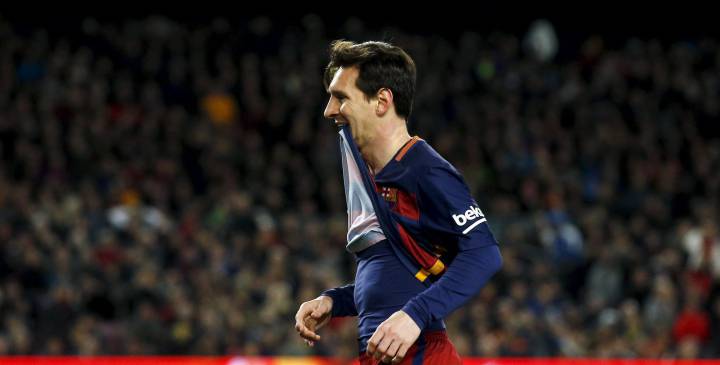 Barça didn't pass up on the opportunity to pull away at the top of the table and simultaneously, equal the record for going 34 games unbeaten, shared with Leo Beenhakker's Real Madrid, which has stood since 1988-89. To do so, they had to outfox a Sevilla side who came to Camp Nou intent on surprising the leaders and who put in a courageous display throughout.
Unai Emery's team forced their hosts to give the best of themselves – on top of coming back into the game after going behind to Vitolo's early opener. A majestic Messi free-kick, culled straight from the Maradona-Koeman anthology of set-piece perfection (limited edition, deluxe coffee-table edition) set them on their way; while Gerard Piqué finished off a tidy combination move involving Messi and Suárez from a corner, to seal yet another blaugrana victory.
With tonight's triumph over Sevilla, Barcelona inch a little closer towards reclaiming a league title which they have in the palm of their hand. But getting this far hasn't been a stroll in the park. At Camp Nou, Barça showed that they are the best side right now because they knew exactly how to handle an opponent who tested them from start to finish. Sevilla can go home with their heads held high, and with the promise that we are in for something special when the two sides next meet for May's Copa del Rey final.
Luis Enrique slightly tweaked the side who beat Arsenal mid-week, bring Mathieu, Aleix Vidal and Sergi Roberto in. The coach had to take off the latter two and introduced Dani Alves, Iniesta and Rakitic in a bid to contain Sevilla who threw caution to the wind, leaving their goalkeeper as the team's only shield (Rico was sensational) with a midfield which didn't give Barça an inch.
Right from the off, it was frenzied game in which the home side, led by Messi, looked as though they were trying to control a wildcat. Not once did Sevilla allow their hosts to take a breather, hitting them with blistering counter attacks like there was no tomorrow.
It was precisely from one of those high-octane breaks that Krohn-Deli laid up Vitolo to stroke in the opener. Finding themselves a goal down, Barça sought to keep hold of the ball and camp out outside the Sevilla area. Luis Suárez's rear, which has contributed so many points to the team in the past provoked a foul from Rami from which Messi equalised in stunning fashion, prompting the stadium to rise to their feet. Just moments before, the Argentinean had attempted to score directly from a corner only for his effort to be diverted onto the bar by Suárez.
Both teams went in level at the interval but once they re-emerged, Barcelona staged a smash and grab in a move which enabled Piqué to put them in front. Any other team would have pulled out the white flag of submission at that point, but not Sevilla. Far from considering the game a lost cause, Emery's men were straight back pestering Bravo, who did well to stop Gameiro from levelling.
Perhaps the poignant part of tonight's win was just how much Sevilla gave Barça a run for their money. To be the best, to equal or better records, you have to suffer – there's no other way around it. But when you've got Messi in full 'Maradona mode', at least the pain's not too excruciating to bear.