Coleman relents: "If Bale isn't available, then so be it"
The Wales manager said he won't call up the Real forward if he isn't fully fit: "We'll have to wait and see what happens over the next week or two."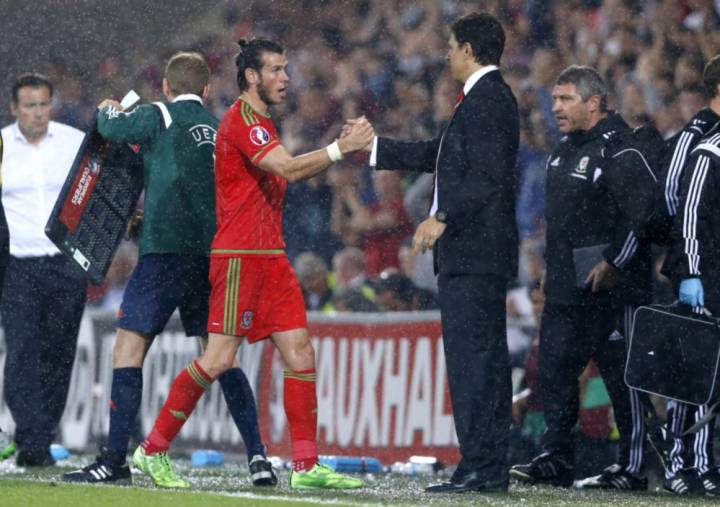 Wales manager Chris Coleman has said that he will not call up Gareth Bale for the upcoming friendlies against Northern Ireland and Ukraine if he is not fully fit. "We have to wait and see what happens in the next week or two," Coleman said. "If he isn't available, he isn't available. He's had a lot of injuries at Real Madrid this season and they have been great with us, they've been very respectful and at no time have they tried to prevent us from calling Gareth up."
Bale, 26, returned to training with the squad this week after a recurrence of a calf injury picked up on January 17 had kept him on the sidelines. However, Coleman prescribed prudence with his star man's fitness. "Now we have to return that good faith. If he hasn't had much game time and he needs a bit longer, we'll give him a bit longer. We have to be careful. We've got two games and hopefully he'll figure in one of them."
Coleman also said that Bale's travails at the Bernabéu had made the player stronger: "I think he has got over the experience of last year, when he was criticized, unjustifiably in my opinion, for part of the season. He's really strong mentally now and concentrating on getting back to a hundred percent."
Coleman added that from Wales' point of view, Bale's current layoff could be very beneficial: "It's a bit selfish but it's not necessarily a bad thing that players get a bit of rest, as long they're ok by the summer. The same thing has happened with Wayne Rooney. Obviously they all want to be playing every week and they'll be disappointed if they aren't in form, but we're concentrating on them being in the optimum shape for the tournament."
Wales will be contesting their first major tournament in 57 years in France, and have been drawn against England, Russia and Slovakia in the group stage.