Cristiano sinks Celta
Amidst talk of a shipwrecked season and protests from fans, Ronaldo shows that this Spanish Galleon has a way to sail yet.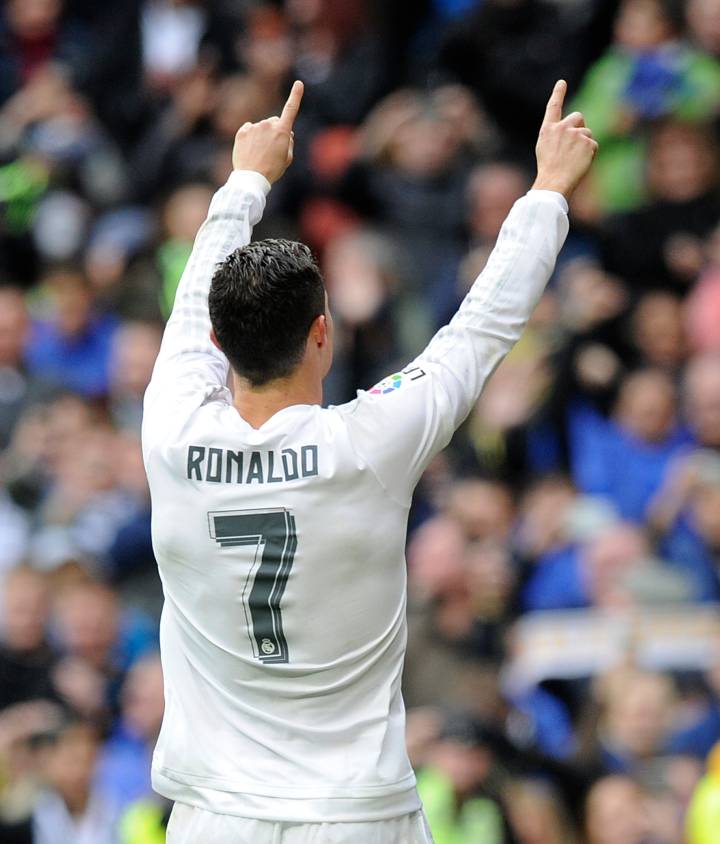 The most expensive Spanish shipwreck in history was the San Jose. It went down off the coast of Colombia in 1708 in the Caribbean Sea full of priceless jewels, gold coins, emeralds, artefacts and a bronze canon. If Real Madrid's season can be likened to a sinking ship, loaded with its own living breathing cargo of treasure, Barça sailing off into the distance and Atleti ably captained in second by Simeone, this "Los Blancos" vessel refused to go down against Celta.
Their own bronzed canon made sure that all three points would safely stay on board, a four-goal haul for La Liga's second highest goalscorer in history: Cristiano Ronaldo.
The Bernabéu has become more of a centre of protest than a football club these days, the most (often the only) vocal fans in the stadium in the fondo sur unfurled a tifo that had a message for the players: "To wear this badge, you have to sweat the shirt".
Recent performances haven't lived up to what the fans expect from someone in a camisa blanca, that never-say-die attitude, the espíritu Juanito. Those fans started the game with their backs turned to the pitch, a gesture demanding more from this expensively assembled collection of professional footballers.
They didn't miss much. Danilo blasted over early and Ronaldo went down, but nothing that threatened to enliven a taut beginning. Attention was drawn to another protest banner, flying in the wind and rain at Madrid, another group of fans calling on club president Florentino Perez to "Listen to the stadium and step down".
It didn't take long for the whistles to start either. Madrid started energetically, moving the ball around quickly, Isco buzzing about flattering and deceiving as Isco does, but there was a Galician wall camped on their 18-yard line.
Berrizzo had his team set up to be solid and hit Real Madrid on the break with Nolito and Orellana back in the side accompanying Iago Aspas.
The first chance that the Barça product got to attack the Real Madrid he caused mayhem, tacking and jibing past three white shirts as if they weren't there. It resulted in a free-header for Iago Aspas, which came back off the crossbar - more difficult to hit than the net, with the goal at his mercy. When it bounced back to him he couldn't take the second chance either, Liverpool fans smiled wrly as Keylor Navas smothered the shot from the rebound.
Celta should have gone ahead, and the Madridistas did not like what they were seeing. Whistles cascaded down the 84,000+ seater stadium. Ruben Blanco wasn't called into action until 21 minutes had passed, beating Casemiro's shot over the bar, then stopping Isco when he worked a shooting chance from Pepe's cross.
More whistles sounded when Ramos allowed Aspas another glint at goal, he tried to lob Navas but it was far too high.
The only cheer came for Borja Mayoral, the young canterano, when he fashioned a cross for Ronaldo. That too came to nothing.
Ronaldo showed his annoyance with his teammates too when Kovacic tried to give him back the ball on a promising counter instead of passing to a better-placed Lucas Vazquez. That just added to an already toxic atmosphere. A theatre of discontent.
Zidane must have been dreading the half-time whistle and the whistles that would have been, had Pepe not risen imperiously from a corner to put Madrid ahead. The relief was palpable, and from a fan-favourite too.
"A few things were said at half-time" grinned Zidane post-match, and whatever those were had the desired effect. Celta might be a different team with Nolito in the side, but this was a different Madrid that came out for the second-half.
It was sparked by the ire of Cristiano Ronaldo and yet more whistles. He flicked the ball right to where he thought Dani Carvajal should have been, but wasn't, the ball rolling out impotently. The whistles annoyed the number 7 and he had quite the response.
Picking the ball up about 30 yards out, Ronaldo whanged it in, a fierce dipping thunderous strike that Ruben couldn't dream of stopping. Ronaldo wheeled away with his hand cupping his ear.
8 minutes later Real Madrid had a foul outside the box, and Ronaldo did his best George Osborne impression. Ruben Blanco stood and watched as Ronaldo whipped it over the wall and dipped it under the crossbar. Brilliant.
Even Ronaldo's mother in the presidential box could hardly believe what she was seeing. It was about to get better for her boy too, the third came as a tap-in from Casemiro's ball-win and Isco's cross, the fourth a towering header from a corner.
That's the 30th time Ronaldo has scored more than three goals in a game for Real Madrid. Celta were begging for the final whistle, but there were other Madrid players with points to prove; Bale announced his return with a lovely individual effort, and Jesé staked his claim for more time on the pitch.
Aspas dinked a consolation over Keylor to make it 3-1, but the day undoubtedly belonged to Zidane and whatever he said at half-time. That, and the fans who made Cristiano angry.
Real Madrid's season isn't quite sunk yet, the Undécima the target for the good ship Zidane, certain jewels still sparkle as Roma awaits.