MLS
MLS reaches maturity ahead of 21st season
The 21st season of Major League Soccer kicks off across North America this weekend with officials optimistic about prospects for future growth.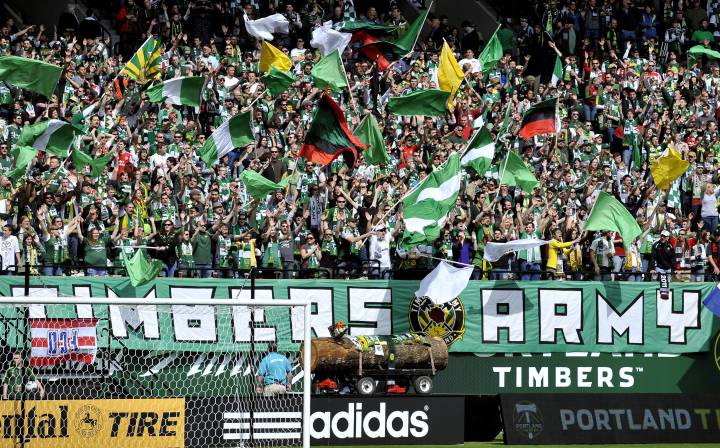 The 21st season of Major League Soccer kicks off across North America this weekend with officials optimistic about prospects for future growth despite emerging challenges from rival competitions across the globe.
A legacy of the 1994 World Cup, MLS has come a long way since the San Jose Clash kicked off the league with a 1-0 win over DC United in front of 31,863 fans on April 6, 1996.
While the MLS is yet to reach the same sort of prominence as American football, baseball and basketball, the beautiful game has nevertheless established a solid foothold that stretches across the nation.
Since the inaugural season two decades ago, the MLS has doubled in size, increasing to 20 teams from the original 10, with four more teams scheduled by 2020 and ultimately expanding to a 28-team league.
Average attendances have shown a steady increase, reaching a record of 21,619 per game during the 2015 season, up sharply from 2000, when average crowds for each match hit a record low of 13,611.
Orlando City have already sold more than 43,000 tickets for their game against Real Salt Lake on Sunday, and are aiming to sell out their season-opener at the 62,500-capacity Citrus Bowl for a second straight year.
The defending MLS Cup champions, the Portland Timbers, have a waiting list for season tickets at their 21,000-seat home while Pacific Northwest rivals the Seattle Sounders frequently draw crowds of 40,000 or more.
Mark Abbott, the deputy commissioner of MLS who was an instrumental figure in founding the league, says the increased attendance figures reflect the shifting demographics of soccer's fan base.
A generation of fans who watched the 1994 World Cup as children are in their mid-20s and 30s and have grown up with the sport.
"What's happened over the last 22 years in the United States and Canada since the 1994 World Cup is that they have both become soccer nations," Abbott told AFP. "What we're seeing now is a fan base that is being driven by young people who have grown up with soccer in a way that is different. "That's the most significant thing that has been happening. It's not some foreign, exotic sport any more -- it's a sport that people know and love and love being fans of."
The international profile of the league has also been boosted through the recent arrival of several globally renowned foreign stars.
Since David Beckham joined the Los Angeles Galaxy in 2007, a lengthening list of overseas players have joined the ranks of the MLS, notably Didier Drogba, Kaka, Frank Lampard, Steven Gerrard, Andrea Pirlo and David Villa.
Crucially, the league has also begun to attract foreign players in their prime, such as 29-year-old Italy international Sebastian Giovinco, who joined Toronto FC from Juventus in 2015, and Mexican striker Giovani dos Santos.
Former France, Arsenal and Juventus star Patrick Vieira, who is launching his managerial career with New York City FC, owned by the Abu Dhabi United Group which also owns Manchester City, said the steady growth of the MLS reminded him of the evolution of the English Premier League.
"When you look at where the MLS was 10 years ago and where it is now, it is going up fast and in the right way," Vieira said during a conference call.
"The MLS reminds me of the Premier League -- when we spoke about the Premier League, it was the third or fourth league in Europe.
"The MLS will go the same way. We will see more young European players in MLS, more coaches, and that will help the MLS to develop."
Some American players have already started to head in the opposite direction. New York Red Bulls defender Matt Miazga signed for Chelsea in January while DeAndre Yedlin has been on the books of Tottenham Hotspur this season.
The Los Angeles Galaxy's captain and Republic of Ireland record goalscorer Robbie Keane believes that trend will only continue.
"Is there going to be an influx of a load of players (to the Premier League)? Not at this moment in time," Keane said. "In the next five, six, seven years can I see it happening? Definitely, because of the league and how much it has grown."
One potential cloud on the horizon could be the rapid growth of the lavishly funded Chinese Super League, whose clubs have been offering salaries that dwarf anything on offer in the MLS.
Argentina international Ezequiel Lavezzi was signed by Hebei China Fortune on a deal two-year deal worth $33.6 million over two years, more than double what the MLS's highest-paid player, Kaka, will earn over the same period.
Qatar, too, has been throwing large sums around as it aims to lure players to its 14-team "Qatar Stars League," with Barcelona midfield legend Xavi Hernandez signed on a reported $10 million, three-year contract.
Abbott said the MLS is unfazed by the rise of super-rich leagues in different corners of the globe.
"We see them as a reality. China is just one of a number of international leagues that function in a market that we function in ... we just need to focus on building our league so that we can get the highest quality of player that we can," he said.