URUGUAY
Luis Suárez in the Uruguay list 620 days after biting Chiellini
The Barcelona striker has now completed the lengthy ban he was handed for biting Italy's Giorgio Chiellini at 2014 World Cup Brazil.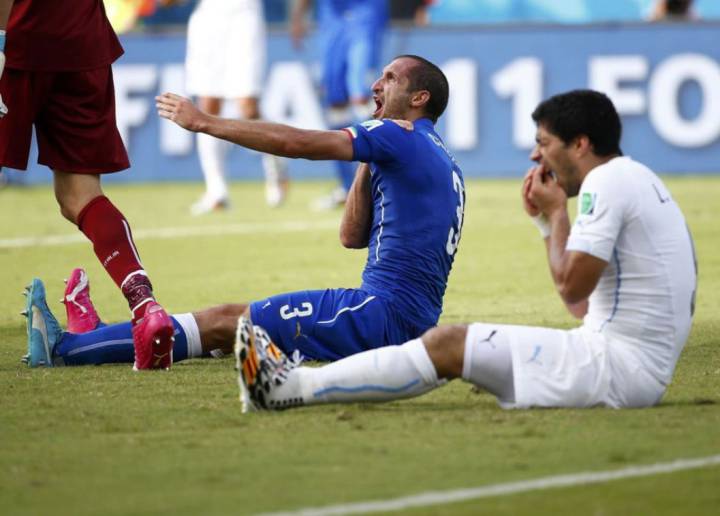 Uruguay coach Óscar Tabárez has called Luis Suárez for the 'Charrúa''s next two games - both 2018 World Cup Round 1 qualifiers to be played later this month. It will be the Barcelona striker's return to national team duties after completing a lengthy ban for biting Italy's Giorgio Chiellini during a 2014 World Cup Brazil.
Uruguay take on Brazil in Recife on 25 March and should Suárez play, it will mark 640 days since that fateful 24 June 2014, when he was banned from playing in any official competition for four months and also hit with a nine-match ban with the national team.
Uruguay play a second World Cup qualifier against Peru in Montevideo on 29 March.
Also in the list are Atlético de Madrid's Diego Godín and José María Giménez and Getafe's Álvaro Pereira.
Goalkeepers: Fernando Muslera (Galatasaray), Martín Silva (Vasco da Gama), Rodrigo Muñoz (Libertad) and Martín Campaña (Independiente)
Defenders: Maximiliano Pereira (Porto), Emiliano Velázquez (Getafe), José María Giménez (Atlético Madrid), Diego Godín (Atlético Madrid), Sebastián Coates (Sporting Clube de Lisboa), Gastón Silva (Torino), Guillermo Varela (Manchester United) and Álvaro Pereira (Getafe).
Midfielders: Fiorgian De Arrascaeta (Cruzeiro), Mathías Corujo (Universidad de Chile), Nicolás Lodeiro (Boca Juniors), Álvaro González (Atlas), Carlos Sánchez (Monterrey), Camilo Mayada (River Plate), Egidio Arévalo Ríos (Atlas), Matias Vecino (Fiorentina), Diego Laxalt (Génova), Cristian Rodríguez (Independiente) and Brian Lozano (América).
Forwards: Luis Suárez (Barcelona), Edinson Cavani (PSG), Diego Rolan (Bordeaux), Abel Hernández (Hull City) and Christian Stuani (Middlesbrough).