DEPORTIVO
Cartabia brings up Deportivo's 2000th goal in LaLiga
It was just a question of time but the Galicians have waited weeks to bring up their 2000th league goal to join an elite group of clubs.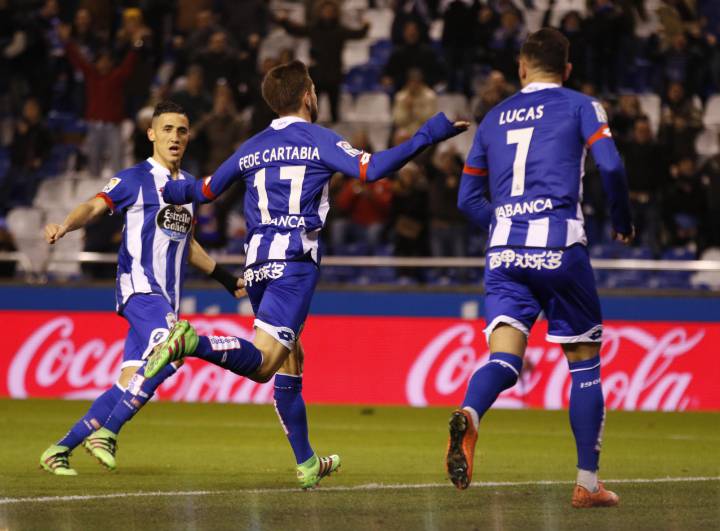 It was just a question of time before Deportivo de la Coruña reached a new club milestone. In the end it fell to Fede Cartabia. The Argentinean scored the equaliser after Depor had gone behind twice in tonight's game against Málaga – his goal brought up a magical figure and enabled Deportivo to enter an elite group of clubs who have scored 2000 or more goals in LaLiga. Just for good measure, Lucas Pérez made it 2001 but Málaga equalised late on when Alejandro Arribas turned the ball into his own net as it ended 3-3.
Julio Antonio Elícegui scored Depor's first top flight goal in the 2-1 win over Castellón on 28 September 1941. It wasn't until the mid-90s that the Galicians reached four figures - Javier Manjarín had the honour of scoring the team's 1000th goal in the First Division, it came in Week 12 when 'SuperDepor' thrashed Valladolid at Riazor. Dutch ace Roy Makaay will be remembered for scoring goal number 1500, again it was celebrated in front of the home fans but the team could only muster a 1-1 draw against Osasuna.
LaLiga's top scoring clubs:
5805 Real Madrid
5746 Barcelona
4440 Atlético
4562 Athletic Club
4328 Valencia
3599 Sevilla
3546 Espanyol
3160 Real Sociedad
2683 Zaragoza
2111 Real Betis
2001 Deportivo