PORTUGAL | PORTO
Iker's market value has dropped 90% since Mourinho benched him
According to the website Transfermarkt, the Spaniard's value has plummeted since ousted as Real Madrid's first choice goalkeeper.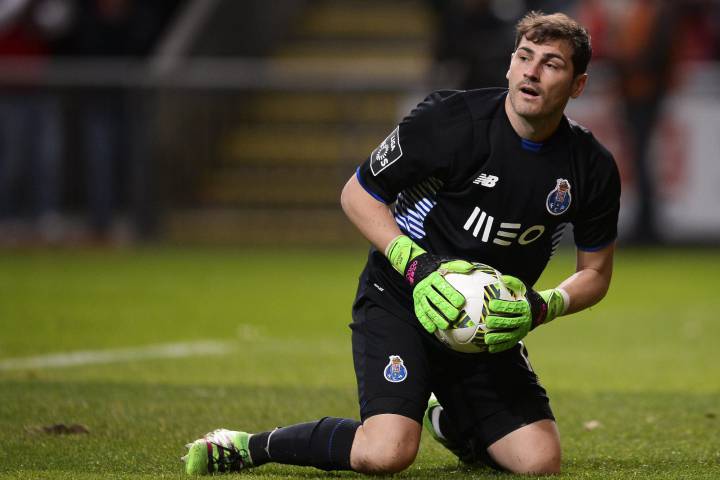 Follow Porto vs Juventus match coverage | Champions League
Iker Casillas has been a shell of his former self ever since José Mourinho dropped him during the 2012-13 campaign. The then Real Madrid first choice keeper was in the midst of what had been the worst season of his career. His performances this year, with new side Porto, follow in at second place.

According to Transfermarkt, the Spain international's market value has depreciated 88.6% in the course of the last three years. His price tag is a paltry four million euros nowadays but once stood at 35 million, when Spain lifted the 2010 World Cup in South Africa. His value didn't fluctuate for three years after that glorious summer but that all changed when Mourinho opted to bench him. That decision shaved five million euros off the shot-stopper's value.
Falling out of favour with the Real Madrid boss prompted a steep decline in his market worth and within a year he had devalued 66%. The 34-year-old departed Madrid for a mere six million euros (an 83% drop off of what the club would have pocketed a few years previous) and has seen his price slip a further two million since joining Porto.
The stats don't lie. This season he has only managed to keep out 68.18% attempted shots on goal with the Portuguese side and is forced into action every 48 minutes on average. Discarding his performances from the 13-14 season – when he only featured in two league games – the only season he has shipped a higher percentage of goals to shots was when the Special One decided to drop him: 67.92%, with a save every 49 minutes.
Casillas' League performances:
| | | | | | | | |
| --- | --- | --- | --- | --- | --- | --- | --- |
| Season | Games | Goals | Minutes | Saves | Save every X minutes | % saves | Observaciones |
| 15-16 | 25 | 21 | 2160 | 45 | 48 | 68.18% | At Porto. |
| 14-15 | 32 | 35 | 2880 | 84 | 34.27 | 70.59% | Under Ancelotti. |
| 13-14 | 2 | 2 | 180 | 1 | 180 | 33.33% | Under Ancelotti. |
| 12-13 | 19 | 17 | 1779 | 36 | 49.42 | 67.92% | Dropped by Mourinho  |
| 11-12 | 37 | 31 | 3463 | 83 | 41.72 | 72.81% | Under Mourinho. |
| 10-11 | 35 | 32 | 3213 | 83 | 38.71 | 72.17% | Under Mourinho. |
| 09-10 | 38 | 35 | 3585 | 108 | 33.19 | 75.52% | Under Pellegrini. |
| 99-09 | 385 | 408 | 36.412 | 1419 | 25.66 | 77.67% | |