The Sudoku puzzle for Zidane: five players for one position
When Benzema is back fit, and Modric/Kroos are guaranteed starters, the Real Madrid coach has to choose between Casemiro, Lucas Vázquez, Isco, James and Kovacic.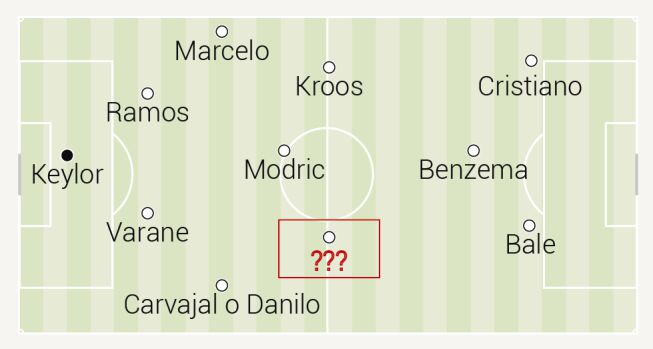 Zidane only has one injured player at the moment. Benzema. When he returns to the team the attacking trident of Bale, Benzema and Cristiano will be available to lead the assault on Champions League glory. Both Ancelotti and Benitez enjoyed this luxury, at least for some of their tenures in charge.
The French manager has only been able to enjoy his powerful front 3 - affectionately referred to as the 'BBC' - in two games this season, his first two in charge. Madrid won those games against Deportivo and Sporting with an aggregate score of 10-1. It was Sporting who managed the solitary goal and it was also in this game where Bale was taken off injured. Benzema was soon to follow him to the physio room.
With Bale now back, and the French striker soon to follow, Zidane's challenge will change from who to replace the missing element of the BBC to who fills in the starting eleven when a fully fit squad is available. Kroos and Modric are both seen as important pegs in the Madrid midfield and this leaves just one slot...but several players are vying for it, some knocking on the door louder than others.
For Zidane, it must feel a bit like playing Sudoku...so let's have a look at the options available to complete the puzzle:
Casemiro:
After starting three consecutive games - Levante, Celta and Roma - he is looking more and more like an essential figure. He has played in all Champions League games this season and out of those only missed out on the final six minutes of the return leg against Roma. Benítez seemed to understand the balance he brought to the team but then inexplicably forgot about him. Will Zidane do likewise?
Lucas Vázquez:
The lungs of the right wing. He works tirelessly, sacrifices himself for the team and provides quality at the business end of the pitch. He started the last two league games (Levante and Celta) and was recorded as putting in the most distance covered in both. Against Roma he was brought on for Bale in the 60th minute and not long after set up Ronaldo for the first goal that effectively killed off the tie. Is running key for Zizou?
Isco:
The manager seemed very keen on the little maestro but this has been diluted more recently. He was being interchanged with James and this seemed to be the main dilema for Zidane however he didn't make it onto the pitch against Roma. He can play in the false nine position but his coach has come out publicly asking for more goals. Will that be enough to get him ahead of others?
James:
One of the biggest mysteries of Real Madrid's seasons. He's been talked about constantly around the Bernabeu and in the media. He grabs attention both on and off the field. He has six goals in 22 games and last year managed 17 in 46. As with Isco, he's often not playing in his natural position and has been a replacement for any missing BBC piece. Can he shine enough to hold a position behind the trident?
Kovacic:
A 30 million surprise signing last summer after being recommended by Modric he has played very much a secondary role in the squad. Although it is clear that he has qualities, he would appear to be behind the other four in the current pecking order. Would changing his game change his potential with the coach?
Let's see how the Zidane uses his available choices to complete his template...and will he manage to get all lines to add up successfully?