Party time at Camp Nou
Roadkill: Barça wiped Getafe's spattered, battered, sticky mess off the front grill of their La Liga juggernaut.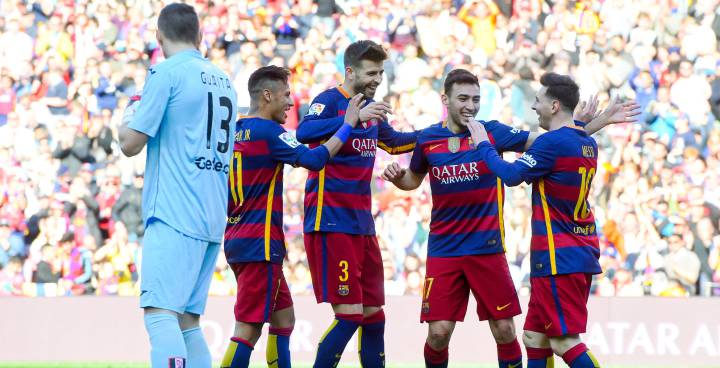 Poor 'ol Getafe, you have to feel for them. Facing this current Barça is fearsome under any circumstances, but when you have seven first-team regulars out at Camp Nou, it makes 'mission impossible' look like a sunny stroll down the Barceloneta beach.
Some of the greatest mismatches of all time include:
Homer Simpson vs Drederick Tatum:
Andre the giant vs Westley in the Princess Bride:
...and the Black Knight from Monty Python:
Getafe can at least take heart that at 4-0 down at half-time, it didn't turn into an absolute bloodbath, not even near Barça's biggest win in history: 18-0 against Tarragona in the Copa Macaya back in 1901.
It wasn't until the 77th minute that the Madrid side registered a shot on target, and the Camp Nou gave them an embarrassed clap. It was 6-0 at that point.
Neymar was back and feeling refreshed from his sister's birthday party in Brazil, this Tweet shows how much getting back for it meant to him: "A photo to show how happy I am to see my sister grow up and meet my friends, priceless!"
Getafe had a special welcome home for him too: a clattering with seconds on the clock.
Neymar was a threat all afternoon, but Leo Messi was undoubtedly the star of the show. The way he drops back and dictates between forward and defence these days gives him total domination: it's like having Xavi and Messi on the pitch in one player.
Through ball after through ball found its target, and he came close to repeating his Maradona-esque golazo when he was 19 on a couple of occasions.
When he played Jordi Alba through, and the flying wing-back attempted to pull it back, the ball came off Juan Rodriguez and snuggled into the Getafe net beyond the stranded Guaita. 1-0 after 6 minutes.
If, on top of everything else, luck is against you at Camp Nou, you haven't got much of a hope, but the slightest glimmer of it came when Guaita stopped Messi's penalty.
It didn't take long for the blaugranas to find their flow and the goals to follow.
Barça's supremacy was never in question, and when Iniesta and Messi conjured some magic, Munir only had to stoop to deflect it instinctively in with his head. 2-0. On 33' Messi sliced Getafe open like a big leg of Iberian ham, Neymar the finisher this time.
Luis Enrique was enjoying it already.
Barça didn't miss Busquets at all in this one, Turan and Sergi Roberto never troubled, with Bravo no more than a marginally interested spectator.
Tired of laying it on a plate for everyone else, Messi spun and homed it into the corner from outside the box to make it 4-0 at half-time.
Suarez didn't look too happy on the bench, his candidature for pichichi would surely have gotten a big boost today.
Getafe came out after half-time with the look of a team out to restore some pride, Wanderson and Moi Gomez the principal threats, but Neymar quickly put paid to the pride salvaging, Messi with yet another assist.
A Mexican wave was rolling around the Camp Nou as the fans busied themselves with having a good time in the stands, the game long over as a contest, but Arda Turan was still enjoying himself; his semi-bicycle kick from a corner sentenced Getafe to a 6-0 defeat.
In the end, two teams at opposite ends of the La Liga spectrum revealed the lack of social mobility in the Primera División.
Barça's La Liga juggernaut rolls on unstoppably, while Getafe will have to pick themselves up down in the relegation dogfight.