BARCELONA 6- GETAFE 0 | LUIS ENRIQUE
"Luis Suárez has played 850,000 games, so we rested him"
The Barcelona manager explained the reason why he omitted the Uruguayan from his starting line-up after his side thumped Getafe 6-0 at Camp Nou.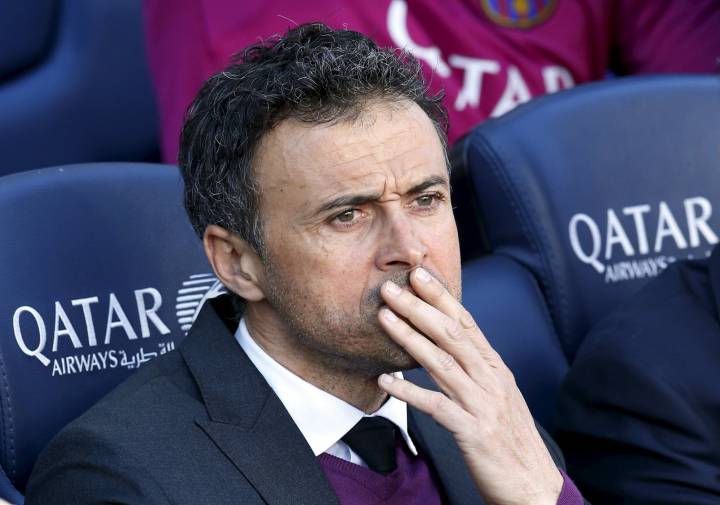 Luis Enrique gave his thoughts on events at Camp Nou this afternoon, as his team fired six past Getafe without reply. The coach surprised some by leaving Luis Suárez and Ivan Rakitic out of his starting line-up.
Rotating the team. Everyone gets to play. "Rafinha is almost ready to be given the all-clear. We've got almost everyone fit to play and they're getting a run-out. It's a favourable situation to see how the team competes. I was very pleased with the serious-minded attitude which the players showed and the rrhythm the team set…when we are as precise, sharp and quick as we were today, it's difficult to beat us. Right now we're in a sweet moment, the whole team is brimming with confidence".
Munir: "They're all good, you know? Even Munir's up to the level… He had a great game, he's scoring, defending. The midfield is incredible, as are those at the back… for a coach, it's an ideal situation ideal and all of the players want to play a part".
Luis Suárez rested: "It's a bit strange this whole business of being Barça coach. When I bring him off, I'm asked why I brought him off. Or why I leave him on, or why he isn't playing... maybe he's pregnant. It's a funny old job this, it's great it really is".
Is anything wrong with Suárez? "As I say, being Barça boss is a barrel of laughs. He didn't play today because he's played 850,000 games, 850,000 minutes and we decided the best thing for Luis was that he didn't play".
Sergi Roberto: "If I was national team coach I'd take him to the Euros, no doubt about it. A player who can slot into so many different positions and play with the level he's showing…I'd take him. He can play as a holding midfielder, an attacking midfielder, a winger. I love him in every position - he's a basic player for our team. Realiable and profitable".