Las Palmas played the football, Real Madrid won the game
Two headers from Ramos and Casemiro distorted the final score. Las Palmas dominated the match. Ramos and Pepe suspended for the Sevilla game.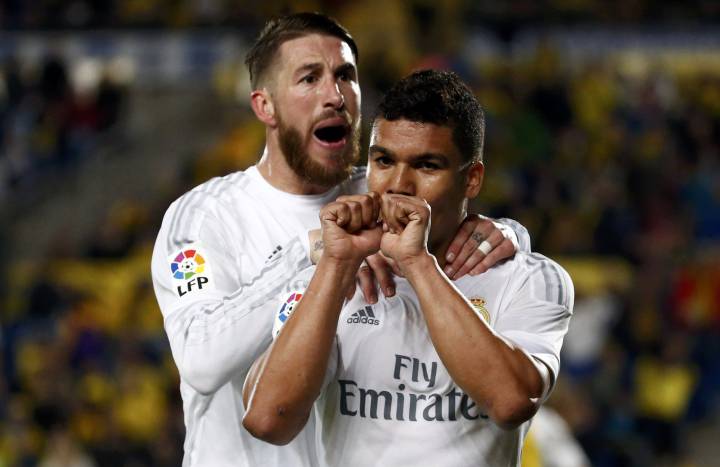 Las Palmas were left empty handed despite all their good work tonight. Madrid secured maximum points but it appears that every league game for Zidane's is a headache and an inconvenience that needs to be endured and overcome. Keylor Navas was on hand to come to Madrid's rescue on a number of occasions and two headers from Ramos and Casemiro were enough to disguise the scoreboard but not the realities as dark clouds continue to lurk at the club.
Arbeloa started at left back despite a fit Marcelo and Nacho also available and neither was there room for James, Kroos or Danilo tonight in Gran Canaria. Madrid seem to be taking this stage of the season as it were pre-season with Zidane happy to share around playing time whilst others take a break and recover from tired muscles.

The game saw Madrid snatch maximum points and left very little else. Las Palmas were patient in their build up play but lacked composure when they reached the Real Madrid area. When they found that composure with chances falling to Willian José, Nili and Momo, Keylor Navas was on hand to palm away, punch or catch everything that was thrown at him by the side in yellow and blue. Madrid were only dangerous via deal ball situations with lapses in the Las Palmas rear guard resulting in the two Madrid goals.
Las Palmas should be applauded for their faith in playing their brand of short passing football. Momo was a constant source of danger for the visitors, especially at the beginning of the second period where it appeared that they had done enough via Ramos' first half goal.
Zidane decided to replace Isco with a more rugged approach from Kovacic. The player from Malaga was annoyed whilst his replacement gifted the ball that lead to the Las Palmas 87th equalizer. Fortunately for Zidane, Casemiro was on hand two minutes later to repair the damage.
For games like this the French coach is capable of coping but only time will tell when the pressure is on with the stakes being higher in key Champions League games in the quest for the 11th European title.
"We aren't thinking about the Champions League. The players were thinking about what they had to do in the game today, but the truth is we gave away the ball an incredible number of times," he said.
"If we want to aspire to something in the future, we have to play better. That is clear because playing like this we won't go anywhere."
"I don't think football is unjust because we scored from two set-pieces and that is part of football too," added Zidane.
"Las Palmas did very well and caused us a lot of problems, but it is our contribution that bothers me."