REAL MADRID | MARCELO
"The pre-season wasn't good, and we paid the price..."
Marcelo praised Zidane in an interview with 'Globoesporte': "It's difficult to take over at Madrid halfway through the season. He'll become one of the best coaches in the world".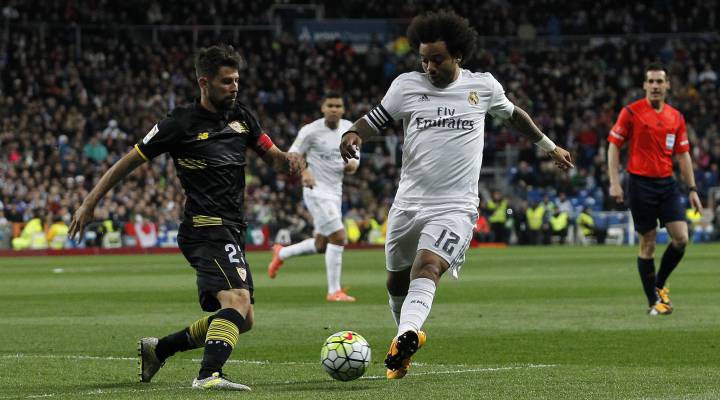 Marcelo, who made his 350th appearance for Real Madrid against Celta on Sunday, gave an interview to Brazilian magazine Globoesporte in which he looked back over his career, spoke about the future - including his omission from Dunga's recent Brazil list and had complimentary words to say about Cristiano and Casemiro...
Future at Real Madrid: "I'm hoping to stay here for many more years and I'm negotaiting a new deal; my current contract is due to run out in 2020. I'll try and stay here for as long as I possibly can. Ending my career in Brazil? I'm not thinking that far ahead right now. I'm in a good stage of my life and there's no point in thinking about what will happen at the end".
Working under Zidane: "He seems to be doing really well to me. It's difficult to take a side like Real Madrid halfway through the season and with the team getting a lot of criticism, and battling for third place. It's difficult, but I think he's doing a good job. We've still fot to get to the end of the season to see where we finish but I am absolutely sure that he will become one of the best coaches in the world".
Real Madrid's season: "It's been difficult. I think that we didn't have a good pre-season and that's why we are paying at the midway stage of the campaign. But we are where we are and we're going to battle right up until the end. We've got a few league game to prepare us for the Champions League, we'll see...".
Why did the pre-season affect the team so much? "I can't really explain what happened. But thinking about it, last year's pre-season wasn't one of the best".
Wolfsburg: "I don't agree with the general consensus that we've been handed an easy draw. There are no easy rivals at the quarter final stage. I'm sure that both legs are going to be tough".
Did you joke with Neymar about him joining Madrid? "We talk alot about football. It would be difficult for Neymar, who's making history at Barcelona, to come to Real Madrid".
Relationship with Dunga and not being called by Brazil: "I'm not worried at all about that. My objective right now is to continue working and if I get called by the national team, I'll go. If I don't, I won't. I'm not worried about it".
But does it bother you? "A little bit, yes but it doesn't affect me at all".
Relationship with Dunga: "It's normal, just normal".
Have you been surprised by Casemiro's progress? "No, because everyone here already knew that he is capable of being a Real Madrid player".
Cristiano-Messi rivalry: "Cristiano is the best in the world because I watch him at workand then how he performs out on the pitch and the ambition he has... for me, Cristiano's the best".