SPAIN
Spain squad gets measured up
Vicente del Bosque, Iker Casillas and Sergio Ramos attended an event this afternoon organized by Spanish department store, El Corte Inglés.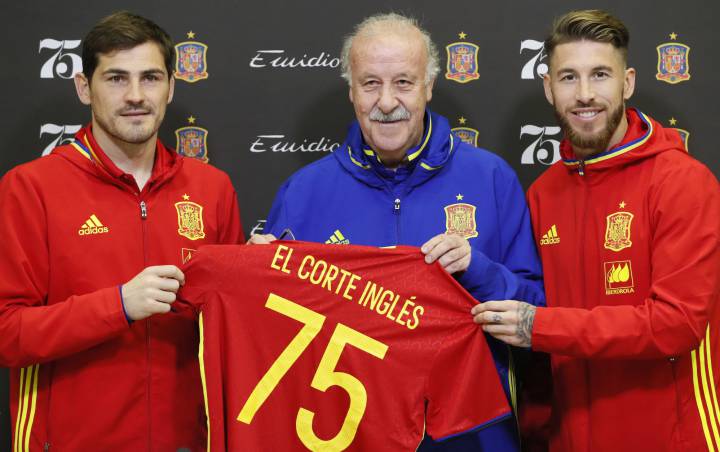 Few players were out on the practices pitches at the Ciudad del Fútbol on Tuesday morning. Spain's internationals spent this early hours recording adverts and posing for photographs after having their measurements taken for the official suits they will wear at EURO 2016. Taking part in an event organized by Spanish department store El Corte Inglés who are celebrating their 75th anniversary, were Vicente del Bosque, Iker Casillas and Sergio Ramos.
The official suits have been designed by Emidio Tucci and form part of an agreement made with El Corte Inglés back in 1982 when Spain hosted the World Cup finals; Iker Casillas still vividly remembers the advert for those suits.
"It was a very different advert. They must have been very well-made suits to have withstood all of the diving that [goalkeeper, Luis] Arconada and the rest of the players did in them", he recalled today. "It was just a shame that things didn't work out for us at that World Cup; we hope it turns out better for us at the Euros. It's a bit sad to rip a suit diving but if it's in the script for the advert and the director wants you to do it, then I suppose you have to", he added jokingly.
There were humourous anecdotes from Del Bosque too. "Back in the 70s I would always go to the fifth floor in the Castellana store, which was where the department for young people's fashion was. I still go now, but to the second floor - which is where you can find plus-size clothes. To be honest, my wife would rather go to El Corte Inglés than a football match".