REAL MADRID
Courtois: "I don't know if I'll be at Chelsea next season..."
The Belgian stopper made a veiled declaration surrounding his future and his name has been linked with Real Madrid in the past where Florentino Perez is an admirer.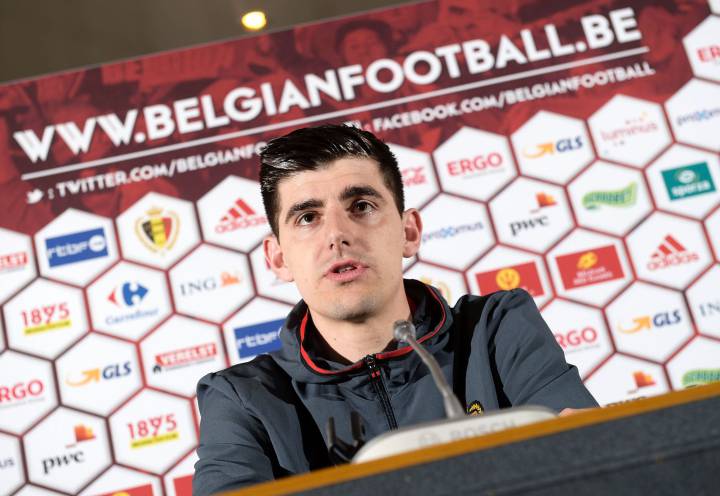 Thibaut Courtous spoke yesterday as Belgium prepare ahead of their visit to Leria where they face Portugal on Tuesday. The goalkeeper stated: "I don't know where i'll be next season as it depends on the wishes of my club. I want to finish this season well although it will be my first with no silverware. It's true that this has been a difficult campaign (Courtois was out of action for four months with a knee injury) and my focus is now on having a good Euro 2016 tournament with Belgium".
After the shenanigans surrounding the Real Madrid goalkeeping position last season with Casillas leaving and the botched last minute attempt to secure De Gea from Manchester United a new Madrid goalkeeper remains a key priority for Florentino Perez. De Gea is still the president's number one choice but a move for Courtois to the Bernabeu cannot be ruled out. The 23 year old has always been on the club's radar and during his exceptional three seasons at rivals Atleti (from 2011-2014) and subsequent move to Chelsea, Real Madrid have kept a close eye on the Belgian's development.
During the 2014 season (whilst still then at the Calderon) his father and agent was obliged to speak about a potential move to the Bernabeu clamming that the transfer talk was: "An attempt to destabilize things, there has been no contact with Real. Thibaut is focused on LaLiga and Champions League with Atlético".