Suárez: "I didn't think I had enough quality to play for Barça"
Luis Suárez spoke with Helden TV about the kindness shown in the Barcelona changing rooms and his life in Catalonia: "I would love to stay here, it's an incredible city".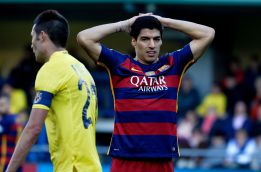 The star Urugayan striker, Luis Suarez, has talked about how happy he is in his new home but also pointed out some surprising feelings when he was interviewed by German Helden TV. And it wasn't only the playing side that he opened up about.
"I love Barcelona because I've had a special feeling for it ever since I started with Sofia. She came to live here and I came to see her. We are very happy to be here. We know the whole city. The city is amazing, the people are very respectful and so we would love to stay and live here."
He went on to say, "when it's cold, you go to the where the snow is. When it's hot you can go to some incredible places".
Talking openly the ex-Liverpool player explained that he had some doubts about his big-money move to the Catalan giants.
"Even I didn't believe I had the quality to play for Barça. I had to adapt to a short-passing game where I was used to a more direct one. Making this adjustment to the team makes me very happy." He then laughed about how difficult it is to get the ball when playing piggy-in-the-middle at training.
"It's a privilige to see them train. It doesn't matter who scores the goal, but rather that the team does well. We are all happy, there is no envy between Neymar and Messi, everything is natural. This creates a good atmosphere in the team."
Luis also gave us a little insight into pre-match preparations.
"People are surprised that we don't get together before a match. When we play away, we travel the same morning. We are at home and wake up with our families. When we're playing at home, we only go to the stadium half an hour earlier."
Suárez and his teammates, who currently sit in a strong position at the top of the LaLiga table, will be waking up with their families and heading to the Camp Nou in their next club match where they will be welcoming their friends from the capital in El Clásico.