Mourinho could be the perfect manager for Valencia
The Singaporean billionaire is close friends with Mourinho's agent Jorge Mendes and met with the former Chelsea manager in February.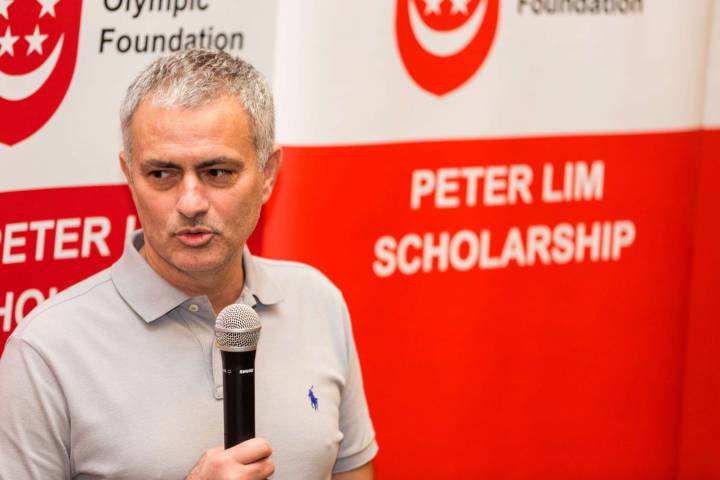 Gary Neville's redundancy slip from the Mestalla board has opened up a possibility – or filled a poisoned chalice to the brim – for any manager willing to take on the task of restoring Valencia to the top table of Spanish football. The club's current position of 14th in La Liga and ousting from all cup competitions under Neville may not appear the most attractive proposition for the big managerial names but Valencia are a club with the means to match their ambition.
Pako Ayestarán assumed the mantle of guiding a stuttering side to the finish line this season but Valencia's owner, Peter Lim, will be setting his sights higher than Rafa Benítez's former assistant for 2016-17. If reports in the UK are to be believed, Lim may already be courting the most glamorous name on the market: José Mourinho. The two met when Mourinho paid a visit to Singapore in February, speaking at a school part-funded by Lim's scholarship fund.
The "Special One" has been heavily linked with Louis van Gaal's position at Old Trafford but nothing concrete has yet emerged. Reports suggest that Manchester United patriarchs Sirs Alex Ferguson and Bobby Charlton have their reservations about Mourinho's management style.
At first glance Mourinho and Valencia is an unlikely alliance. But the marriage of the motor mouthed manager and a reclusive billionaire is hardly without precedent. When Mourinho answered Roman Abramovich's call at Chelsea in 2004 the club had gone half a century without a league title.
In his first season at Stamford Bridge, Mourinho dethroned Arsenal's invincibles with a record Premier League points haul and another for fewest goals conceded. Mourinho spent around 70 million pounds on new players to achieve the feat. Lim pumped 100 million euros into Valencia last October and although funds will not be as limitless as Mourinho became used to at Chelsea and Real Madrid, he would not be expected to work on a shoestring either.
Parallels can be drawn between Valencia today and Atlético Madrid when Diego Simeone arrived in 2011. Succeeding Gregorio Manzano in December and inheriting a squad dragging its feet through another listless season, Simeone won the Europa League six months later. Manzano's last match in charge was a Copa del Rey defeat against Albacete.
Simeone has often been touted as a long-term replacement for Mourinho at Stamford Bridge and the two coaches share significant similarities. Not least the ability to punch above their weight from the outset. Mourinho showed his mettle at Porto before moving to Chelsea, and then took Inter Milan to a first European Cup / Champions League win in almost half a century. It was in Turin that an old feud was reopened, one that could also play into Lim's hands: there is no love lost between Benítez and Mourinho, whose career paths have been crossed with more scars that stars.
Mourinho accused Benítez of "destroying the best team in Europe at the time" after his ill-fated stint at the San Siro, in response to the Spaniard's wife's claims that Benítez was forever cleaning up Mourinho's mess. There is a mess to be cleared up at Mestalla, but not one of Benítez's making. The Spaniard was Valencia's last truly successful manager. Between 2001-04, Benítez's reputation was forged in the glow of two Liga titles and a Uefa Cup triumph. That reputation has taken something of a battering in recent years, not least after Benítez was sacked a few months into a three-year deal at the Bernabeu.
Mourinho has also lost some of his initial sheen. His pragmatic playing style and frequent outbursts are one side of that coin; the other is the accusation that he is a cheque book manager, joining only clubs where some sort of success is all-but guaranteed.
Nothing could be further from the case at Mestalla. The club's last trophy was the 2007-08 Copa del Rey, with Ronald Koeman in the dugout. He was sacked five days later. Valencia's knee always jerks quickest when a manager's backside is on the toe-end of a boot.
The opportunity to take the club back to the summit of Spanish and European football may appeal to Mourinho: a chance to outdo Benítez; the challenge of locking horns with Simeone; Barcelona once again in his crosshairs, with a bonus shot at the Bernabéu; being able to rub Benítez's nose in his most notable achievements by doing the same as he did, in a less democratic Liga environment… the list of carrots is longer than the stick with which he may initially be beaten for taking a "step down." And he will be afforded the time to do it. He who laughs last etc., and the impression is that Mourinho is happy to wait a very long time to have the final chuckle, if the road is littered with enough controversy to keep him interested.
Mestalla would unite behind a villain after paying their hard-earned cash to watch slapstick football served up by their pantomime "donkey." Mourinho may well relish the challenge. Manchester United hold the stronger hand, but if they decide not to play it Valencia might emerge with the pot. A 19-million-euro a year deal on the table won't do Lim's bargaining position any harm either.
With Mourinho's track record, it is hardly a gamble for the Singaporean "stockbroker king." Not since Porto has the Portuguese left on the shoulders of fans and club alike but he has always delivered. There have been rifts and feuds along the way but Lim won't shed any tears when Mourinho eventually departs Mestalla to the sight of 60,000 white hankies, as long as there are a few cups in the cabinet. Football is cyclical. At the moment Valencia are on a downwards curve. It's going to take a revolution to fire the club back into life and there are none better than Mourinho at providing the opening salvo.