Barcelona 1-2 Real Madrid: How it happened
Gerard Piqué's header put the hosts ahead, but Karim Benzema equalised with an acrobatic effort before Cristiano Ronaldo calmly slotted in to win it. Juventus-Barcelona live online: ICC 2017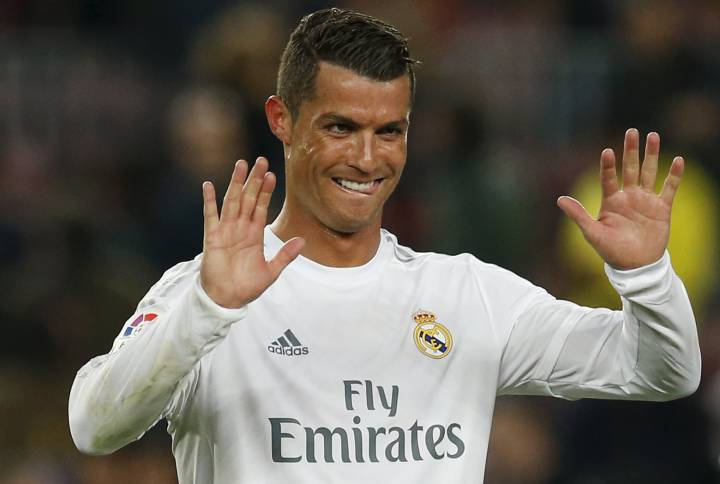 The 'decaffeinated' Clásico they were calling it here in Spain beforehand. With the big points difference between the sides meaning Real Madrid had little chance of fighting for LaLiga title even if they won there was less buzz than usual around the match ahead of kick-off - though it was still expected to pull in over 600 million viewers in 184 countries, because at the end of the day, Barcelona v Real Madrid is still Barcelona v Real Madrid.

For the first hour there was indeed a distinct lack of caffeine about the game, barring one or two incidents, but after Piqué's 56th minute goal things all got rather interesting, with Real Madrid coming back for the first time at the Camp Nou since 1965 to win, through goals from Benzema and Cristiano Ronaldo.
The win puts Real Madrid 7 points behind their eternal rivals (and favours Atleti, who are now just six points behind the Catalan side).
Here's how we narrated it:
Here we go!
Min 1 | Kick-off...
Min 2 | Real Madrid have set up with a compact 4-3-3 Casemiro will look to deny Messi space to dictate between defence and attack, Ronaldo and Bale expected to track back with Alba and Alves.
Min 3 | Busquets hurls himself into a challenge and is hurt by Pepe falling over him.. Either of these teams holding back for the Champions League quarters next week? Nah...
Min 5 | Casemiro fouls Rakitic on the edge of the box, nothing comes of the free, Casemiro will have to be careful, the ref has already clocked him.
Min 7 | Ronaldo gets ball, Camp Nou whistles furiously, Alves kicks Ronaldo, ref gives free, Camp Nou whistles furiously.
Min 10 | Suarez!! How did he miss? Ramos fell over, Neymar rolled it to the Uruguayan who inexplicably swung at fresh air.. Barça should be one up.
Min 14 | A bit of confusion over why Ramos was booked, looks like dissent after he thought he was fouled by Suarez from the earlier kick-out. The crowd are on their feet to applaud Johan Cruyff in min 14..
Min 15 | Bale gets his first chance to run at Alba and shows him a clean pair of heels, but his cross is cut out.. Real Madrid's most threatening moment so far..
Min 17 | Carvajal booked for scything through Suarez, then Iniesta like a mad combine harvester on the rampage..
Min 19 | Uyyy... Rakitic whips one corner-bound, Keylor Navas to the rescue.. Barça have much more ball here and look more likely to break the deadlock.
Min 23 | Real Madrid's secret weapon: Gareth Bale's long throw-in .. The Welshman pumps one into the box, Bravo fumbles but grabs at the second attempt.
Min 24 | PENALTY! Roars Camp Nou, ref ignores, the white hankies come out, Messi went down under Ramos' challenge, replay shows it was a foul, but looks outside the box, Ramos may even have brushed the ball.
Min 27 | Suarez waves a hand in Pepe's general direction, Pepe rolls around as if he's been shot in the face.
Min 29 | Mascherano chops Bale down in full flow, yellow card for the Argentine, Ronaldo does his best George Osborne impression but then looks a bit more like Cristiano again when he blows it over the bar.
Min 35 | FC Barcelona 0 - 0 Real Madrid
Min 37 | Ronaldo and Bale back defending when Barcelona in possession, even Benzema in the los blancos final third to hold back the Barça horde..
Min 38 | Barcelona 70% - 30% Real Madrid (possession)... Woof..
Min 40 | Gareth Bale on line-out duty today, his long throws are clearly part of Zidane's plan, making this look a little like Stoke on a mild, dry, pleasant Tuesday evening..
Min 45 | Half-Time! 0-0
Not exactly exhilarating stuff, but Zidane has clearly set out to spread the fire blanket over this flammable Barça midfield/front three, everyone seems to have bought into it too; Bale is running around like he's actually been set on fire and even Ronaldo and Benzema have bothered their own penalty box.
Suarez' jawslacking 10' miss was the closest either side have come to scoring in the first half, the Camp Nou roared for a penalty with no return from the ref, and Real Madrid have had a few potshots without creating anything clear-cut.
"Pathetic". "Embarrassing". "If I'd paid four grand for a ticket to this I'd be looking for a complaints form.."
That's some of the reaction on social media to that first half, Zidane being heavily criticised for his side's defensive display, but not many make it to half-time at 0-0 in the Camp Nou. Tactically he's shown some flexibility tonight, and that he can motivate an attacking side to play in this way.
This is essentially Zidane's audition for the Real Madrid management position next season and he's out to avoid a repeat of the 0-4 thrashing at all costs..
Min 45 | And we're underway again..
Min 47 | Modric brushes Neymar, Ramos pulls down Suarez, free but no yellow card: Messi strikes another one over the bar, Barça have come out firing.
Min 50 | This Clásico can't be all that good if a Bleacher Report Tweet has us in AS Towers debating whether Daft Punk's hit 'Get Lucky' is a classic or a two-bit pilfering of a 70's riff that wasn't any good the first time 'round..
Min 53 | Barcelona 0 - 0 Real Madrid
Min 55 | Ufff... Messi and Suarez conjure some magic, Leo tries a glorious chip, Keylor catlike across his goal to claw it away..
Min 56 | GOOOOOOOOOOOOOOOOOOOOOOOOOOOOLLLLLL.... Piqué loses Pepe and pounds in a corner.. Replay to follow on Periscope..
Min 59 | Rakitic now in the book for a challenge on Marcelo, it'd be a surprise if 22 men finish this game with the way yellow cards are being waved about here.
Min 61 | Spaces appearing now...
Min 63 | GOOOOOOOOOOOOOOLLLLL!!! Benzema levels it up with an overhead kick..
Min 63 | Marcelo to Kroos, his cross flicked up off Jordi Alba's heel and Benzema swept it home, silencing Camp Nou.
Min 64 | Neymar close to restoring Barça's lead but couldn't divert the long ball home.
Min 65 | The players must have heard about the AS Daft Punk discussion earlier, this game has exploded into life.
Min 70 | Bale struck a tame one goalwards, Barça threatened through Neymar and Suarez cracked one goalwards.. Looking fairly even at the moment..
Min 73 | Arda Turan on for Rakitic, can he be the difference?
Min 75 | Barcelona 1 - 1 Real Madrid
Min 75 | Real Madrid nearly shoot themselves in the very lightly-clad foot with a suicide cross-defence pass from Karim Benzema.. Pepe stops Suarez and rescues the Frenchman..
Min 76 | Jesé Rodríguez on for Karim Benzema, Spanish TV showing a replay of his goal, pure instinctive brilliance.
MIN 79 | Ronaldo races through at one end but has his shot blocked, Luis Suarez tries a lovely volley that doesn't come off at the other end.
Min 82 | GOOOOOOOOOOOLLLL!!!!!
Min 82 | NO GOOOOOOOOOOOLLLL!!!!!
Min 82 | Ridiculous! Bale's perfectly legal header is ruled out because he's bigger and stronger than Jordi Alba.
Min 84 | Red Card for Ramos!
Min 84 | GOOOOOOOOOOOOOOOOOOLLLL!!! Ronaldo takes down Bale's right-footed cross and buries it through Bravo's legs.. No more than Real Madrid have deserved.
Min 87 | Suarez is holding his face! Again! But it's a free out as he had pushed Casemiro beforehand.
Min 88 | Barcelona 1 - 2 Real Madrid
Min 91 | 1 min to go.
Min 92 | Pepe! What are you doing Pepe?? 10-man Madrid's only centre back streaks forward and makes a complete haims of it, but it doesn't matter..
PEEEP PEEEeeep peeeeeeeeeeeeep...
Full-Time: Barcelona 1 - 2 Real Madrid