PANAMA PAPERS | UEFA
Swiss police raid Uefa headquarters
Swiss police searched UEFA headquarters as part of a 'criminal mismanagement' probe into a Champions League television rights deal signed by Gianni Infantino.
The Panama Papers caused a second shock when Uruguayan Juan Pedro Damiani resigned as an ethics judge for world football body FIFA after he was also named in the leaks.
UEFA made the television rights accord with two Argentine businessmen who have since been charged in the United States over the corruption scandal that has engulfed world football. Infantino has strongly denied any wrongdoing.
"The search was motivated by the suspicion of criminal mismanagement" and "misappropriation", said a Swiss OAG statement explaining Wednesday's raid.
UEFA confirmed that it "received a visit" by Swiss Federal Police acting with a warrant.
UEFA added that police had requested access to "contracts between UEFA and Cross Trading (and) Teleamazonas", two companies involved in the sale of broadcast rights in Ecuador for the 2006 to 2009 Champions League.
Infantino was head of UEFA's legal department when the contract was signed. He later became UEFA general secretary and in February was elected head of FIFA, which faces its own corruption scandal.
UEFA said it was providing "all relevant documents in our possession and will cooperate fully".
UEFA's marketing partner, Team Marketing, sold the rights to Cross Trading, a firm owned by Argentinian father and son duo Hugo and Mariano Jinkis, who are now among the 39 football officials and executives facing corruption charges in the United States.
UEFA at first denied that it had done any business with those charged in the United States. It said the Cross Trading deal was found after a further review.
US prosecutors have accused the company of paying millions of dollars in bribes to get television rights contracts in South and Central America. Cross Trading bought the Champions League rights for $111,000 (97,000 euros) and then sold them to Teleamazonas for $311,000.
UEFA and Team Marketing, have insisted the deal was conducted in "a fair and open tendering process" and the contract went to the highest bidder.
Team Marketing said: "At that time nobody was aware that Cross Trading would, approximately a decade later, be the subject of criminal investigations." Martin Wagner, a Team Marketing director, said: "This appears to be nothing more than a particularly shameful attempt by certain sections of the media to cast aspersions on the reputation of the FIFA president, Gianni Infantino, by conducting a baseless public trial by innuendo."
Infantino, who replaced the disgraced Sepp Blatter as FIFA's president, said he "never personally dealt with Cross Trading nor their owners". He has said he was "dismayed" that his "integrity is being doubted". The OAG said its investigation was into "persons unknown", meaning there is no fixed suspect.
It also said its search targeted a second unnamed enterprise in addition to UEFA.
The suspicion of criminal mismanagement "is based on the result of findings that have emerged from other proceedings, as well as the corresponding financial analyses carried out by the OAG.
"Current publications in the media subsequently revealed still other elements that made it possible to complement the existing findings in a decisive manner," the OAG added.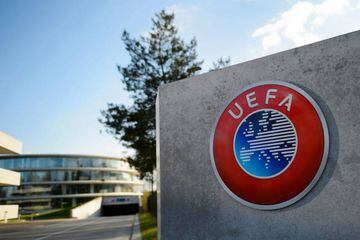 The UEFA contract was among millions of documents revealed by the International Consortium of Investigative Journalists (ICIJ) in papers leaked from Panamanian law firm Mossack Fonseca.
Damiani, a 58-year-old lawyer and president of top Uruguayan side Penarol, resigned from FIFA's ethics committee after he was linked in the papers to another disgraced football official also wanted in the United States.
The leaks indicate that Damiani's firm helped Eugenio Figueredo -- former head of the South American football confederation CONMEBOL -- set up a shell company.
Damiani denied any wrongdoing after the documents were revealed. But a spokesman for FIFA's ethics committee told AFP that Damiani has resigned.
FIFA has been rocked by scandals in the past year. Blatter and his former deputy Jerome Valcke are also under investigation in Switzerland.
Infantino promised a new era of "transparency" when he took over.