Athletic Bilbao - Sevilla Europa League quarter final 2015/2016 Minute-by-Minute stream LIVE!
Sevilla take a 2-1 lead home to the Sanchez Pizjuan stadium after goals from Kolo and Iborra erased Aduriz' header in a game full of entertainment and incident despite the stormy weather.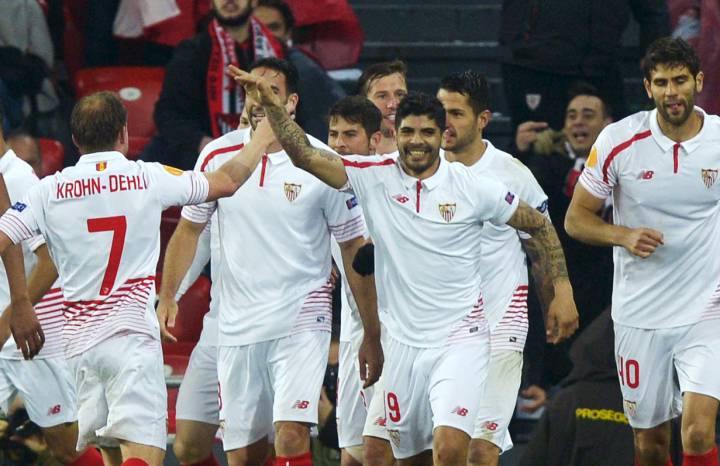 Sevilla won their first away game of the season in a soaking San Mames, giving them a clear advantage to progress towards the semi-finals of the Europa League. Aduriz' 48th minute header put the hosts ahead but the southerners equalized through Timothée Kolodziejczak (Kolo) and substitute Iborra sent Sevilla to a fun-filled celebrations in the water-park.
Iker Muniain was heavily involved at both ends, it was his excellent cross that found Aritz Aduriz for the opener - his ninth of this Europa League campaign: pichichi - but it was also his attempted defensive header that lead to Sevilla's equalizer.
Iago Herrerín tried to race out to Muniain's poor header but ended up stranded on the verge of his six-yard box, Ever Banega stole in and rolled it to Kolo who had the easy job of finding an empty net.
It was cruel on Muniain, who was a real threat carrying the ball forward and had been excellent up until that moment. He was inconsolable.
Valverde reacted by taking off Muniain and Iñaki Williams, his team's two principal threats, but was outmanoeuvred by Unai Emery, who brought on Iborra for Ever Banega, moved his side ten yards back from front to back and hit on the break.
Emery's changes proved the more telling and it was Iborra who grabbed the glory with another away goal and the match-winner after just 9 minutes on the pitch. Kevin Gameiro's cleverly disguised pass found Iborra's deceptive run and it needed just the slightest touch to wrongfoot Herrerín.
The Europa League holders keep their dream alive of winning an unprecedented three Europa Leagues in a row, but first they'll have to contend with a strong Basque challenge in the second leg in the Sánchez Pizjuán.
Live!
Full-Time: Athletic Club 1 - 2 Sevilla
Min 93 | Athletic haven't carried half the threat they did with Iñaki and Muniain on the pitch.
Min 90 | 3 minutes to be added, San Mames roaring its rojiblancos on.
Min 87 | Vitolo pulls off a glorious nutmeg then trips on the turf, rolls around and gets up to Clattenburg waving a card at him for diving.
Min 85 | Iborra's been on the pitch 9 minutes, but his contribution may be priceless for the Andalusians.. Gameiro's brilliant reverse pass found Iborra who ghosted behind Athletic's defence, took a touch that looked like he was trying to control the ball, but it deceived Herrerín and snuggled into the corner.
Min 83 | GOOOOOOOOOOOOOOOOLLLLLLL!!!! Ibooorrrrra!! Athletic Club 1 - 2 Sevilla
Min 82 | Another quality delivery from Beñat, Soria punches clear.
Min 80 | Ten mins for either side to win it, Sevilla have dropped deeper and are cutting off the supply to Athletic's forward line, but still look the likelier to win this one, dangerous on the break.
Min 77 | Both teams push for the winner, Iborra tries a Jamie Vardy vs Germany but it doesn't come off and Athletics advances on goal are frustrated.
Min 75 | Ever Banega makes way for Iborra, meaning Fernando Llorente won't see any action tonight.
Min 74 | Unai Emery and Sevilla will be much more pleased with this result, that away goal..
Min 73 | Athletic Club 1-1 Sevilla
Min 70 | Clattenburg's yellow card falls out of his pocket, Beñat is kind enough to pick it up and give it back to him. He could easily have booked the English ref there..
Min 68 | Aduriz thinks he's won a penalty, Clattenburg books Rami, but it's for some shirt-tugging earlier in the move, no penalty.
Min 65 | Muniain is inconsolable on the bench after his earlier error that led to Sevilla's equalizer.
Min 63 | Valverde rings the changes, Susaeta on for Williams, Lekue on for Muniain, Iñaki and Muniain have been the Basques' biggest threats tonight, but both are returning from injury.
Min 60 | Athletic Club push forward again, Clattenburg waves away a penalty claim, and rightly so.
Min 55 | Big mistake from Muniain, he's kicking himself.
Min 55 | With Herrerín out of his net trying to cut out a poor defensive header from Muniain, Timothée Kolodziejczak had the easy job of lifting it into an empty net, huge away goal for Sevilla.
Min 55 | GOOOOOOOOOOOOOOOLLL gol gol gol gol.... Sevilla tie it up! The scorer is almost as untypable as he is unpronouncable.. Athletic Club 1 - 1 Sevilla
Min 51 | Krychowiak scythes down Adruriz, pure frustration, Beñat's free is met powerfully again, Soria touches it around the post.. Paradón! Great save..
Min 48 | More great work on the right leads to Muniain's cross which is flat and right onto the waiting forehead of Aduriz. His season gets better and better, that's 9 goals in the Europa League - pichichi!
Min 48 | GOOOOOOOOOOOOOOOOOOLLLL!!! Aritz Aduriz makes it 1-0 to Athletic!
Min 46 | Second half is underway, no changes..
The players are coming back out onto the pitch ready for the second-half
A tight, tense affair not short on quality or chances, Ever Banega hit the post for Sevilla and Aduriz for Athletic. The hosts finished the half on top with Muniain and Iñaki threatening. Beñat's delivery from set-pieces also part of the plan for Valverde.
Half-Time: Athletic Club 0-0 Sevilla
Min 45 | Lovely play from Athletic again, working it wide to Williams on the right, his cross begs to be slid home bit isn't.
Min 43 | Beñat whips in another dangerous free, Sevilla survive. Intense.
Min 40 | Post! Aduriz crashes a header onto the bottom of the post from Beñat's free-kick, Sevilla know how dangerous the Basques are from set-pieces. Muniain has been a real threat carrying the ball forward for Athletic.
Min 38 | Gameiro claims a penalty, he was shouldered off while running onto a ball, Clattenburg lets it go again.
Min 34 | Chances flying here, Iñaki again the creator, Athletic can't finish it.
Min 33 | Now Sevilla come close! Vitolo stopped by Iago Herrerín's face.
Min 30 | Iñaki Williams has Athletic's best chance of the night! Eye to eye with David Soria on the right of the box, but Soria stays big, blocks and Muniain blasts the rebound over.
Min 27 | Mark Clattenburg draws the ire of the locals by not blowing for a foul they wanted, then blowing for one for Sevilla that they didn't.
Min 25 | Athletic's turn from a corner.. Nothing doing. Set-pieces may prove crucial in this one.
Min 23 | Uffff... Ever Banega unleashes one bottom-corner bound until Herrerín flies across and touches it onto the post.. Fine save from the Athletic keeper.
Min 21 | A tense affair so far at a sodden San Mames, no quarter asked nor given, both teams managing moments of quality despite the elements.
Min 18 | Uyyyy... Lovely little chip over the top setting Aduriz and Iñaki through, Aritz inches from getting a toe on it, called for offside - Aduriz wasn't but Williams was.
Min 17 | Athletic Club 0-0 Sevilla
Min 16 | Close fought stuff, Athletic getting it to Iñaki Williams on the right wing, his driven cross causes slipping, sliding and a sliced clearance..
Min 8 | Not the night for intricate stuff, lots of long balls so far, trying to force a mistake.. A clever low corner from Banega ends up in a half-chance for Gameiro, but his shot is over from an obtuse angle. Sevilla on the attack.
Min 6 | Coke twists and turns and slips a greasy ball into the six-yard box, cut out before Gameiro could pounce. The striker is moving well so far, taking up good positions and finding space.
Min 3 | Shocking weather here, looks like a wet Tuesday night in Stoke, Athletic started strongly pumping the ball forward to Aduriz and testing the Sevilla core which stands firm.
Min 1 | Off we go!
Preview
Olé! Get ready for an Iberian special tonight as the Basques face the Andalusians in a European evening with a distinctly Spanish flavour. Athletic Club Bilbao and Sevilla couldn't possibly be a more even fight: both have played 31 and are on 48 points in La Liga, challenging for European football next season, and both are aiming to progress to the next round of the Europa League.
The Bilbao side are in a mini-slump at the moment, 3 games without a win, but have won their last 5 matches against Sevilla. Add to that Sevilla's woeful away record this season - the only in team in Europe who haven't won away from home this season apart from Hellas Verona.
Unai Emery's side didn't exactly cover themselves in glory at home on the weekend either, losing 2-1 at home to 10-man Real Sociedad, extending their winless run in competitive away matches to eight.
Some good news for Sevilla is that midfielder Michael Krohn-Dehli is back, while Muniain has been passed fit for Athletic. Fernando Llorente expressed Sevilla's desire to make history in the competition:
"I really want to win the Europa League", said the 31-year-old to Uefa's official website, Llorente was in the Athletic side that lost to Atletico Madrid in the 2012 Europa League final and also lost the Champions League final to Barça while at Juventus last season.
"It's like a thorn in your side that you want to remove, Sevilla have a real desire to win this competition, no-one's ever done it three years in a row."
What the managers had to say
Ernesto Valverde: "We've been dreaming about this game all season.I don't believe anything will be decided here, so it's a game for us to enjoy and compete – we can't sit back and defend. We'll go all out for the win, without losing our heads. Sevilla know how to win this competition but we want to make history too. We would love to reach another final."
Unai Emery: "San Mames will be buzzing. We're ready for their intensity and it's going to be a closely-fought contest, we'll have to fight for every ball. The tie is very even, 50/50, if you look at how we are both doing in the league. It's going to be a wonderful tie."
The form guide
Athletic Bilbao (all competitions): DLLWW
Last result: Athletic Bilbao 1-1 Granada
Sevilla (all competitions): LLWWD
Last result: Sevilla 1-2 Real Sociedad
The odds
An Athletic win will double your money, while a Sevilla win will pay out 7/2. (Odds from Bwin.com)
Prediction
Expect a tight affair at San Mames, a score draw that will end in an Athletic win: 2-1 to the Basques
How the teams will most likely line up: