McIlroy laments late bogeys as Spieth takes lead in Augusta
The world number one carded an opening round 70 in windy conditions in pursuit of the one major to elude him. The defending champion opened with 66.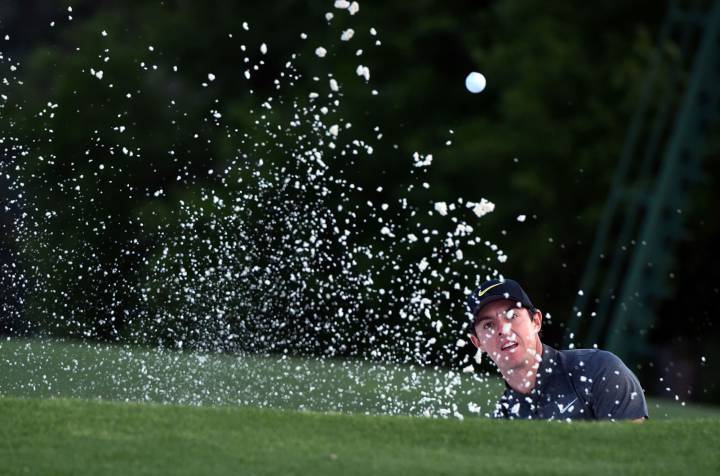 A subdued Rory McIlroy lamented two late bogeys that left him four strokes behind leader Jordan Spieth after the opening round at the Masters on Thursday.
McIlroy was compiling a round of the highest order in brutal afternoon conditions before settling for a two-under-par 70 at Augusta National. His score was most respectable under the circumstances, but paled beside what it might have been.
"I let a couple of shots get away on 16 and 18 but if someone had given me a 70 on the first tee, I probably would have taken it," the Northern Irishman told reporters as the sun dipped below the Augusta pines.
"It was a tricky day. But being on the 16th tee where I was four-under, I was probably thinking I could sneak in another one or two [birdies]. To start going the other way is disappointing."
Four-times major champion McIlroy needs only the Masters to complete the career grand slam of all four majors. A superb driver -- unarguably one of the best in the game -- McIlroy shrugged off the whistling afternoon winds for most of the day as he pursued Spieth's early 66.
"I saw the leaderboards. He's very, very comfortable here," McIlroy said of defending champion Spieth. "He's going to be tough to beat this week. I'm going to have to play good golf but I feel there's enough good golf in me that I can reel him in over the next 54 holes. The way the conditions are, you have to stay patient and bide your time and pick up your birdies when you can."
McIlroy, who played in the final threesome of the day, will at least get to tee off earlier on Friday, when the wind is expected to howl again. It is not expected to abate until Sunday.
"The course is only going to get firmer and tougher as the week goes on, with this wind," he said. "It's going to be a good test, a lot of fun, and I'm looking forward to it."