Zidane: Real Madrid never contemplate elimination
"Patience is key. As we've seen in the league, we were effectively 13 points behind Barça and now it's four. Pressure? When I see my players so focused, it removes the pressure on me."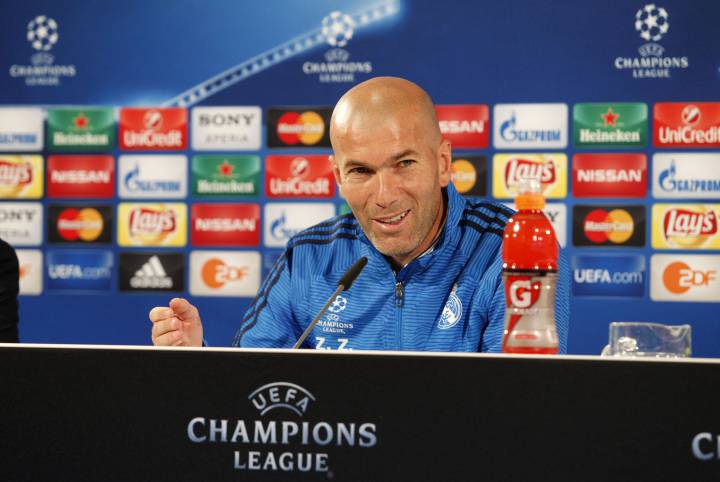 Zinedine Zidane appeared before the media ahead of the vital second leg of the Champions League quarter final against Wolfsburg. The coach was upbeat about his team's chances of overturning the 2-0 first leg:
When asked if feeling the pressure he said that there are many important games, each of them important and that although there is pressure there is no worry about what they have to do. He added that the pressure is taken of his shoulders when he sees his squad so focused on the task ahead.
After comments by Wolfsburg sporting director, Klaus Allofs about the referee, Zidane was clear that the referee would try his best.
In regards to Benzema the coach confirmed that he has completely recovered from his knock and is ready to play. "He is fit, ready and focused."
Madrid's manager went further to give the key message for the team: it's about using their heads and being patient. "We know it's an important game but it's not going to be won in 10 or 15 minutes. It's true that it'll be more complicated if they score but we have to concentrate from first till the last minute."
The Frenchman talked about the importance of intensity to the home team's game and that keeping a clean sheet was going to be the catalyst to reaching the next round. He also explained that as a coach he doesn't have to say too much to his playing staff. "They know what lies ahead of us and what we have to do. We have to score, but there are ninety minutes to do that, not only five. The message is patience." He pointed out that this has been seen in the league where the gap between Barça and them has shrunk from effectively thirteen to four.
Asked if Madrid are prepared for the prospect of going out of the competition Zidane replied: "Madrid are never ready for that. Madrid always expect to go through, to do more and more, because it's the club with the most European Cups."
Fans of the club should be happy to hear that the coach is "always positive" and wants the team to play with a "positive philosophy". He said, "People want to see you play well and tomorrow and I'm sure we'll do that." Finishing with, "I love these difficulties situations."
The importance of the fans tomorrow night was not forgotten and he asked for them to support from minute one to the ninetieth with the team aiming to do their part too.