James starting to prove himself to Zidane for key playing role
The Columbian put in a good shift against Eibar showing more commitment and effort demonstrated by his ball recovery rate. A sweet goal also endeared himself to the crowd.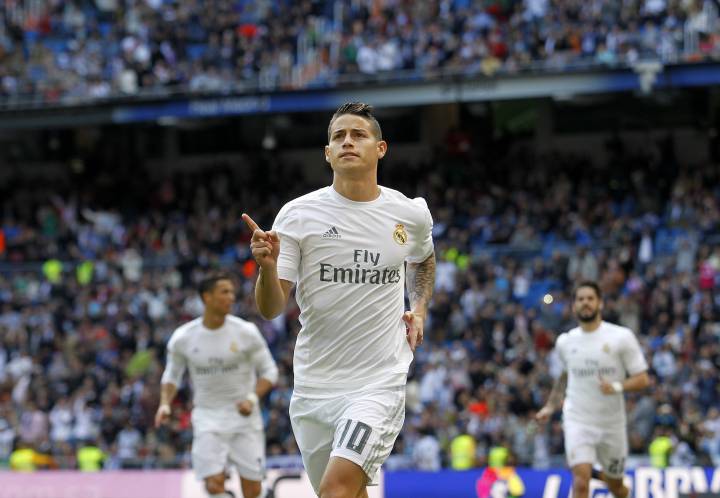 James Rodriguez has not resigned himself to his fate at Real Madrid and wants to prove himself once and for all to Zidane. The Columbian took the opportunity against Eibar to squeeze every ounce of effort he had and this was seen from some of the figures that came out of the game. He recovered the ball more times (9) than any other player on the field which is three times his game average which stands at 3.8. The coach can now look upon James as a hard-working and committed team member ahead of the key Wolfsburg second leg.
The South American idol came out on Saturday prepared to win over the Bernabeu from the first minute and was rewarded in the third with the applause ringing around the home of Los Blancos after his free-kick hit the back of the net. An impeccable left-foot shot that gave Riesgo little chance. And James didn't sit back after such an explosive start. He looked more motivated, stealing back the ball at every occasion - including a 20 metre sprint to do so - and again felt the love flowing back from the crowd with a standing ovation for his efforts.
James refuses to be a bit-part player in the plans of the French coach and seemed determined to prove his worth against the Basque side. Working hard was one thing but with a 90.2% pass success rate he also showed his qualities. With this outstanding performance it's just possible that the rough run he has been going through could be turned on its head and if the eyes of the club, fans and, most importantly, coach can be softened on his potential contribution to the team - especially in light of the bad press he recieved for some snaps of his German giggling - he could play a bit part in the coming weeks and maybe longer. Zidane clearly holds the midfield trio of Kroos, Modric and Casemiro in high regard but the Columbian may have taken a huge step forward in his rehabilitation...what a turnaround that could be.